World: Official Data now available for 103 countries + territories!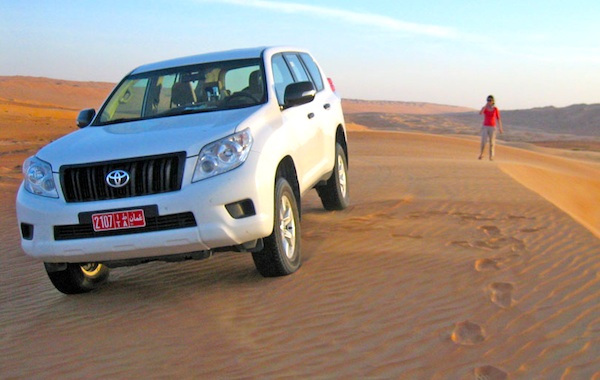 Kuwait, where the Toyota Prado is #1, is one of 103 countries/territories with official data on BSCB
* See the direct links to these 103 articles by clicking on the title! *
With the addition of Scotland, Nothern Ireland, Yemen, Syria, Jordan and Lebanon, Best Selling Cars Blog now features official sales data for 101 countries and territories around the world! A lot of this is thanks to you all, you haven't stopped contributing to enrich this site since its creation 18 months ago so I want to thank you very much for your support!
Among the countries and territories with official data, there are a few that haven't had much love in a few years: I haven't managed to get any official sales figures for Nepal since 2002, Cyprus since 2006, Macedonia since 2007, Gabon since 2009, Bosnia & Herzegovina, Cote d'Ivoire, Ecuador, Kazakhstan and Tunisia all since 2010. So if you have access for more recent info for these countries please make sure you get in touch by commenting on here!
This means there are still 65 countries and territories with only estimated data, mainly through my exploration of recent YouTube videos of the streets of these countries, a lot of which are located in Africa. I have published a separate article listing all countries that still need official data so you can see where you can help.
I have listed below the fold all 103 countries with official sales data with a link to the most recent article for each country. Click on 'Read more' to see.
List of the 103 countries with official sales data on BSCB:
Algeria May 2012: Renault breaks records
Andorra March 2012: BMW, Land Rover and Audi popular
Argentina May 2012: Market back up, peak may not be reached?
Australia May 2012: Toyota Hilux dominates like never before
Austria May 2012: Hyundai i30 up to #2, Audi Q3 in Top 20
Bahrain March 2012: Toyota Land Cruiser and Prado confirm leadership
Belarus Full Year 2011: Renault Logan takes the lead
Belgium Full Year 2011: VW Golf ahead of Renault Megane
Bhutan 2009: Maruti Alto, Hyundai i10 and Santro dominate
Bosnia & Herzegovina 2010: Skoda Fabia and Octavia on top
Brazil mid-June 2012: VW Fox and Renault Sandero shine
Bulgaria 2011-2012: Where it all started for the Chinese in Europe
Canada May 2012: Ford F-Series up 46% year-on-year
Chile January 2012: Hyundai Accent and Chevrolet Sail shine
China May 2012: Chevrolet Sail leads the way, Ford Focus #2
Colombia February 2012: Chevrolet Aveo keeps the pole position
Cote d'Ivoire 2010: A fast evolving market
Croatia May 2012: VW Polo leads, VW Up! #9, Peugeot 208 #12
Cyprus 2006: Ford Focus takes command
Czech Republic May 2012: Skoda Superb and VW Tiguan impress
Denmark April 2012: Toyota Aygo #1, VW Up! stays on podiu
Dominican Republic Full Year 2011: Hyundai Tucson dominates
Ecuador 2009: Old gen Chevrolet Aveo above 10%
Egypt May 2012: Chevrolet TFR up to 10.9% share
Estonia Full Year 2011: Skoda Octavia and Nissan Qashqai dominate
Europe May 2012: Renault Megane back into Top 10
Central & Eastern Europe Full Year 2010: Skoda Octavia strengthens lead
Finland May 2012: Kia Rio and Honda Civic shine
France 1 to 11 June 2012: Renault Scenic in pole position
Gabon 2009: Toyota Hilux should be clear leader
Germany May 2012: VW Up! in Top 20, hurts Polo
Greece May 2012: A Citroen leads for the first time since July 1999
Gulf Cooperation Council (GCC) March 2012: Toyota Hilux and Land Cruiser dominate
Hong Kong (China) 2010: Toyota and Mercedes most popular
Hungary 5 months 2012: Opel Astra #1, has Suzuki got its mojo back?
Iceland mid-June 2012: Volkswagen and Suzuki lead the charge
India May 2012: Suzuki Swft and Dzire break market share records
Indonesia May 2012: Suzuki Ertiga up to #5 in record market
Iran May 2012: Peugeot 405 back to #2, Iran Khodro Runna starts
Iraq 2012: General Motors and Kia in great shape
Ireland May 2012: Ford Focus back in command
Israel April 2012: Ford Focus solid leader, Hyundai i35 #2
Italy May 2012: Fiat Panda hits highest share in 3 years
Japan May 2012: Toyota Aqua only 600 sales below Prius
Jordan March 2012: 18 Koreans in Top 20!
Kazakhstan 2010: Uz-Daewoo Nexia passes Lada 2107
Kuwait March 2012: Nissan D22 up to #1, Toyota Prado leads YTD
Latvia March 2012: Nissan Juke in pole position!
Lebanon March 2012: Nissan Sunny, Kia Picanto and Rio on podium
Liechtenstein Full Year 2011: VW Golf #1, Audi Q5 and Porsche impress
Luxembourg 2010: VW Golf and Polo on top, BMW 1 Series #5
Lithuania Full Year 2011: Nissan Qashqai in pole position
Macedonia 2007: Chevrolet Spark, VW Golf and Opel Astra on podium
Madagascar Q2 2010: JAC Tojoy among best-sellers
Malaysia April 2012: Proton Preve makes its first appearance
Mauritius January 2012: Hyundai i10 up to #2
Mexico May 2012: Chevrolet Spark and Honda CR-V shine
Moldova Full Year 2011: Dacia Logan best-seller, Skoda Superb #5
Monaco Full Year 2011: BMW 7 Series and Audi A3 on top, now with Top 228 All-models ranking!
Morocco January 2012: Renault Kangoo ahead of 3 Dacias
Nepal: Hyundai i10 should lead the way, Eon arrives
Netherlands May 2012: Renault Megane surprise leader
New Caledonia (France) April 2012: Dacia Duster confirms new leadership
New Zealand May 2012: Toyota Hilux and Mazda CX-5 triumph
Northern Ireland (UK) 2011: VW Golf #1, Peugeot 207 and Toyota Avensis shine
Norway May 2012: Ford Focus and BMW X3 solid
Oman March 2012: Toyota Hilux up to 14.5%, Lexus LX #9
Pakistan March 2012: Toyota Corola #1, Suzuki Bolan and Alto up
Panama Full Year 2011: Hyundai Accent leads in record market
Paraguay Full Year 2011: Toyota Hilux and Kia Rio most popular
Peru 2010/2011: Toyota Hilux and Yaris lead record market
Philippines Full Year 2011: Stable ranking in solid market
Poland May 2012: Dacia Duster higher and higher
Portugal April 2012: Peugeot 208 lands at a world best 4th place
Qatar March 2012: Toyota Land Cruiser at 15.4%, Lexus LX up t #6
Romania May 2012: Dacia Logan back in shape at 19% share
Russia May 2012: Lada Granta stuck at #4, Chevrolet Cruze up to #9
San Marino March 2012: Volkswagen, Fiat and Audi dominate
Saudi Arabia March 2012: Toyota Hilux close to 12% market share
Scotland (UK) 2011: Vauxhall Corsa sovereign
Serbia August 2011: Fiat Punto Classic most popular
Singapore April 2012: Toyota reclaims leadership
Slovakia May 2012: Hyundai i30 stays #3 and hits record share
Slovenia April 2012: Clio and Megane lead, Kia Rio at best-ever #5
South Africa May 2012: Toyota Etios lands directly at #7!
South Korea May 2012: New gen Hyundai Santa Fe and Kia K9 land
Spain May 2012: Renault Megane and VW Polo on top
Sweden May 2012: Volvo XC60 and BMW 3 Series excel
Switzerland May 2012: VW Tiguan stays on podium
Syria Q1 2012: Hyundai Elantra and Accent most popular
Taiwan May 2012: Toyota Corolla and Camry on top
Thailand Pick-ups May 2012: Toyota Hilux above 40% market share
Tunisia 9 months 2010: Renault Symbol clear leader
Turkey April 2012: Fiat Linea confirms total domination
UK May 2012: Vauxhall Corsa leads, Fiat 500 in Top 10 again
Ukraine May 2012: ZAZ Forza in Top 10, Geely Emgrand EC7 #20
United Arab Emirates March 2012: Toyota Hilux back in command
Uruguay Full Year 2011: Chery now third best-selling brand!
USA 5 months 2012: Discover the Top 268 best-selling models!
Venezuela May 2012: Ford F350 hits highest share ever at 7.8%
Vietnam March 2012: Toyota Corolla and Fortuner on top
World April 2012: Toyota Corolla, Ford Focus and VW Jetta on podium