First podium ranking for the Lada Largus in Kazakhstan and the world.
* See the Top 25 best-selling models by clicking on the title! Many thanks to Irina *
Shock, horror: until recently the world's fastest growing car market, Kazakhstan new car sales are down year-on-year for the first time in years in May at -2% to 12,968 units! For now though, the year-to-date total still evolves at record levels at 61,860 registrations, up 14% on 2013. The striking element in the Kazakh sales charts is the domination of Lada, doing better here than in Russia! Whereas at home in Russia there is only 3 Ladas in the Top 10, for the first time since last November the Kazakh models podium is 100% Lada in May: the Priora keeps the lead at 1,302 units and a round 10% share in spite of sales down 13% year-on-year, ahead of the Granta at 1,076 sales and 8.3%, up 20% on May 2013.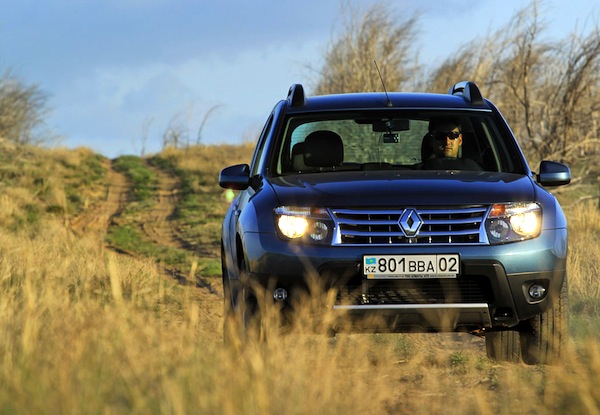 The Renault Duster ranks at a best-ever #6 this month in Kazakhstan.
The big event this month in Kazakhstan is the third place of the Lada Largus: after breaking into the Top 5 for the first time in any country in the world last month at #5, it now breaks onto the podium at #3 with 697 units and 5.4%, making Kazakhstan the first country to welcome the Largus among its Top 3 best-sellers… This coincides with its record-breaking performance this month in Russia where it ranks #4 with 3.7% share. Other great performers this month include the Kia Rio up 47% to #5, Renault Duster up 110% to a best-ever #6, UZ-Daewoo Gentra strong again at #7, VW Polo up 299% to #13 and the Kia Sorento up 76% to #23.
Previous month: Kazakhstan April 2014: UZ-Daewoo Gentra lands in 6th place
One year ago: Kazakhstan May 2013: Lada Priora, Samara and Granta on top
Full May 2014 Top 25 models Ranking Table below.