Switzerland 1970-2011: More detailed Historical Data available!
1974 VW Golf. Picture by Lothar Spurzem.
* See the best-selling models from 1970 to 2011 by clicking on the title! *
Thanks to STAC and Rene I can now share with you more detail about the best-selling models in Switzerland since 1970! For 1993, 1994 and 1996 I now have a Full Top 50 models ranking. For the seventies, eighties and nineties there is a Top 25 best-sellers for the overall decade, from 1998 to 2003 an annual Top 10 models and from 2004 onwards at least an annual Top 45.
The Opel Astra was #1 in Switzerland in 1993, the last time the VW Golf was not #1.
The big news is that the VW Golf's reign, starting in 1975, was interrupted in 1993 by the Opel Astra. Since 1994 the VW Golf has been the most popular model in Switzerland every single year. At this stage I cannot 100% confirm whether the Golf's domination was uninterrupted between 1975 and 1992 as I don't have access to an annual models ranking before 1993. If you do please get in touch!
All-in-all, the VW Golf has been the best-selling car in Switzerland for at least 35 of the last 38 years since its original launch in 1974… This is nearly double the time the VW Beetle would have been #1 in the country (possibly between 1948 and 1968)!
Subaru Leone
These new historical articles will show you that Switzerland was an early adopter of Japanese cars, promoting the Toyota Corolla to a brilliant 10th place in the seventies and third place in the eighties. 7 Japanese models were in the eighties Top 25, among them the Subaru Leone, a real success story in Swizerland and ranking #7 in the eighties, starting a tradition of strong Subaru sales in the country that endures till today with the Subaru XV, #1 in August 2012.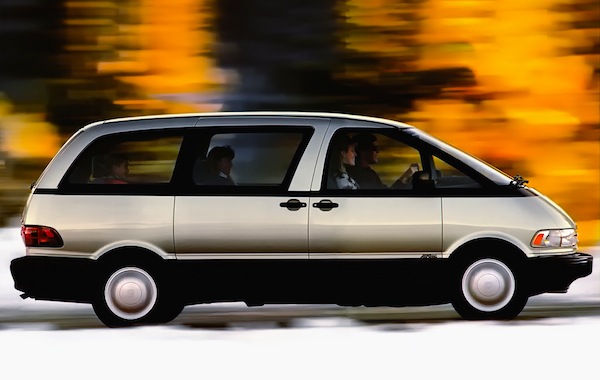 The Toyota Previa was #39 in Switzerland in 1994
Switzerland was also an early adopter of MPVs, with the Renault Espace, Chrysler Voyager, Toyota Previa, VW Sharan and Ford Galaxy strong sellers in the mid-nineties.
Direct links to 16 Switzerland Historical articles below.
Switzerland – Decades Historical Data:
Switzerland 1970-1979: VW Golf interrupts Opel domination
Switzerland 1980-1989: VW Golf and Opel Kadett on top, the Japanese land
Switzerland 1990-1999: VW Golf and Subaru Legacy shine
Switzerland – Yearly Historical Data:
Switzerland 1993: Opel Astra surprise leader
Switzerland 1994: VW Golf reclaims top spot
Switzerland 1996: VW Golf #1, 3 Opels in Top 4
Switzerland 1998-2001: VW Golf and Opel Astra dominate
Switzerland 2002-2003: VW Golf and Audi A4 on top
Switzerland 2004: Golf, Audi A4 and Peugeot 307 on podium
Switzerland 2005: Golf and Astra dominate, Octavia up 72%
Switzerland 2006: Golf leads, BMW 3 Series up to #2
Switzerland 2007: VW Golf, BMW 3 Series and Skoda Octavia on podium
Switzerland 2008: Skoda Octavia closes in on VW Golf
Switzerland 2009: VW Golf and Skoda Octavia up, VW Tiguan #11
Switzerland 2010: VW Golf on top, BMW X1 at highest in the world
Switzerland 2011: VW Golf at its highest volume in 10 years
Source: Autostatistik, many thanks to Rene for sharing the data!