Africa Project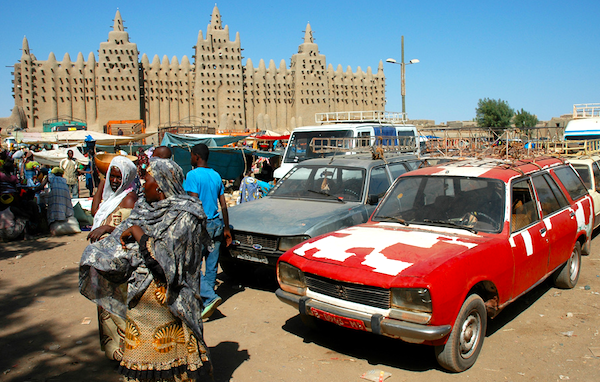 Street scene in Djenne, Mali. Picture by Leonid Plotkin, all rights reserved. 
* See the bottom of the page for the direct links to 47 African countries covered on BSCB! *
Today I am launching the Africa Project on Best Selling Blog, to try and bring African countries to a similar level of data and car sales information as the rest of the world.
If you live in Africa or have data on any African country please be sure to comment on this post and I will get in touch with you.
In terms of new car sales Africa is the last frontier, with only a few countries having set up regular reports. However no less than 1.4 million cars were sold on the African continent in 2011, and even though it is still plagued with war and poverty in some parts, it is now developing fast. The African Bank of Development predicts 4.5% economic growth for the region in 2012 and 4.8% in 2013, with peaks at 6.9% in Western Africa and 5.6% in the East.
There is a revitalised interest towards Africa in France right now
Indeed, one of the things I noticed during my stay in France which is now coming to an end is the revitalised interest, focus and introspection towards the African continent, with which France has long running cultural and economical links. French rap band recently released the single "Africain" (African) a blunt and sometimes cheeky look at the perception of people from African descent in the world (see video clip above).
In the car world, this renewed focus translates into statements like Peugeot's, refocusing its energy on sub-Saharan Africa in 2012 to build on their amazing success in Northern Africa and notably Algeria.
On top of French marques getting more active, Japanese brands like Toyota, Nissan or Honda have had decades of strong sales in the region, and lately Chinese manufacturers have landed en masse. This makes Africa a fascinating continent to follow, and this is why I want to make it a special focus on Best Selling Cars Blog.
The Dacia Lodgy is assembled in Tangier, Morocco.
Problem is, new car sales reporting is still quite disorganised and I only have data for a few countries. South Africa, by far the biggest African car market at 570,000 sales in 2011, and Egypt (#3 at 176,000) are the only two I am able to cover monthly, while Algeria, #2 with close to 300,000 registrations last year, used to belong to that group but my monthly source dried up.
With Morocco, producing the Dacia Lodgy since last February, and Ethiopia, thanks to Holland Car assembling Lifan models locally, the above countries are the only ones in Africa to assemble cars, now that production of the Peugeot 504 stopped in Nigeria.
So this is where you come in dear readers.
Thanks to your help, there are already a few more African countries with sales information on BSCB, like Cote d'Ivoire, Gabon, Ghana, Madagascar,  Mauritius, Namibia, Senegal and Sudan. No models data for any of these countries however and therefore still a lot of unknowns…
Street scene in Khartoum, Sudan. Picture by turkairo, all rights reserved.
If you work in the car industry anywhere in Africa, within organisations that would have the potential to bring together some car sales data, or if you just happen to have sales info, please do get in touch by commenting on this post. I would like to build Best Selling Cars Blog towards the site that gives reliable sales data for as many African countries as possible so everyone can have a better understanding of this fascinating and fast evolving market.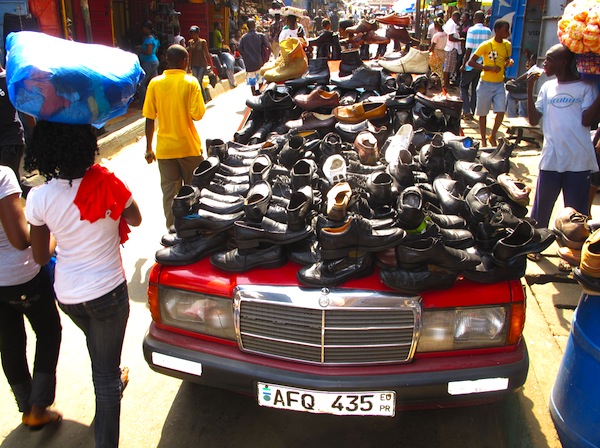 Street scene in Freetown, Sierra Leone. Picture by hn, all rights reserved.

Once/if BSCB gets bigger, I may have the possibility to travel to these regions to report about them myself, but for now my own experience of Africa is very limited. I travelled to South Africa, Botswana, Zambia and Zimbabwe in 2007 – you can see my photo albums by clicking on the country, and to Egypt in 2008, where I was stunned to see the amount of Speranza (rebadged Chery assembled locally) in the streets and around the pyramids…
So I'm counting on you BSCB readers to improve the coverage on Africa! Many thanks in advance for all your help!
See the direct links to the 47 African posts below.
African countries covered on Best Selling Cars Blog:
Algeria 6 months 2012: Peugeot up 96% in market up 49%
Angola: Toyota Hilux and Mitsubishi L200 could top a dynamic market
Benin: Toyota Prado and Hilux dominate
Botswana: Toyota Corolla and Hilux should be in the lead
Burkina Faso: Toyota Hilux master of the roads
Burundi: Toyota Corolla leader
Cameroon: Toyota Hilux possibly on top
Central African Republic: Toyota Hilux should lead sales
Chad: Toyota Hilux and Corolla most popular new cars
Congo (Dem Rep): Toyota Hilux and Prado strong sellers
Congo (Rep of the): Toyota Hilux should be on top
Cote d'Ivoire 2010: A fast evolving market
Egypt May 2012: Chevrolet TFR up to 10.9% share
Eritrea: Toyota Hilux likely leader, Kia Rio taxi of choice
Ethiopia: Hilux and Corolla favourites, Holland Car gets noticed
Gabon 2011: Toyota and Mitsubishi take up half the market
Gambia: Mitsubishi L200 likely leader
Ghana: Mitsubishi Pajero very popular
Guinea: Toyota Prado possible leader, Renault 19 rules the streets
Guinea Bissau: Information needed
Kenya May 2012: Isuzu Pick-up dominates models ranking
Lesotho: Toyota Hilux and VW Polo Vivo should lead
Liberia: Toyota Hilux leader, Nissan rules the streets
Libya: ZX Auto GrandTiger replaces Toyota Hilux as rebels' choice
Madagascar Q2 2010: JAC Tojoy among best-sellers
Malawi: Toyota Hilux leads the way
Mali: Toyota Hilux dominates, old Mercedes come here to die… 
Mauritania: (Also) where old Mercedes go to die…
Mauritius January 2012: Hyundai i10 up to #2
Morocco January 2012: Renault Kangoo ahead of 3 Dacias
Mozambique: Toyota Hilux potentially in the lead
Namibia 2012: Toyota and Volkswagen hold 52% of the market
Niger: Toyota king, Corolla should rule
Nigeria 6 months 2012: Toyota grabs 35% of recovering market
Rwanda: Toyota Corolla the car of choice
Senegal: Toyota Hilux favourite, Peugeot losing grip
Sierra Leone: Ford Ranger potential leader
Somalia: Toyota Land Cruiser possible leader in limited market
South Africa May 2012: Toyota Etios lands directly at #7!
Sudan: Toyota Hilux ahead of an armada of Hyundais
Swaziland: Toyota Hilux and VW Polo Vivo should lead 
Tanzania: Toyota Corolla real king
Togo: Toyota Prado possible leader
Tunisia 9 months 2010: Renault Symbol clear leader
Uganda: Toyota Corolla should lead the way
Zimbabwe: Toyota Corolla sovereign, info needed
Source: Manufacturers, usual sources for countries updated monthly, YouTube.