STRATEGY: What future for new car sales in Iran?
Nasir Al-Mulk mosque in Shiraz, Iran
With Iran agreeing to curb its nuclear program in return for the end of economic sanctions, carmakers are scrambling to the starting blocks in order to best benefit from the opening of a high-potential market to competition. If you are a regular BSCB reader, you will know that the best-selling cars in Iran are for the most part decades-old designs assembled locally as the lack of true competition in the market has stifled innovation. The domestic best-sellers revolve around just a handful of ageing staples: the Saipa Pride – in essence a 1986 Kia Pride, the Peugeot 405/Pars – a mere facelift of the original Peugeot 405 launched in 1987, the Peugeot 206, Iran Khodro Samand and the new leader: the Saipa Tiba.
Tehran, Iran
We are therefore potentially on the cusp of a complete reshuffle of the Iranian car market. Freer trade with foreign countries will undoubtedly boost imports and manufacturers will make plans to build new factories in order to bypass import taxes and sell cars at more competitive prices. The prospects are looking very bright indeed for Iran. But just how much potential does the Iranian new car market hold? Car registrations ipeaked at 1.6 million in 2011 before collapsing as economic sanctions were strengthened. Domestic production also fell, by almost 1 million vehicles over the next two years – from 1.65 million in 2011 to 744.000 in 2013 – destroying more than 100,000 jobs. Since, as sanctions were partially relaxed in 2013, the market has recovered to a projected 1.2 million sales for 2015 according to IHS Automotive.
Iranian auto production (click to enlarge)
Iran's population stands at 78.5 million – similar to Turkey or Germany – and a few indicators point to great pent-up demand in the market. The median age of vehicles on the road in Iran is over 20 years, and 55% of the population is under 30, but most haven't had the opportunity to drive yet. With 200 vehicles per 1.000 inhabitants in 2011, Iran is, granted, well above China (113), at the same level as Thailand (206), but below other countries in the region such as Turkey (233), Saudi Arabia (336), Israel (358) or Lebanon (434). The potential is there, not just for car renewal but for new cars on the road as well. The end of the sanctions will see the market shoot up to 1.6 million sales in 2016, and we at BSCB see Iran evolve at 2 million annual registrations before the end of the decade, roughly equivalent in size to a market like France. Speaking of which, for once French manufacturers are the best placed to reap the benefit of a revival of the Iranian car market. What are the forces in place and who is most likely to win the race to Iranian market share?
The Peugeot 405/Pars is currently the brand's best-seller in Iran.
Peugeot
Within hours of the announcement of the nuclear deal between Iran and Western powers, PSA Peugeot-Citroen had outlined its plan for new Iranian production to reclaim and defend the leading market position it held before sanctions were tightened four years ago – and kept unofficially since. In 2012 when General Motors took a 7% stake in PSA, Peugeot was forced to stop supplying CKD kits (complete knockdown) to Iranian factories for the Peugeot 405, Pars, 206 and 207. Overall, European and U.S. carmakers had to stop doing business in Iran during that time as economic sanctions were extended to the auto industry. However as we described in a recent Iran study (see Iran April 2015: Peugeot more than doubles production year-on-year), Peugeot's original partner Iran Khodro managed to shift their spare parts supply to local companies and in effect sustained the production and sale of Peugeot models in Iran.
Peugeot is planning to start producing the 301 in Iran shortly.
This way, Peugeot's share of the Iranian market has remained extremely strong: just under 40% which is actually above its pre-2012 sanctions level. Peugeot insists the 350.000 cars produced in Iran in 2014 and sold mainly domestically are not booked in their accounts. Now, given the PSA-GM alliance has been dissolved and economic sanctions against Iran are in the process of being removed, Peugeot announced on 1 March 2015 it agreed to resume ("official") local production of cars with Iran Khodro. Then last week PSA declared its intention to invest in full Iranian production of new models using its latest architectures and engines, for domestic sales first, then adding exports towards the near region later. Peugeot's intentions are to use a different business model from before the sanctions: the group now wants 50:50 joint ventures and is willing to invest in new factories and hand over technology to partners in return for a greater share of the upside, says Automotive News.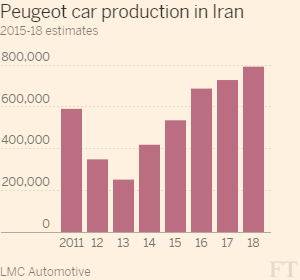 This means PSA is hitting the ground running in Iran, controlling close to half of the market and benefitting from decades of presence in the country, the undeniable familiarity of the brand and sky-high consumer trust that other manufacturers will have a hard time eroding – whether French foreign minister Laurent Fabius likes it or not (see further down the Renault section). The only missing link has been the outdated technologies still on sale in Iran up until now. With plans to produce locally the 208 and 301 – which seems to have been engineered with Iran in mind, this has the potential to change fast. According to Automotive News, in the longer term Peugeot is even looking to turn Iran into a production base, exporting cars to the rest of the Middle East and Africa. Currently, Iran Khodro supplies Peugeot vehicles to Azerbaijan, Iraq, Armenia, Uzbekistan, Turkmenistan, Syria and Afghanistan, according to a report by Iranian news network Press TV.
The Saipa Tiba is Iran's new best-seller.
Domestic manufacturers
Iranian carmakers Saipa and Iran Khodro are at a crossroads in 2015. The opening of their domestic market to the competition they dread but that consumers have been aching for could either kill them or make them stronger. Their respective limited ranges are based on dated Peugeot platforms, and much of their success will be dependent on how they manage to keep these existing ties with Peugeot, putting the French carmaker in an even stronger position that we argued above. With PSA-Peugeot Citroen engaged in long-term links with both Saipa and Iran Khodro, the latter two will need to work very hard to ensure at least a partial transfer of technology to remain competitive.
Most produced cars in Iran – past 3 years (Persian year 1393 = April 2014 to March 2015):
| | | | | | | |
| --- | --- | --- | --- | --- | --- | --- |
| Pos | Model | 1393 | /92 | 1392 | /91 | 1391 |
| 1 | Saipa Pride | 250,088 | 29% | 194,414 | -30% | 276,992 |
| 2 | Peugeot Pars | 147,742 | 47% | 100,419 | 40% | 71,506 |
| 3 | Peugeot 405 | 117,403 | 72% | 68,123 | -35% | 104,314 |
| 4 | Peugeot 206 | 104,150 | 160% | 40,102 | 44% | 27,819 |
| 5 | Iran Khodro Samand | 100,643 | 53% | 65,775 | -40% | 110,479 |
| 6 | Saipa Tiba | 85,359 | 112% | 40,195 | 83% | 21,991 |
| 7 | Iran Khodro Runna | 25,852 | -4% | 27,022 | 71% | 15,798 |
| 8 | Renault Tondar 90 | 25,852 | 26% | 20,454 | -74% | 77,416 |
Up until last May, the best-selling model in Iran was the Saipa Pride, a 1986 Kia Pride sedan with only slight improvements added over the past three decades. Saipa currently holds 35% of its domestic car market with just two nameplates (the Pride and Tiba) while Iran Khodro has 14% with three (Samand, Runna and Dena). However Iran Khodro is a lot stronger in the pickup segment, where it may have played its best card yet with the launch a few months back of the Peugeot 405-based Arisun. The Arisun replaces the antediluvian Bardo, a pickup variant of the 1967 Iran Khodro Paykan which itself stayed in production in Iran for almost four decades, up until 2005.
The Peugeot 405-based IKCO Arisun finally replaces the 1967 Bardo…
A no-frills and relatively moderm 2WD pickup reminiscent of the Dacia Logan pickup still on sale in South Africa as the Nissan NP200 may be just what Iranian small businesses need and it will be interesting to see whether any other manufacturer takes the hint once the Arisun floods Iranian roads. The attachment and fondness of the Iranian population for their beloved domestic brands will be what Saipa and Iran Khodro will rely upon, and this will give them perhaps a five to seven year-respite, but if drastic improvements to their limited range are not implemented by then, look to Russia and the dwindling down market share of domestic behemoth Lada as an indication of what awaits Iranian carmakers at home.
The Hyundai Santa Fe is the best-selling import into Iran so far in 2015.
Hyundai – Kia
Exclusive imports data published yesterday on BSCB indicate that the two Korean carmakers account for a whopping 59% of all new vehicle imports in the country over the First Quarter of 2015. The largest import player by far is Hyundai at 43% and Kia follows at 16%. Kia for its part has been assembling the Cerato locally albeit at just a couple of thousands of units annually. The Middle-Eastern region has no secrets for Hyundai, often teasing Toyota for overall domination in markets such as Saudi Arabia or the United Arab Emirates. In Lebanon, Kia (#1) and Hyundai (#3) sandwich Toyota (#2) whereas in Syria, Hyundai (52.5%) and Kia (45.4%) obliterate the market, as it is also the case in Jordan where Hyundai leads at 39.9% share above Kia at 21.5%. Even better news: Iranian consumers are fond of larger, more profitable models such as the Santa Fe (#1 import), Elantra (#2), ix35 (#3) and Kia Sportage (#4) whereas the Picanto and i10 are less popular so far. Given their success in an extremely unfavourable context, Hyundai and Kia are welcomed in Iran with arms wide open, and we should expect some large scale announcement such as the construction of an assembly plant rather soon. That, or a further strengthening of business ties between Iran and the Gulf Cooperation Council where Hyundais Kias are partucularly successful as well.
Iranian Toyota Corolla advertisement
Toyota
Toyota is already a volume importer in Iran, ranking third brand below the two Korean manufacturers mentioned above with 4.409 units and 13.4% share over the First Quarter of 2015. For now, the new generation Corolla and the RAV4 SUV are the best-sellers. Toyota has a stranglehold on the Middle-eastern car market thanks to its strength in the SUV segment and a tried-and-tested, reliable and reasonably-priced offering. Although Iran does not have as strong a pickup culture as most neighbouring countries, the Hilux seems like a no brainer here. There is no reason why the Japanese manufacturer should find it difficult to replicate in Iran the success that has helped the group hold the #1 spot in the Gulf Cooperation Council for the best part of the last two decades. The distribution network it has carefully built in Saudi Arabia and the GCC region is a perfect model to replicate in Iran. Granted, it will need to be implemented from the ground up, as opposed to companies already having a footprint in Iran such as Peugeot or the two main domestic manufacturers. But the considerable flow of Toyota models into the ports of the region is a very solid starting point for Iranian success. Like Hyundai, Toyota will need to work the very close business ties existing between the UAE and Iran to replicate fully its popularity fully into Iran.
The Renault Kwid has already triggered interest in Iran.
Renault
Today Laurent Fabius, the first French foreign minister to visit Iran in 12 years, announced that "PSA Peugeot-Citroen, previously the market leader in Iran, could find it more difficult to return to the country than fellow French car group Renault". Wait did the French government not increase its participation in Renault in the past few months, in effect installing Mr Fabius in a glorified PR role with Renault? Nice try Mr Fabius, but we at BSCB disagree. Fabius' justification for this statement is that "Iranian leaders criticise Peugeot for leaving a few years ago in a way they dispute". The fact is Renault did leave as well, and hasn't showed any concrete signs yet of its return whereas PSA-Peugeot Citroen is already in advanced joint-venture talks with Iran Khodro as we mentioned above. Renault was a small player in Iran even before the sanctions: it held a 5.9% market share in 2012.
Renault Tondar 90
The main Renault production in Iran is currently the Tondar 90, a rebadged first generation Dacia Logan launched in 2007 here. In the first month of production, a spectacular 100.000 orders were received but this never materialised into sales with the Tondar 90 peaking at 77,416 during the Persian year 1391 (April 2012-March 2013). If Iran Khodro found it vital to try by all means to maintain production of Peugeot models post-2012 sanctions, it wasn't the case for Renault Pars, a joint-venture held at 51% by Renault and 49% by Iran's Industrial Development and Renovation Organisation, IKCO and Saipa, manufacturer of the Tondar 90 which saw its production implode to 20.000 annual units after the sanctions. Renault will need to rework its alliances with local manufacturers and update the models it wants to produce in Iran, starting with the new generation Logan and the Kwid, originally destined to India but which apparently triggered interest in Iran as well.
The Lifan X60 is assembled locally in Iran.
Chinese manufacturers
Unbeknownst to you if you aren't a regular BSCB reader, Chinese manufacturers have stepped up their presence in Iran just as economic sanctions forced Western manufacturers to leave. Chery, Lifan, JAC, ZX Auto, Great Wall, Brilliance, FAW, Haima and Dongfeng (!) already assemble locally through partnership with domestic manufacturers such as Saipa and Pars Khodro, albeit at limited volumes. Geely was the #2 imported brand in the country in 2013 and Changan, BAIC and MG all rank within the Top 10 importers so far in 2015. These are not negligible details. No less than 9 Chinese manufacturers already have experience assembling locally, which put them at a clear advantage over import-only (for now) Toyota or Hyundai for example.
However despite this advantage, they may not the best placed to compete in Iran yet, as reliability issues have already plagued their recent implant in the country. As is often the case where Chinese manufacturers export, their presence is very fragmented across numerous brands, each handled by different distributors and assembled through various alliances with domestic manufacturers. Brilliance however has displayed strong optimism when opening their assembly lines in cooperation with Saipa last May, announcing a production of 30.000 units in the first year and 100,000 units of annual capacity. See above Brilliance promotion video for Iran (in Persian). Among Chinese importers, Geely and Changan seem to have the best chances at long-term success in Iran, but they may need to establish local assembly hubs to pretend at a significant share of the Iranian market.
The Zamyad Padra is a rebadged Tianqi Meiya TM1020F assembled locally.
Chinese manufacturers may have their best card to play with their no-frills pickups, an obvious choice for a large part of the population that won't be able to afford even the lower-spec Toyota Hilux or Nissan Navara just yet… Up until this year, the best-selling pickup in Iran was derived from the 1967 Hillman Hunter, such designs as the 1970 Nissan Junior and 1977 Mazda B-Series are still in production and the latest domestic launch (April 2015) is essentially a pickup variant of the 1987 Peugeot 405. The ZX Auto Grand Tiger, Great Wall Wingle and Dongfeng Rich are already assembled locally and they should be joined by a flurry of new entrants in the coming years, potentially unlocking the holy grail for China.
Roughly 100 BMW X4 get imported into Iran each month.
The rest
The German manufacturers with the best immediate prospects in Iran are BMW and Mercedes, currently among the Top 10 importers in the country. For example, roughly one hundred BMW X4 already arrive in Iran each month… There is a huge untapped potential for luxury SUVs and these two manufacturers keep launching new ones, so their sales in Iran should sky-rocket in the coming years.
Paradoxically, just as the Volkswagen Group outsold Toyota to become the #1 car manufacturer in the world, not only is its absence in Iran surprising but also the fact it has no plans to enter this market in the near future. Volkswagen previously built the Gol hatchback with Iranian partner Kerman Khodro and we see the Brazilian Up fitting the busy Tehran streets best. Before the economic sanctions were implemented, Germany was Iran's #1 business partner, so Volkswagen's absence shouldn't last too long.
For their part, General Motors and Ford will have to wait longer to navigate a deeper layer of American sanctions that will continue to bar Americans and their banks from Iran trade in the foreseeable future. According to Automotive News, GM declined to comment on Tuesday's historic deal announcing the end of economic sanctions.