Czech Republic July 2013: Skoda Rapid up to #2 for first time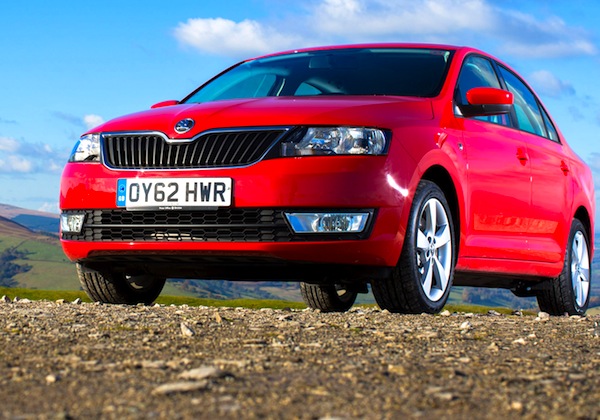 Skoda Rapid
* See the Top 150 best-selling models and Top 42 All-brands by clicking on the title! *
New car sales in the Czech Republic get a summer boost: up an impressive 30% year-on-year in July to 14,533 registrations, however the year-to-date total is still frankly in negative at 95,351 units, down 10% on 2012. If the Skoda Octavia keeps its pole position with 1,279 sales and 8.8% (lower than the 10% share it holds year-to-date), the big event this month is the arrival in second place for the very first time of the Skoda Rapid, breaking its ranking, volume and market share records all at once and passing the 1,000 monthly-sales milestone also for the first time at 1,059 units and 7.3%. As a result the Skoda Fabia is down one spot to #3 with 753 sales and 5,2%, well below its year-to-date level of 6.5%. However as we have studied last month, this doesn't result in Skoda improving its market share (29.3% in July vs. 29.4% year-to-date) which could mean the Rapid is a cannibal...
Seat Leon
The VW Golf is the best-selling foreign model this month, up 5 spots on June to land in 4th place at 422 units and 2.9% share, it is followed by the Skoda Roomster up 3 to #5, the Hyundai i30 and i20 both down 2 ranks to #6 and #7 respectively. The Dacia Sandero continues to progress: it is up 4 spots on last month to #12 with 292 sales and 2% whereas it finished last year at #40, the Seat Ibiza is up 14 to #13, the Ford Focus up 7 to #15 and the Seat Leon brilliantly maintains itself inside the Czech Top 20 at #19 while it ranked... #142 in 2012!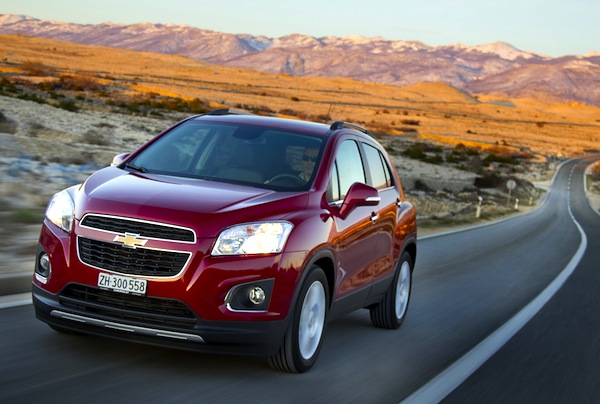 Chevrolet Trax
Further down, notice the Citroen C4 Picasso up 23 ranks to #26, the Fiat Panda up 45 to #30, Peugeot 3008 up 53 to #34 and the Audi Q3 up 37 to #45. As for newcomers, the Chevrolet Trax is up a fantastic 50 spots to #75 to now rank well above its twin the Opel Mokka (#119), the Peugeot 2008 is down 28 ranks to #93, the Dacia Dokker up 61 to #96 and the Renault Captur up 18 to #129.
Previous month: Czech Republic June 2013: First study suggests Rapid cannibalised Ocatvia & Fabia
One year ago: Czech Republic June 2012: Skoda Roomster at highest in 4 years
Full July 2013 Top 150 models and Top 42 All-brands Ranking Tables below.