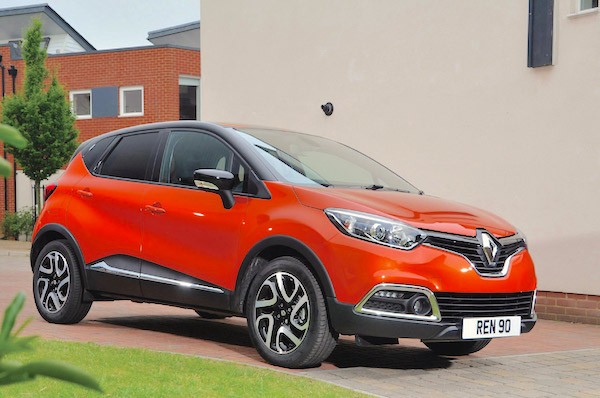 The success of the Captur lifts Renault up to third place in Europe.
* See the Top 10 best-selling brands and Top 12 models by clicking on the title *
At +8% to 7.410.510 registrations over the 1st Half of 2015, the European new car market is clearly headed towards a second consecutive year of growth. However apart from the UK (+7%), the major part of other positive markets such as Germany (+5%), France (+6%), Italy (+15%) and Spain (+22%) have relied heavily upon artificial ways of sustaining demand such as scrappage schemes or fleet and rental purchases. In these countries, private demand seems to have reached saturation already, so the 2nd Half of 2015 will give a good indication of the long-term prospects of this return to growth in Europe.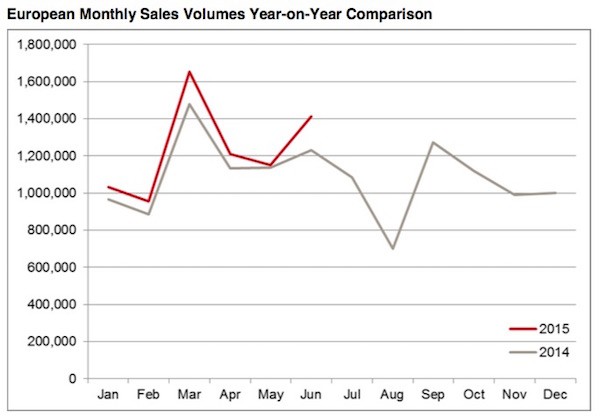 Source: JATO Dynamics
Brand-wise, Volkswagen manages to outpace the market with sales up 9% to just under 900.000 units with the Golf remaining Europe's best-seller by far at 276.000 sales, the Polo up 13% to #4 and the Passat up 39% to brilliantly break back into the European Top 10 at #10. Ford underperforms at +6% in 2nd position: the Fiesta is up just 4% at #2 and the Focus up 5% at #6. Renault posts a double-digit gain on 2014 at +10% to 517.000 deliveries, boosted by the Captur up 23% to #12 (and #7 in June) while the Clio is up just 2%. Opel is knocked down to 4th place despite a full year of running it alone in Europe as the Chevrolet brand was discontinued a year ago, the Corsa is up 13% thanks to the new model in 5th place.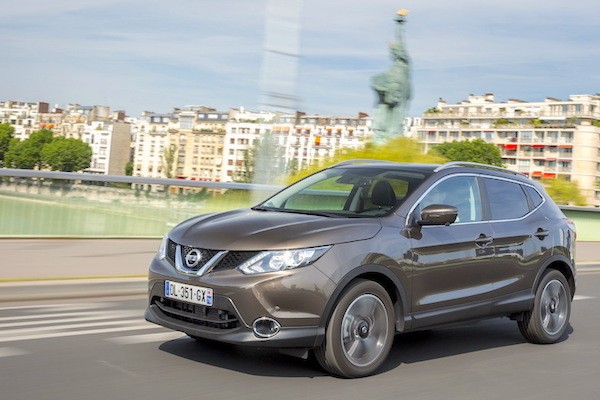 Nissan Qashqai sales are up 13% year-on-year in Europe.
Below Peugeot at #5 – the 208 is in difficulty at #8 but the 308 and 2008 both make their way towards the Top 10 – Audi keeps the lead in the luxury race but posts the smallest year-on-year gain by far at just +4% to 400.600 units (#6) vs. +8% for BMW at 372.200 sales (#7) and a stunning +11% for Mercedes at 371.600 deliveries, helped by the success of the new C-Class, A-Class and GLA-Class and before the GLC and GLE with their respective coupe variants hit the market. Skoda breaks into the European Top 10 with sales up 7% to 319.300 but the Octavia is kicked out of the models Top 10 by the VW Passat. Finally, notice the Nissan Qashqai gaining a splendid 13% and one spot vs. a year ago to rank at a best-ever #7.
Full All-brands and All-models rankings will be published in early August.
Previous post: Europe June 2015: Renault Captur equals all-time record #7 spot
Q1 2015 update: Europe 1st Quarter 2015: Nissan Qashqai leads SUV surge
FY 2014 update (1): Europe Full Year 2014: Sales up for the first time in 7 years, Octavia and A3 in Top 10
FY 2014 update (2): Europe Full Year 2014: Discover the Top 360 All-models and All-brands
One year ago: Europe 1st Half 2014: Trusted nameplates outperform market
Full H1 2015 Top 10 brands and Top 12 models vs. Full H1 2014 figures below.