The Audi A3 is now knocking on the Top 10′s door!
* See the Top 344 best-selling models by clicking on the title! *
* See also the Top 105 all-brands & Top 360 models for Europe Full Year 2012 here *
After going through the October European top sellers, we are backtracking a little bit as thanks to Bart from Left-Lane.com I can share with you today a Top 344 models ranking for Europe over the first 9 months of 2013. We learn that the Audi A3 is now knocking on the Top 10′s door, up from #24 thanks to sales up 22% to 124,571. Inside the Top 20, the Fiat 500 is also in great shape in spite of its old age, up 5 spots to #13, while the BMW 1 Series is up 4 to #15.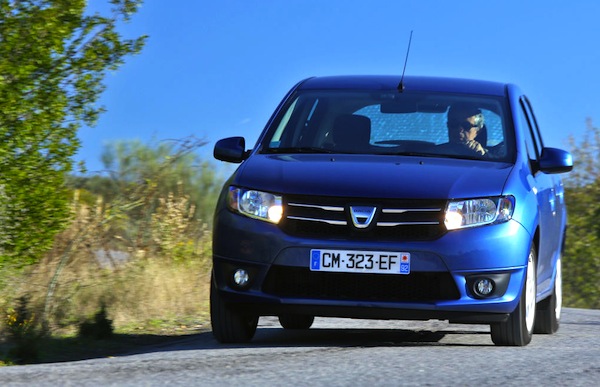 European Dacia Sandero sales are up 62% so far in 2013.
Explosive growth for the Mercedes A-Class: the new model boosted sales up 122% year-on-year and the model went from #75 one year ago to #20 now. Let's extend the net to the Top 50 and salute the VW Up! up 11 ranks to #23, the Dacia Sandero up a huge 35 spots to #25 and up 62% year-on-year, the Nissan Juke up 8 to #28, Toyota Auris up 36 to #29, Hyundai i30 up 9 to #36, Kia Cee'd up 15 to #40 and Seat Leon up 31 to #46.
The Fiat 500L is already almost inside the European Top 50.
Among recent all-new launches, the most popular is the Fiat 500L up to #54 with 55,615 sales, followed closely by the Ford B-Max at #55 and 55,034 units and the Opel/Vauxhall Mokka at #56 and 54,087 sales. Further down we have the Renault Captur at #63 and 48,068 units, the Opel/Vauxhall Adam at #93 and 35,437 sales, Peugeot 2008 at #103 and 28,347 units, Skoda Rapid at #111 and 24,349 sales, Mercedes CLA-Class at #122 and 21,167 units, Dacia Dokker at #139 and 14,749 sales and the Seat Toledo at #158 and 10,828 units.
The Aston Martin Vanquish is the #297 best-selling model in Europe.
Other interesting developments involve the Citroen C3 Picasso up 20 spots to #63, Audi Q5 up 13 ranks to #75, Range Rover Evoque up 8 to #80, Mazda CX-5 doubling its sales year-on-year to #84, VW Beetle up 58% to #101, Dacia Lodgy up 68% to #108, Mazda6 up 75% to #110, Range Rover up 82% to #171, Renault Zoe landing at #191, Mercedes GL up 288% to #222, Porsche Cayman up 213% to #233, the Ferrari F12 arriving at #287 with 557 sales and the Aston Martin Vanquish catapulted inside the Top 300 at #297 and 304 units.
Previous post: Europe October 2013: Skoda Octavia breaks into Top 5 for the first time
Previous September update: Europe September 2013: VW Golf shines in market up 6%
One year ago: Europe September 2012: Toyota Yaris in Top 10, market down 11%
Full 9 months 2013 Top 344 models Ranking Table below.