Slovakia January 2012: Octavia hits highest ever market share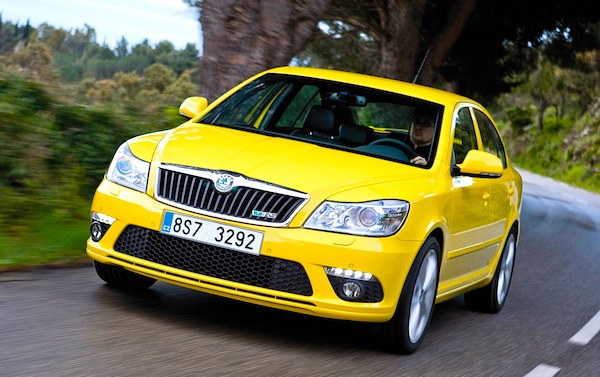 Skoda Octavia
* See the Top 50 best-selling models by clicking on the title! *
Car sales in Slovakia are up an encouraging 9% in January 2012 at 4,808 registrations. Traditionally extremely strong in the country, Skoda does even better this month with fantastic performances of each and every model. The Skoda Octavia hits its highest ever monthly market share in Slovakia at 13.8% thanks to 664 sales. In second place, the Fabia is at its highest share since December 2008 at 11.5% and 554 units.
Skoda Fabia
Below the Kia Sportage rounding up the podium at 2.5% share and the VW Golf very robust at #4, the Skoda Yeti is up to equal#5 with the Kia Cee'd at 108 sales and 2.2% while the Roomster ranks #8 at 107 units. Exceptional performance of the Seat Leon up to 7th place with 108 sales, while the Kia Rio new generation continues its progression to #13 this month at 1.5% share. Other great performers this month include the Chevrolet Cruze at #17, VW Tiguan at #19, VW Jetta at #28, Mercedes B Class at #36 and Renault Scenic at #50.
Previous post: Slovakia Full Year 2011: Skoda Octavia leads, Kia Sportage #3!
One year ago: Slovakia January 2011: Kia Sportage up to #3!
Full January 2012 Top 50 Ranking Table below.Slovakia January 2012:
| | | | | | | | |
| --- | --- | --- | --- | --- | --- | --- | --- |
| Pos | Model | Jan | % | Dec | 2011 | % | Pos |
| 1 | Skoda Octavia | 664 | 13.8% | 1 | 6,100 | 8.9% | 1 |
| 2 | Skoda Fabia | 554 | 11.5% | 2 | 4,973 | 7.3% | 2 |
| 3 | Kia Sportage | 118 | 2.5% | 4 | 1,904 | 2.8% | 3 |
| 4 | VW Golf | 111 | 2.3% | 6 | 1,436 | 2.1% | 7 |
| 5 | Kia Cee'd | 108 | 2.2% | 3 | 1,627 | 2.4% | 5 |
| 6 | Skoda Yeti | 108 | 2.2% | 11 | 804 | 1.2% | 21 |
| 7 | Seat Leon | 107 | 2.2% | 14 | 602 | 0.9% | 33 |
| 8 | Skoda Roomster | 103 | 2.1% | 21 | 901 | 1.3% | 17 |
| 9 | VW Polo | 96 | 2.0% | 5 | 1,562 | 2.3% | 6 |
| 10 | VW Passat | 80 | 1.7% | 19 | 987 | 1.4% | 10 |
| 11 | Renault Megane | 79 | 1.6% | 7 | 970 | 1.4% | 11 |
| 12 | Renault Clio 3 | 76 | 1.6% | 12 | 675 | 1.0% | 23 |
| 13 | Kia Rio | 73 | 1.5% | 15 | 494 | 0.7% | 38 |
| 14 | Suzuki SX4 | 66 | 1.4% | 8 | 1,684 | 2.5% | 4 |
| 15 | Dacia Duster | 62 | 1.3% | 18 | 1,200 | 1.8% | 8 |
| 16 | Skoda Superb | 56 | 1.2% | 24 | 817 | 1.2% | 20 |
| 17 | Chevrolet Cruze | 54 | 1.1% | 23 | 638 | 0.9% | 28 |
| 18 | Renault Thalia | 54 | 1.1% | 9 | 942 | 1.4% | 13 |
| 19 | VW Tiguan | 54 | 1.1% | 17 | 455 | 0.7% | 44 |
| 20 | Ford Focus | 51 | 1.1% | 10 | 898 | 1.3% | 18 |
| 21 | Peugeot 207 | 48 | 1.0% | 26 | 881 | 1.3% | 19 |
| 22 | Peugeot 3008 | 48 | 1.0% | 25 | 604 | 0.9% | 32 |
| 23 | Toyota Yaris | 47 | 1.0% | 27 | 567 | 0.8% | 36 |
| 24 | Hyundai ix35 | 45 | 0.9% | 13 | 961 | 1.4% | 12 |
| 25 | Nissan Qashqai | 45 | 0.9% | 28 | 669 | 1.0% | 24 |
| 26 | Ford Fiesta | 44 | 0.9% | 29 | 789 | 1.2% | 22 |
| 27 | Hyundai i30 | 43 | 0.9% | 30 | 1,019 | 1.5% | 9 |
| 28 | VW Jetta | 42 | 0.9% | 49 | 252 | 0.4% | 72 |
| 29 | Opel Astra 4 | 41 | 0.9% | 16 | 941 | 1.4% | 14 |
| 30 | Renault Fluence | 41 | 0.9% | 20 | 904 | 1.3% | 16 |
| 31 | Peugeot 308 | 38 | 0.8% | 22 | 641 | 0.9% | 27 |
| 32 | Citroen C4 | 35 | 0.7% | 43 | 582 | 0.9% | 34 |
| 33 | VW Touran | 35 | 0.7% | 58 | 349 | 0.5% | 54 |
| 34 | Dacia Sandero | 34 | 0.7% | 39 | 306 | 0.4% | 61 |
| 35 | Citroen Berlingo | 32 | 0.7% | 40 | 450 | 0.7% | 45 |
| 36 | Mercedes B Class | 30 | 0.6% | 66 | 129 | 0.2% | n/a |
| 37 | Seat Ibiza | 30 | 0.6% | 35 | 914 | 1.3% | 15 |
| 38 | Ford Mondeo | 29 | 0.6% | 53 | 265 | 0.4% | 69 |
| 39 | Hyundai i20 | 28 | 0.6% | 52 | 619 | 0.9% | 30 |
| 40 | Suzuki Swift | 28 | 0.6% | 34 | 419 | 0.6% | 48 |
| 41 | Chevrolet Orlando | 27 | 0.6% | 44 | 312 | 0.5% | 60 |
| 42 | Mercedes ML Class | 26 | 0.5% | 36 | 299 | 0.4% | 62 |
| 43 | BMW 5 Series | 25 | 0.5% | 41 | 458 | 0.7% | 43 |
| 44 | Peugeot Partner | 25 | 0.5% | 31 | 459 | 0.7% | 42 |
| 45 | Toyota Auris | 25 | 0.5% | 55 | 571 | 0.8% | 35 |
| 46 | Chevrolet Aveo | 24 | 0.5% | 75 | 391 | 0.6% | 50 |
| 47 | Citroen C3 | 24 | 0.5% | 37 | 651 | 1.0% | 25 |
| 48 | Toyota RAV4 | 24 | 0.5% | 70 | 352 | 0.5% | 53 |
| 49 | Peugeot 206+ | 23 | 0.5% | 63 | 536 | 0.8% | 37 |
| 50 | Peugeot 508 | 23 | 0.5% | 38 | 358 | 0.5% | 52 |
| 51 | Renault Scenic | 23 | 0.5% | 65 | 191 | 0.3% | 85 |
Source: www.zapsr.sk