BMW is under attack from Audi and Mercedes, with all 3 manufacturers breaking records.
Worldwide results are in for the first 7 months of the year for German premium brands and according to Automotive News it looks like BMW's crown is starting to be in danger from Audi and Mercedes. But let's get one thing cleared up first. All 3 manufacturers are hitting all-time volume highs so far in 2014! An incredible group performance indeed. BMW has been the global premium car sales leader since overtaking Mercedes in 2005. Audi has ranked second since 2011. Both Audi and Mercedes have said they want to take the top spot by the end of the decade… A fascinating battle indeed.
Over the period BMW brand sales gained 10% year-on-year to 1.03 million units, the first time BMW has passed the million mark this early in the year and a pretty impressive performance if you ask me, helped by the launch of the 2 Series, 4 Series, i3 and X4. But the issue is: both Audi and Mercedes are doing even better. At #2 Audi grew by 11% to 1.01 million units, (also the very first time the brand sells over 1 million units globally in just 7 months) helped by a 52% yoy increase for the A3 last month to 22,450 units due to the arrival of the sedan variant. At the same time Mercedes rose 13% to 920,000 units, thanks mainly to the success of the new C-Class and its new compact range: the  A-Class, CLA and GLA.
Global Mercedes brand sales are up a splendid 13% so far in 2014.
Because the three competitors are now so close to each other in overall sales, the growth percentage differences were reflected in actual volumes too: BMW sold about 77,000 more units in the seven months this year than last year, but Audi sold about 101,000 more and Mercedes about 104,000 more. Of course, the overall picture is more complex and the 3 premium Germans experience very diverse fortunes in key global markets. Audi is the market leader in both Europe and China, while BMW is the best-seller in the United States.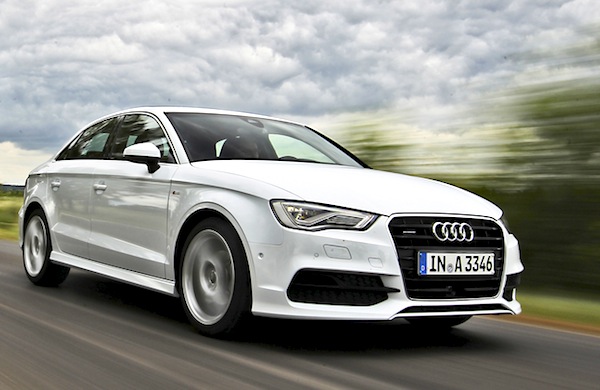 Audi A3 Sedan
China
China has been the big growth market for all three premium German manufacturers in recent years. Here Audi remains the clear leader, with 316,945 units sold in the first seven months — an increase of about 46,000 units equal to 17% growth. Second place BMW grew in volume terms by a similar amount, about 45,000 units, representing a 22% rise, lifting its seven-month sales there to 245,558. Mercedes showed the most dramatic growth in China over the period with a 34% gain, but it is coming from well behind and that increase equated to about 40,000 additional units, bring its 7 months total to 156,843. However this explosive growth may slow since the manufacturer was found guilty of price fixing for after-sales services.
Europe
In Europe, Audi sold 474,000 units in the first 7 months this year, up 7% on last year. Mercedes ranks 2nd with a 30,000 increase in units sold to 411,178, but up 8% because it is working off a lower initial base. Against these two, however, BMW lost ground. It sold a total of 396,066 units in Europe, an increase of 6%, or of about 22,000 units, over the same period last year.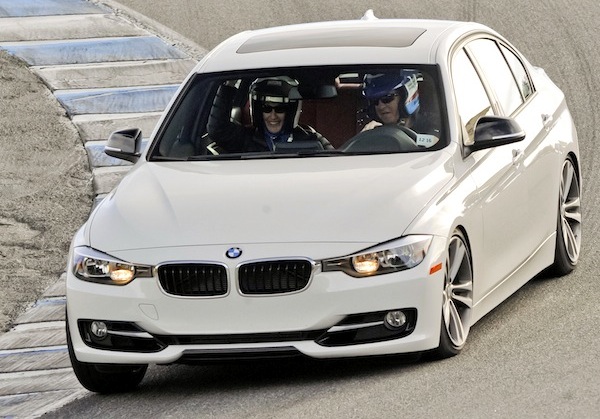 BMW 3 Series (US model shown)
United States
In the United States, BMW has the top spot. In the first 7 months it sold 183,791 vehicles, up about 19,300 units or 12% on the same period last year. Mercedes was the country's No. 2-ranked premium brand with a volume of 178,816, up about 13,200 units or 8% on the same period last year. From a much lower base, Audi's U.S. sales of 98,965 units represented growth of 13%, but the increase in actual units sold was about 11,000. Audi ranks 4th among premium brands in the U.S. market behind No. 3 Lexus.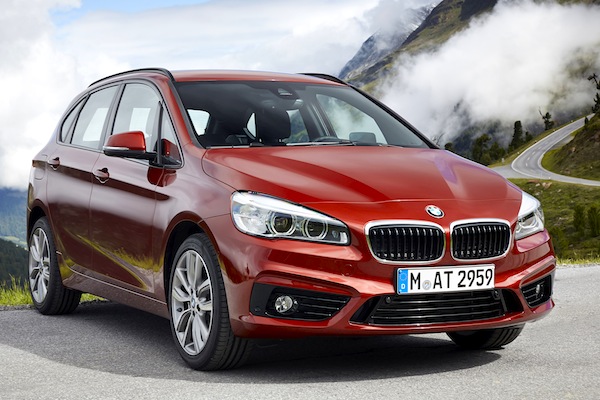 Will the BMW 2 Series Active Tourer decide the global premium crown for 2014?
Who will win in 2014?
If Mercedes still seems one notch below its two competitors even though it is gaining more ground so far this year, the battle is totally open between BMW and Audi for the year-end global premium crown. Only 20,000 sales separate the two brands after 7 months vs. 26,500 one year ago, however this difference grew to 80,000 at the advantage of BMW at the end of 2013. The A3 sedan is only starting to climb up the sales charts both in the United States and China so I predict Audi to remain extremely close to BMW all through 2014. The arrival of the 2 Series Active Tourer towards the end of the year in Europe could be the decider.
My prediction for the Full Year 2014 is: 1. BMW (1.83 million units, +10%), 2. Audi (1.79 million, +13%), 3. Mercedes (1.65 million, +13%)