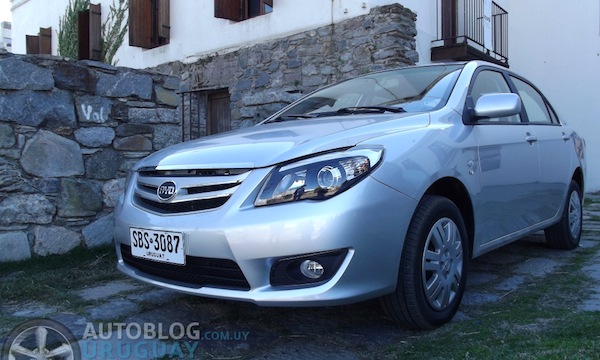 BYD New F3
* See the Top 42 All-brands ranking by clicking on the title! *
New car sales in Uruguay are down 3% year-on-year in September to 4.280 registrations, bringing the year-to-date total to 38,989 units, down 4% on 2013. Chevrolet keeps the lead of the brands ranking with 11.7% share but Suzuki is decidedly becoming more and more threatening as the months come by, managing a third straight month in 2nd place thanks to 477 sales and 11.1%, and for now still #4 year-to-date below Fiat and Volkswagen, kicked down to #3 and #4 respectively in September. Below Mitsubishi up 7 spots on its year-to-date ranking at #7, we have a very rare event in Uruguay: BYD overtakes Chery to become the country's most popular Chinese manufacturer in 8th position thanks to 207 sales and 4.8% share vs. #14 and 2.4% for Chery, in fact also passed by Lifan at #11 and 2.8% share. Notice also BAIC (Beijing Auto) selling its first 32 units of the year in Uruguay this month at #23. All-in-all, Chinese brands account for 20.6% of the Uruguyan new car market in September vs. 22.8% year-to-date and 23.3% in 2013.
Previous month: Uruguay August 2014: Suzuki remains in 2nd place with 10.8%
Previous year: Uruguay (brands) Full Year 2013: One in four new cars is Chinese!
Full September 2014 Top 42 All-brands Ranking Table below.