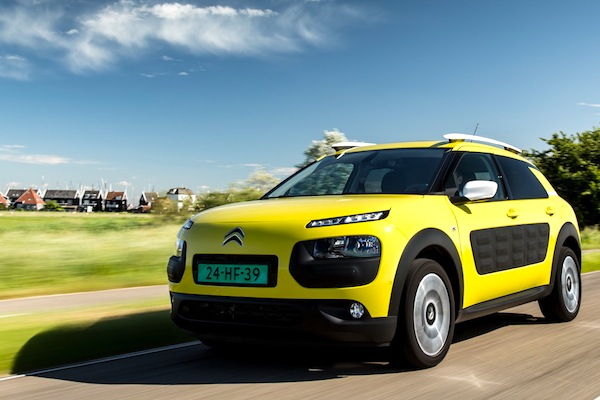 Citroen C4 Cactus
* See the Top 30 All-brands and Top 20 models by clicking on the title *
Not quite on the recovery track yet: new car sales in Croatia plunge 20% year-on-year in April to 3,746 registrations, bringing the year-to-date total back down into negative territory at -2% and 11,850 units. Volkswagen (19%), Opel (14.9%) and Skoda (11.1%) top the brands ranking, while the Opel Astra is the best-selling nameplate in the country for only the 2nd time in the past 2 years (with last June), up 6 spots on March, ahead of the VW Golf and Skoda Octavia who lead the year-to-date ranking. The VW Passat is up a nice 7 ranks on last month to #4, the Dacia Duster (#7), Skoda Fabia (#8) and Seat Leon (#14) jump back inside the Top 20 while the VW Golf Sportsvan (#15) and Citroen C4 Cactus (#20) make their first appearance in the select club of the 20 most popular nameplates in Croatia.
Previous month: Croatia March 2015: Dacia Sandero sovereign
One year ago: Croatia April 2014: VW Up up to #8 in market up 66%
Full April 2015 Top 30 All-brands and Top 20 models below.