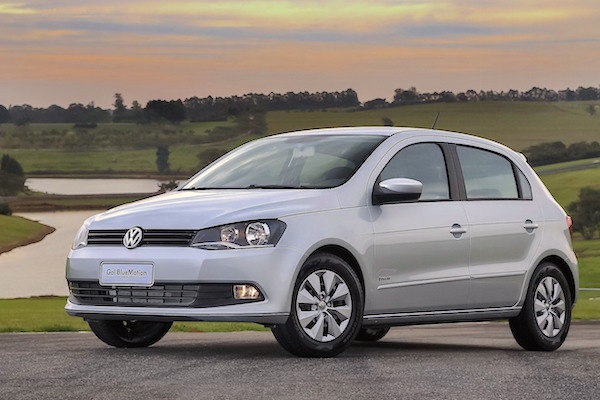 The VW Gol Trend is back to #1 in Argentina.
* See the Top 35 All-brands and Top 192 All-models by clicking on the title *
The Argentinean new car market seems to be slowly stabilising: down just 4% year-on-year in April to 51.371 registrations, bringing the year-to-date total to 207.155 units, down 23% on 2014. Volkswagen takes a clear advantage over all other brands this month thanks to sales up 13% on April 2014 to 9.513 units, while Ford is down 16% in 2nd place at 6.907 deliveries. Chevrolet (+13%) and Toyota (+5%) follow but Fiat (-33%), Renault (-39%), Peugeot (-33%) and Citroen (-24%) all plummet down. Nissan (+61%), Chery (+66%), Audi (+167%) and Kia (+183%) all post extremely satisfying results. Model-wise, the VW Gol Trend is back in charge for the 4th time in the past 6 months thanks to 2.621 deliveries, just above the Toyota Hilux (2.441) with the Ford Fiesta Kinetic (1.961) and Ford Focus III (1.887) rounding up the Top 4. The Chevrolet Spin jumps 14 spots to #16 and the Nissan Note is up 43 ranks to #64 for its 2nd month in market.
Previous month: Argentina March 2015: Ford Focus edges past Toyota Hilux to #1
One year ago: Argentina April 2014: VW Gol Trend consolidates leadership
Full April 2015 Top 35 All-brands and Top 192 All-models below.