Brazil mid-February 2013: Hyundai HB20 up to 4th place!
Hyundai HB20
* NOW UPDATED with the Top 20 brands and Top 150 models! Click on title to see *
New car sales in Brazil are up 5% year-on-year over the first half of February to 142,947 registrations. Traditionally very stable, the Brazilian models ranking is up for an eventful year in 2013... If the VW Gol stays on top with 10,264 sales and 7.2%, the rest of the Top 10 is turned upside down over the period. The Fiat Palio is back up to 2nd place at a very impressive 9,018 units and 6.3%, the nameplate's highest market share in the country in over 3 years, passing its lil sis the Fiat Uno, down to #3 with 7,019 sales and 4.9%.
Chevrolet Onix
But the massive event of the period is obviously the unheard-of 4th place of the locally produced Hyundai HB20, up 5 spots on its full January ranking to deliver a record 6,404 units for a 4.5% market share, levels that the Korean brand could only dream of achieving before the HB20 came along... This is the first time a Korean model ranks within the Brazilian Top 5 and the slight slowdown experienced at the start of the year ended up being only temporary, as the HB20 is now only 600 units behind the Fiat Uno! This performance enables Hyundai to jump up to #5 brand over the period with 6.5% market share.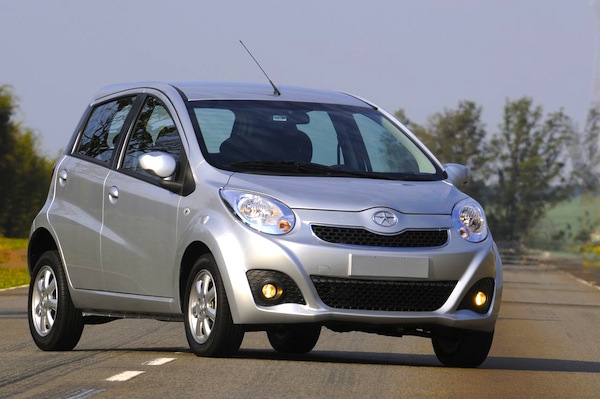 JAC J2
The Chevrolet Onix is also responsible for the completely changed Brazilian Top 10, remaining at a fantastic 5th position thanks to 6,055 sales and 4.2%, a market share record for the model so far. Other high achievers over the period include the Honda Civic up 33 spots on last month to #19, Chevrolet Cruze Hatch up 8 to #31 and the JAC J2 flamboyantly becoming the best-selling Chinese model in the country, up 49 to #68. Notice also the Toyota Etios Hatch up 6 to #26 and Etios Sedan up 13 to #35, still very shy figures.
Previous post: Brazil January 2013: Chevrolet Onix breaks into Top 5
One year ago: Brazil mid-February 2013: Fiat Palio on podium for 1st time in 2 years
Full mid-February 2013 Top 20 brands and Top 150 models Ranking Tables below.