South Korea January 2013: Facelifted Hyundai Grandeur on top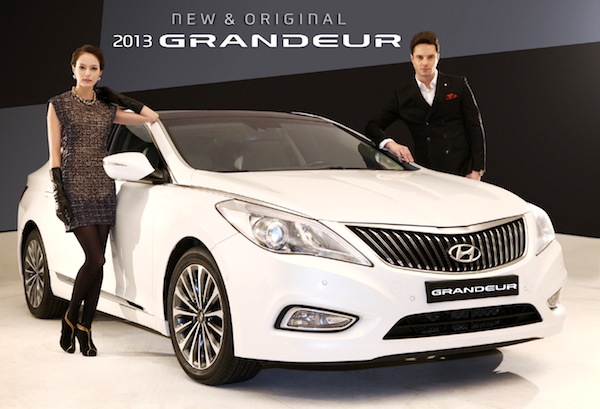 2013 Hyundai Grandeur
* See the Top 50 All-local models and Top 5 All-brands by clicking on the title! *
Sales of new local models are up a healthy 8% year-on-year in January in South Korea to 104,377 registrations. It only took a slight facelift (hint: its grill now has vertical motifs) for the Hyundai Grandeur to get back in pole position for only the 4th time in the last 2 years after April 2011, May 2011 and February 2012 thanks to 8,027 sales and 7.7% share. The Hyundai Porter has an excellent month, up 2 spots on December to #2 at 7,805 units and 7.5%, in fact I don't think I have seen it that high since we've been following the South Korean models ranking monthly 3 years ago...
Hyundai Porter
The Kia Morning is up 3 ranks to get back onto the podium at #3, whereas last month's podium is... well completely outside it in January: the Hyundai Sonata is down to #4 (-2), the Santa Fe down to #5 (-2) and the Avante down 5 spots to #6... It's a great month for Commercial Vehicles: apart from the Hyundai Porter, both the Kia Bongo and Hyundai Grand Starex are up 4 ranks to #8 and #9 respectively, while the Daewoo Damas is up 9 to #24. Notice also the Kia K3 slipping out of the Top 10 at #11 (-4).
Previous post: South Korea Full Year 2012: Hyundai Avante and Sonata lead
Previous month:  South Korea December 2012: 5 Hyundais in Top 5!
One year ago: South Korea January 2012: Hyundai Sonata and Kia Ray shine
Full January 2013 Top 50 models and Top 5 brands Ranking Tables below.