USA November 2012 Hybrid and Electric cars: Ford C-Max confirms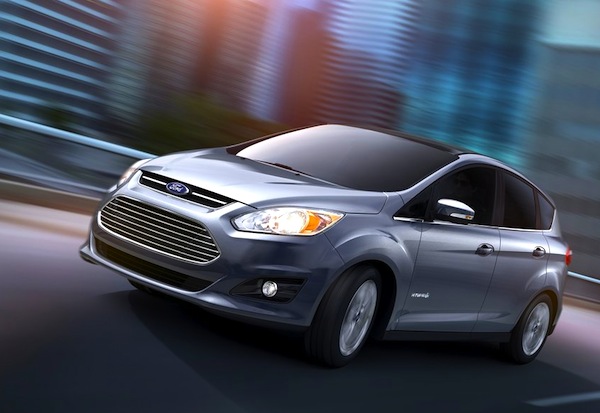 Ford C-Max Hybrid
* See the Top 48 All-models ranking by clicking on the title! *
This US update is brought to you by CARiD.com - Car Parts & Accessories
After looking at overall November and 11 months 2012 US rankings, as is now the tradition on BSCB we now explore in detail the best-selling Hybrid and Electric cars. While this segment saw its sales nearly double year-on-year in October at +95%, this month the growth is a more humble yet still impressive 47% to 41,617 registrations. This brings the year-to-date total to 434,943 sales, up a mammoth 68% on 2011. In other words, if all Hybrid and Electric cars sold in the US were one model it would rank #2 behind only the Ford F-Series… Note 2 in 3 Hybrid and Electric cars sold in the country in 2012 so far is a Toyota or a Lexus, however Ford is catching on...
While the Toyota Prius still leads the ranking by far, its sales are down a worrying 23% year-on-year to 8,925 units. Like last month, the Top 2 most popular vehicles in the category are Toyotas, with the Camry replacing the Prius c in 2nd spot with 3,924 sales, up fivefold on November 2011. For its third month of sales, the Ford C-Max confirms it is a serious contender in the category and potentially the key to Ford establishing themselves as a true player in the Hybrid world. It sells 3,589 units and ranks #3, ahead of its competitor the Toyota Prius V (2,690 sales) for the 2nd month running. Funny/Clever how launching an 18-month old car as a Hybrid only in the US put Ford on the sustainable map...
Previous month: USA October 2012 Hybrid and Electric cars: Ford C-Max #3!
Overall November post: USA November 2012: Honda Civic #1 Passenger Car, hits highest ranking since August 2009
Overall 11 months post: USA 11 months 2012: Discover the Top 277 All-models ranking!
Full November 2012 Top 48 All-models ranking below.
Sponsored feature: Looking for the right auto accessories and parts for your vehicle? CARiD ranks second to none in providing top-notch products by the most trusted manufacturers in the aftermarket industry. It means that every single item features the highest quality standards of manufacturing, unsurpassed design, and reasonable service life. You'll find everything from exterior embellishments such as body kits, custom grilles, custom wheels, and license plates to miscellaneous interior accessories such as seat covers, floor mats, steering wheels, the list goes on and on. CARiD is a one-stop shop for unmatched performance parts as well: exhaust systems, suspension systems, air intakes, etc. are at your fingertips whenever you need them. Besides, CARiD strives to please every customer, thereby performing exceptional after-sale service one would ever imagine.