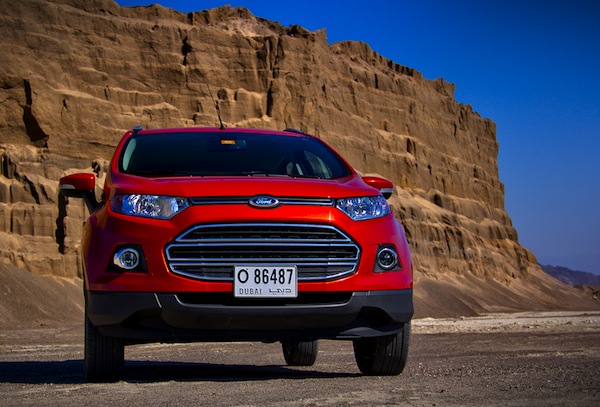 Ford Ecosport (UAE model pictured)
* See the Top 28 All-models and Top 10 All-brands by clicking on the title! *
New car sales in Venezuela are still knocked out at -75% year-on-year in September to just 1,917 registrations, bringing the year-to-date total to 13,419 units, down an abysmal 86% on 2013. Ford (39.1% share) and Toyota (27.1%) are the only manufacturers selling in significant figures, accounting for two-thirds of the market in September. The Toyota Corolla takes the leads of the models ranking thanks to 304 sales and 15.9% ahead of the Ford Explorer at 10.2% while the Civetchi Pickpup (aka Dongfeng Utah) is down two spots to #3 but remains #1 year-to-date at 2,728 sales and 20.8% share. An extremely rare event in the current depressed context, we welcome a newcomer in the ranking this month: the Ford Ecosport lands directly in 5th position thanks to 140 sales and 7.3% market share, a very encouraging debut.
Previous month: Venezuela August 2014: No improvement in market down 80%
One year ago: Venezuela September 2013: Mitsubishi Lancer holds onto #1 spot
Full September 2014 Top 28 All-models and Top 10 All-brands Ranking Tables below.