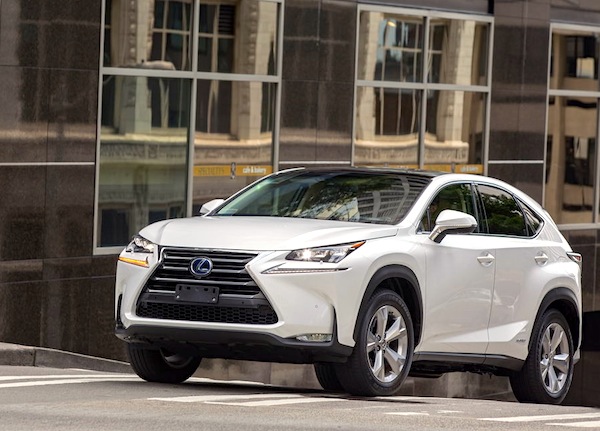 The Lexus NX lands directly inside the Swedish Top 70
* See the Top 80 best-selling models and Top 35 brands by clicking on the title! *
Another very satisfying month of sales for the Swedish new car market: up 12% year-on-year in September to 28,252 registrations which brings the year-to-date total to 250,888 units, up 15% on 2013. Volvo is particularly strong at 22.3% share thanks to 6,310 sales vs. 19.7% year-to-date, ahead of Volkswagen very consistent at 14.6% vs. 14.8% YTD. Excellent performance of Audi up 3 spots on September to round the podium #3 and 6.7% share, up 32% on October 2013. Notice also Mercedes up 20%, Peugeot up 132% on a particularly weak October 2013, Mitsubishi up 128%, Fiat up 62%, Dacia up 61%, Seat up 60% and Lexus up 80% on the sole strength of the NX SUV landing directly at #67 with 108 units or almost 70% of sales of the entire brand in Sweden this month!
Particularly strong month for the market leader the Volvo V70
Now looking at the models ranking in detail, let's note the Top 4 best-sellers all over performing on their YTD levels: the Volvo V70 leads the way as usual at 8.6% share vs. 7.5% followed by the VW Golf at 6.7% vs. 5.4%, the Volvo S/V60 at 6.2% vs. 4.7% and the Volvo V40 at 3.8% vs. 3.2%. Reversely, the VW Passat in the midst of a generation changeover is down to #5 and 3.6% and drops one rank YTD to #4, overtaken by the Volvo S/V60. The Audi A6 shines at #9 vs. #14 YTD, as do the Kia Sportage at #16, Mitsubishi Outlander at #19, Audi A1 at #31, Suzuki SX4 at #35 and Citroen C4 Cactus at #68.
The Saab 9-3 is at its best since 2011.
Onto some great news for the Swedish car industry: the Saab 9-3 is reborn this month, jumping to #69 with 105 sales and adding up to 255 units year-to-date. This is the nameplate's best monthly ranking since Saab Automobile applied for bankruptcy back in 2011, and it comes at the same time Saab parent company National Electric Vehicle Sweden managed to secure an extension on its reorganisation until November 29. NEVS also claims they are "finalising negotiations with two Asian automotive manufacturers," and Mahindra is rumoured to be involved. The reorganisation plan was initially denied by the Swedish court but then approved a day later. As part of it, NEVS laid off factory employees because the company didn't expect production to restart for a while and hadn't built a car since May. October sales are thus models manufactured prior to May and not the reflection of a reboot of the production line.
Previous month: Sweden September 2014: Volvo V60 on podium
One year ago: Sweden October 2013: Toyota Auris hits record thanks to Touring
Full October 2014 Top 80 models and Top 35 brands Ranking Tables below.