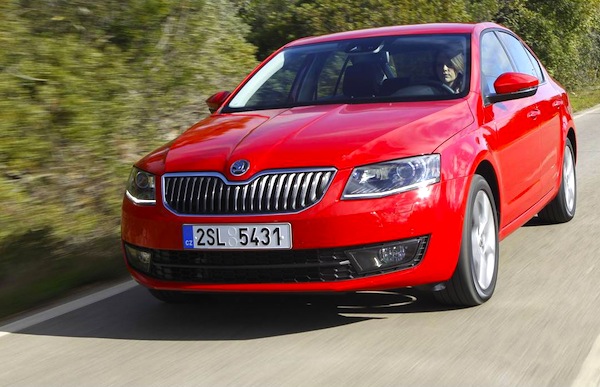 Skoda Octavia
* See the Top 50 best-selling models and Top 40 All-brands by clicking on the title! *
Things are starting to go alarmingly wrong for new car sales in Romania, with June down 46% year-on-year to just 3,967 registrations, which brings the year-to-date total to 24,549 units, down 26% on 2012. If the Dacia Logan comfortably lodges its 106th consecutive mont atop the Romanian models ranking with 490 sales and 12.4%, the #2 spot changes hands this month to land with the Skoda Octavia, back up 8 ranks on May thanks to the new generation now kicking in at 207 units and 5.2%. The Dacia Duster is down to third place at 201 sales and 5.1% but remains #2 year-to-date at 1,362 units and 5.5% vs. 1,108 and 4.5% for the Octavia.
Mercedes CLA
Excellent performance of the VW Golf, stable at #4 but up to 4.5% share thanks to 179 sales, followed by the VW Passat up 12 ranks on last month to #5, while the Toyota Auris is up a massive 39 spots to #7 and the Dacia Sandero is down 5 to #8. Other great performers this month in Romania include the Hyundai Elantra up from outside the Top 100 in May to #13, the Renault Captur landing directly in 19th position for its first full month of sales in the country at 1.2% share, and the Mercedes CLA breaking into the Top 50 for the first time at #46, making Romania the second country in the world where it has done so so far with Turkey (and not Germany!).
Previous month: Romania May 2013: Podium 100% Dacia, Sandero highest since 2009
One year ago: Romania June 2012: Dacia Lodgy makes its first appearance
Full June 2013 Top 50 models and Top 40 All-brands Ranking Tables below.