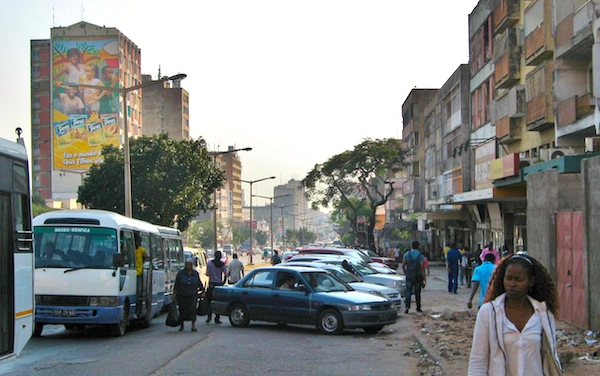 Street scene in Maputo, Mozambique
The streets of the capital city of Mozambique, Maputo, have witnessed an increase in the number of cars during the last few years. The types and brands of the vehicles are varied and mixed, but the most popular appear to be those of Japanese used cars such as Nissan and Toyota. One will soon notice that most of these vehicles appear to have one particular feature in common – many carry stickers and tire-covers displaying various Japanese car-export company logos.
There are two main methods through which second-hand Japanese vehicles are purchased in Mozambique. The first is through the city's local brokers, and the other is a direct purchase from websites run by Japanese companies. The latter in particular has become growingly popular over the past few years.
Many Japanese export companies trade with Mozambique and other African countries through their own sites. CardealPage is one such site, and it has been steadily increasing its supplies to Mozambique by providing a diverse selection of vehicles, ranging from compacts, sedans, the popular SUVs, to trucks and buses.
You will firstly select the type and kind of vehicle of your choice at CardealPage. Then you can further narrow your search down to mileage, budget, color and make. By clicking on whatever vehicle of choice, you will be taken to a page that combines specs and pictures, along with other detailed information about the vehicle.
How much information you find about the vehicles will differ from one company's site to another. At CardealPage, you will find sections dedicated to Inspector's Note and Equipped Kit, which is a unique feature and can not be found on other sites. Inspector's Note gives information to the condition of engines, exhaust, and the smell and state of the interior. Equipped Kit provides a list of jacks, tool kits, and spare tires that are equipped with the vehicles. These are references that can not be determined from pictures alone.
One may find vehicles advertised at very low prices on other sites, but there have also been many cases where the condition of the engines, transmissions, and other parts were reported sub-standard. CardealPage informs all its customers if the vehicles had any of the above problems, and this transparency may be one of the reasons why more Africans customers are preferring to shop through the site.
Buyers must take notice of the total price or cost when purchasing a vehicle. The price of each vehicle is listed as FOB, but this only refers to the cost of the vehicles alone, and does not include shipping. Insurance  may also be added as an optional extra, covering accidental damages during transit. Most sites, including CardealPage, feature automatic functions where it will calculate the cost of vehicle and freight (CFR), as well as all of the former including insurance (CIF).
If you agree to the total cost, you place an order, and an email with an attached invoice is then sent automatically to your inbox. All that remains is to take the invoice to your bank and complete the purchase. Any worries or concerns can be discussed with the companies' sales advisors via email or telephone. There have been reported cases where customers were sent vehicles that were different to the ones they had ordered, so it would be advisable to be cautious when placing orders through unknown sites, as opposed to the well-known ones like CardealPage.
You will then also want to consider the additional costs after your vehicle arrives at your chosen port. There will be the cost of clearing charges, fuel for the drive back home, and tax/duty charges in your own country. It will be recommendable to check in advance the combined cost of all of the above with a clearing agent in Mozambique. You will find a list of clearing agents on CardealPage if you do not know of any.
Finally, there is the cost of INTERTEK inspection – something that is required of all import vehicles to Mozambique. The average cost stands at around $300, and is usually paid directly to the company from which you purchased your vehicle. You need to apply for a MOZ number at the Maputo Intertek office. The MOZ number is then sent from the office to its counterpart in Tokyo, and the inspection is performed before the vehicle is loaded on to a ship.
You might even feel discouraged and daunted by the prospect of all the additional costs, but it should still work out cheaper than purchasing a vehicle from a local broker. Increasing number of people appear to be purchasing directly from Japan for this very reason. If you are also considering purchasing a vehicle, it might be a worthwhile visiting sites such as CardealPage.