The all-new X-Trail helps push Nissan up 26% so far this year in Mexico.
* See the Top 25 best-selling brands and Top 15 models by clicking on the title *
It's an extraordinary year for the Mexican new car market so far: up a stunning 22% or 109.000 units on 2014 over the First Half to an all-time record of 609.825 registrations. The previous H1 record dated from 2006 at 533.596 units, a full 14% below this year's score… Uncontested leader Nissan has been regularly outpacing the market with sales up a gargantuan 26% year-on-year over the period to 160.579 and 26.3% share, nearly one percentage point above its level a year ago. General Motors is also strong at +23% to 116.251 units, above Volkswagen (+10%), FCA Fiat Chrysler Automobiles (+8%) and Ford Motor (+13%). Below, Infiniti (+33%), Honda (+34%), Porsche (+36%), Mini (+37%) and Mazda (+51%) outperform the market while Hyundai manages to rank inside the Top 10 for its 2nd full half-year thanks to a cool 11.004 units and 1.8% share, already above such established manufacturers as Renault, Audi, Suzuki and BMW. I give you the rankings for now, complete analysis will follow shortly.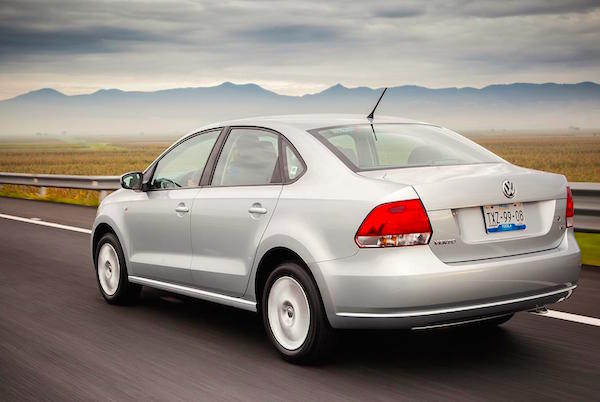 VW Vento Mexican sales are up 70% so far in 2015.
The Chevrolet Aveo keeps the lead of the models sales charts but under-performs at +19%, resulting in a slightly lower 5.8% market share, same story for the Nissan Versa at #2 (+22%). Reversely, the VW Vento – aka VW Polo Sedan – advances 70% to land on the podium in third position with 27.516 deliveries, marking the death of the VW Clasico, #5 last year and now well outside the Top 15. Even the Nissan Tsuru manages to gain ground year-on-year at #4 (+11%), but is now threatened by the Nissan March (+58%) and Chevrolet Spark (+36%). The Nissan X-Trail shoots up to #12 with 11.881 sales thanks to the new model and the Chevrolet Trax is also getting closer to a historical Top 10 ranking at #13 and +35%.
More complete data will be added shortly.
Previous post: Mexico June 2015: Sixth consecutive monthly all-time record
Q1 2015 update: Mexico 1st Quarter 2015: Mazda3 breaks into Top 10
FY 2014 update: Mexico Full Year 2014: Chevrolet Aveo leads, VW Vento shines, Hyundai lands
One year ago: Mexico June 2014: Nissan Versa threatens Chevrolet Aveo for top spot
Full H1 2015 Top 25 brands and Top 15 models vs. Full H1 2014 figures below.