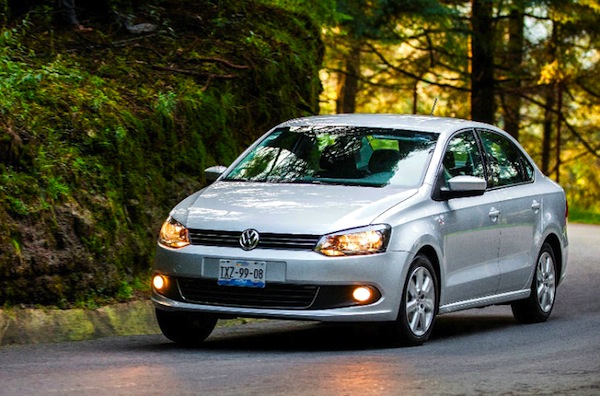 The VW Vento lands directly at #4 in Mexico this year.
* See the Top 10 best-selling models and Top 30 brands by clicking on the title *
* Check out 10 years worth of Mexican archived data here *
Exactly as I predicted last month, the Mexican new car market finishes 2014 as the 2nd strongest ever year, up a robust 7% to 1.135.409 deliveries thanks to the best December score in 8 years at 133.273 registrations (+12%). Only in 2006 (1.139.718) did Mexican consumers purchase more vehicles. And with no clouds on the economic horizon, local organisation AMDA predicts a 2015 market up 5% to break all-time records to 1.2 million units. Mexico is the only market in the world where Nissan is #1 and this year the Japanese manufacturer further increased the gap that separates it from other brands, with sales up a fantastic 11% to 291,729 units and 25.7% share. Chevrolet (+8%), Volkswagen (+2%) and Ford (-8%) follow like in 2013 while Toyota (+15%) overtakes Chrysler (-13%) to rank 5th.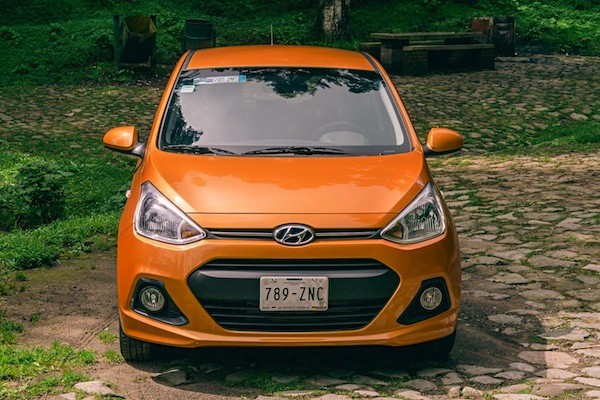 Hyundai finally made its entrance into the Mexican market in 2014.
The big manufacturer event in 2014 in Mexico is the (very) late arrival in the country of Korean manufacturer Hyundai, hitherto bound to Dodge with licensing agreement and hence selling the i10 as the Dodge i10 here. With an astutely selected range – Grand i10, Elantra, Veloster, ix35 and Santa Fe to start with, Hyundai managed to crack the Mexican Top 10 in December with 2,311 sales, only 7 months after the brand launched. A magnificent achievement that means Hyundai can target 25,000 sales and a 2% share for its first full year in market in 2015.
Mexican Nissan March sales are up 61% in 2014.
In the models ranking, the Chevrolet Aveo lodges another very stable year at 65,394 deliveries to be titled Mexico's best-seller for the third year running. It is followed by the Nissan Versa (+10%) and the antediluvian Nissan Tsuru, still in the catalogue despite its old age and holding very well at -2% and 45,524 units. Volkswagen launched the Vento in January and it has become the success story of the year, landing directly in 4th position but killing the VW Clasico in the process (-47%). Notice also the Nissan March up a very impressive 61% to #5, the Chevrolet Trax up 18% and the Renault Duster up 15%.
Previous post: Mexico November 2014: Nissan March on podium
Previous year: Mexico Full Year 2013: Chevrolet Aveo and VW Clasico on top
Two years ago: Mexico Full Year 2012: Chevrolet Aveo and Nissan Versa take control
Full Year 2014 Top 10 models and Top 30 brands vs. Full 2013 figures below.
Full december 2014 Top 10 models and Top 30 brands below.