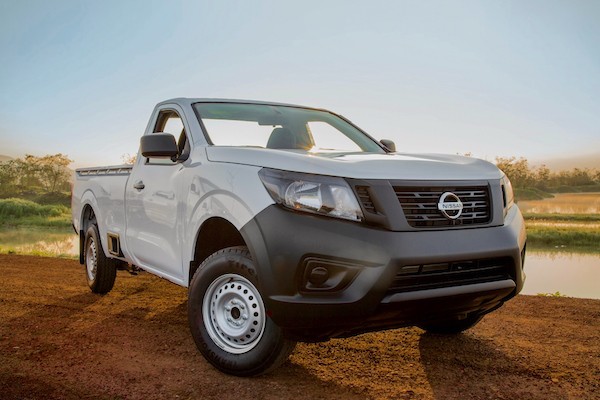 Nissan NP300 Pickup. Picture autocosmos.com.mx
* See the Top 40 All-brands and Top 230 models by clicking on the title *
Mexico is on track to deliver an incredible feat: hitting an all-time record volume each and every month. October indeed marks the 10th consecutive all-time record at 119.867 registrations, up a flamboyant 19% on the previous October record established last year. The year-to-date total now stands at 1.064.774 units, up a whopping 20% on the same period in 2014 and the first time in Mexican history that the market reaches one million sales after just ten months – 2013 was the first year to hit that level in 11 months. Local analysts now predict a Mexican car market at 2 million annual units by 2017.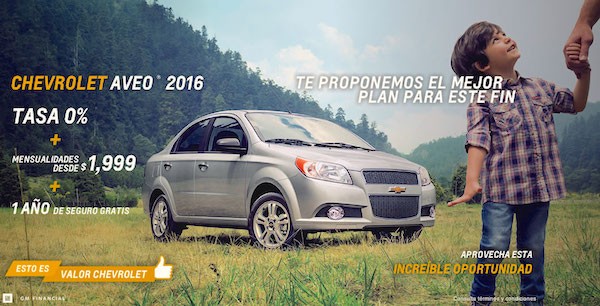 Chevrolet Aveo
Brand-wise, Nissan is still master in command, securing its highest market share in the world in Mexico at a round 27% thanks to sales outpacing the market at +20%. Chevrolet (+19%) and Volkswagen (+10%) follow while Honda (+22%), Mazda (+25%), Toyota (+29%), Hyundai (+33%) and most significantly Dodge (+89%) impress inside the Top 10. Further down, notice in sales order Ram up 34%, Mitsubishi up 48%, Buick up 61%, Cadillac up 46% and Subaru up 52%. Kia gains 7% on September to 1.829 sales and 1.5% for its 4th month in market.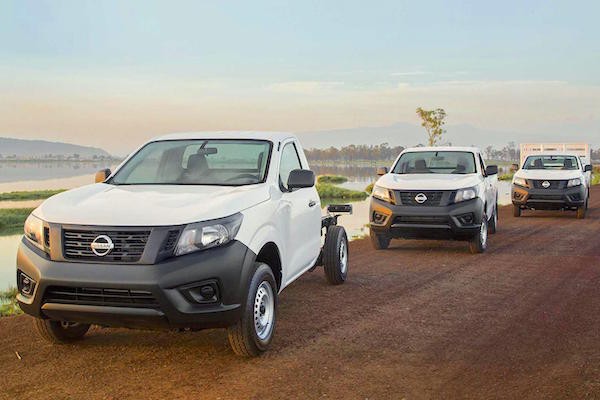 Nissan has just relaunched its commercial pickup range in Mexico. Picture autocosmos.com.mx
After two months of Nissan Versa reign, the Chevrolet Aveo reclaims the pole position it holds year-to-date thanks to 6.685 sales and 5.6% share (+31%) vs. 6.115 and 5.1% for the Versa. However a confusing sales accounting for Nissan Pickups may mean the Aveo isn't in fact the best-selling vehicle in Mexico. Nissan just relaunched its range of commercial pickups, labelling them NP300 Pickup, Chasis and Estacas (pictured above). The 'recreational' variant is simply named NP300 Frontier. What hides behind these nameplates is in fact the new generation Navara also manufactured in Thailand. AMDA splits sales of Nissan Pickups into Chasis Largo and Estacas Largo, while another manufacturer-sourced set of data splits them into Frontier and Pickup. All-in-all, the Nissan Pickup found 8.008 buyers in Mexico this month, up 53% on October 2014 and firing it to the very top of the sales charts. This figure includes 4.280 "Chasis Largo" (+89%), 2.472 "Pickup" (+9%) and 1.256 "Frontier" (+70%). BSCB will review the Nissan Pickup methodology and make amendments if necessary from January 2016 onwards.
The Ford Figo lands in Mexico – also available as a sedan.
In other model news, the Chevrolet Spark is up 57% year-on-year to #8, the Chevrolet Sonic (+18%) holds onto its Top 10 ranking, the Toyota Yaris is up a huge 160% to #16, the VW Polo up 339% to #22, the Chevrolet Equinox up 70 spots on its inaugural month to leap into 40th place with 851 sales and the Hyundai Tucson is up 6 to #42. We welcome two newcomers in the Mexican sales charts this month: the Ford Figo lands at #61 with 457 units and is available in both hatch and sedan variants, it is by and large the same model as the one sold in India and South Africa. The Chevrolet S10 arrives at #91 with 264 deliveries: in fact a Chevrolet Colorado also assembled in Thailand, the S10 enables Chevy to compete in the mid-size pickup market, slotting in between the Tornado (Opel Corsa-based) and U.S. Silverado and Cheyenne.
Previous post: Mexico September 2015: Now with Top 225 models (BSCB exclusive)
Previous month: Mexico September 2015: Nissan Versa confirms top spot
One year ago: Mexico October 2014: Nissan March at highest in two years
Full October 2015 Top 40 All-brands and Top 230 models below.
Note: BMW, Jaguar-Land Rover and Mercedes do not disclose sales by model for Mexico.