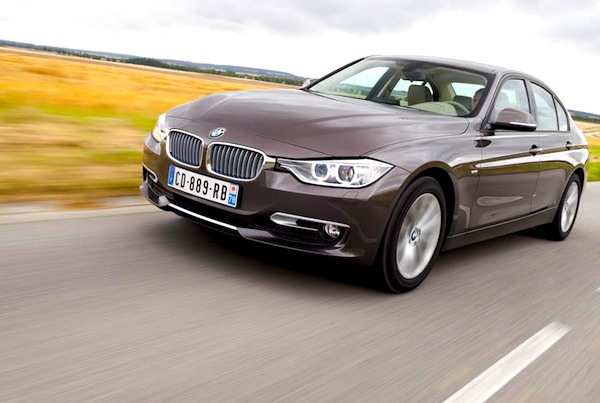 The BMW 3 Series ranks #2 in Belgium this year.
* See the Top 100 best-selling models and Top 60 All-brands by clicking on the title *
Very stable new car market in Belgium in 2014: down 0.6% to 482,939 registrations – excluding LCVs. Volkswagen is master in command once again despite sales down 2% to 49,103 deliveries for a 10.2% market share. The 3 Frenchies follow like in 2013: Renault (-3%), Peugeot (-1%) and Citroen (-5%) while BMW gains one spot thanks to sales actually up 1% on 2013 to 32,012, overtaking Opel (-5%). Audi is up 2%, Mercedes up 3%, Hyundai and Toyota both up 7%, Skoda up 14% to #12, Dacia up 3%, Volvo up 4%, Suzuki up 17%, Porsche up 53%, Jeep up 104%, Tesla up 252% and Maserati up 453%.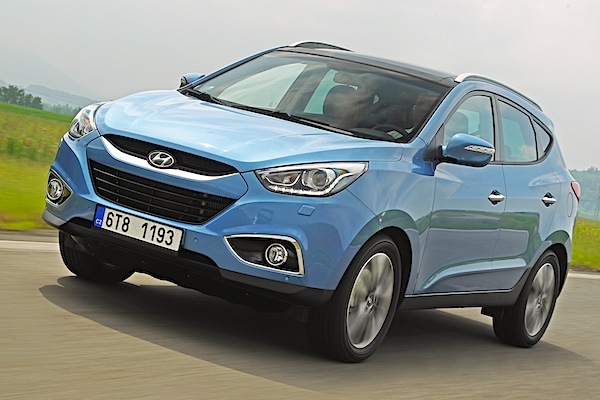 The Hyundai ix35 cracks the annual Belgian Top 10 for the first time.
The VW Golf remains the most popular nameplate in the country by far with 17,940 sales and 3.7% share (this figure includes the Sportsvan for now and will be split as soon as available), illustrating the extreme fragmentation of the Belgian new car market: no other nameplate manages to hold more than 2.2% share. The BMW 3 Series and Renault Clio shine on the podium, followed by the VW Polo, Fiat 500/500L and Audi A3 while the Hyundai ix35 delivers its first-ever annual Top 10 ranking in Belgium at #9. Notice also the Peugeot 2008 at #13, Renault Captur at #16, Dacia Duster at #18 and Volvo V40 at #21.
Previous month: Belgium November 2014: Renault Kangoo and Hyundai ix35 up
One year ago (models): Belgium Full Year 2013: VW Golf and Renault Scénic on top
One year ago (brands): Belgium (brands) Full Year 2013: Volkswagen resists Renault assault
Two years ago (brands): Belgium Full Year 2012: Volkswagen, Renault and Peugeot on top
Full Year 2014 Top 100 models and Top 60 All-brands below.