Subaru Outback sales are up a staggering 411% year-on-year in March.
* See the Top 10 best-selling models and Top 25 brands by clicking on the title *
Just as Autumn settles in, the Australian new car market is back to shiny growth rates in March at +8% to 105,054 registrations, a new all-time March record and the first time the market is above 100,000 units in March, bringing the first quarter total to 277,594 units, up 4% on 2014. Looking at the results by state, Queensland (Brisbane) at +12% and New South Wales (Sydney) at +10% lead the way, while Western Australia (Perth) drops 3% as the mining boom there continues to cool off. The sign of a healthy growth, rentals (+13%), private and government sales (both at +9%) pull the market up while business sales are up 6%. The SUV segment continues to post ever-stronger sales: up 15% in March to 35,503 units or a 33.8% market share, light commercials are up 10% and passenger vehicles are up 2%.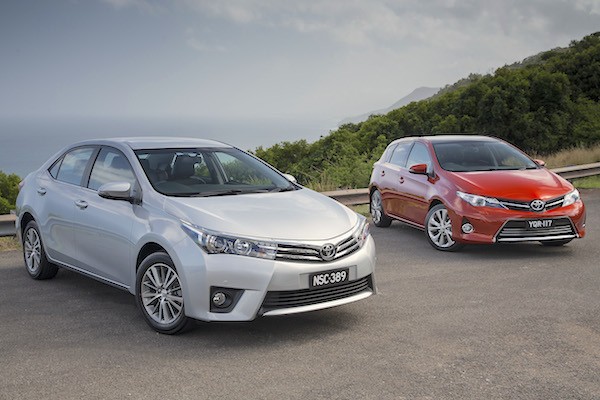 Thanks to record March sales, the Toyota Corolla claims the #1 year-to-date spot.
Despite progressing slower than the market at +4%, Toyota leads by far once again with 19,082 units and 18.2% share, followed by Mazda up 11% to 10,217 units, to BSCB's knowledge the first time the all-imports Japanese carmaker crosses the monthly 10,000 deliveries mark in Australia. Hyundai is up 1% to 8.3% share, remaining above Holden down a harsh 13% to 8.2%, however Holden holds onto its third position year-to-date so far at 8.9% vs. 8.5% for the Korean manufacturer. Nissan is up a very dynamic 19%, Mitsubishi up 16%, keeping Ford stuck in a paltry 7th place at 6,203 sales, down 12% on March 2014. Volkswagen (+20%), Audi (+22%), Suzuki (+25%), Mercedes (+30%), Isuzu (+50%), Honda (+75% thanks to a very strong start of the HR-V at 1,081 sales), Porsche (+87%), Mini (+99%) and Maserati (+263%) all lodge very impressive year-on-year gains.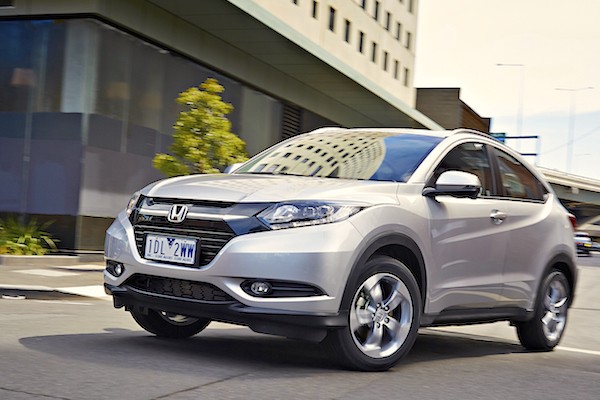 The Honda HR-V confirms its strong start with 1,081 sales this month.
In the models ranking, the Toyota Corolla posts its best-ever August score at 4,261 sales, enabling the nameplate to reclaim the year-to-date pole position off the Mazda3 at 11,672 units (+13%) vs. 11,059 (-9%). The Toyota Hilux rounds up the podium at 3,346 sales just above the Mitsubishi Triton in full runout mode at 2,940 units, while Mazda CX-5 up 21% to #7, the VW Golf up 69% to #9, Nissan X-Trail up to #11, Mercedes C-Class up 166% and Subaru Outback up 411% thanks to the new model also impress.
Previous month: Australia February 2015: Toyota Corolla #1, Mazda CX-5 hits record #6
One year ago: Australia March 2014: New sedan pushes Toyota Corolla up to #1
Full March 2015 Top 10 models and Top 25 brands Ranking Tables below.