Spain December 2012: Predicted at -27% in spite of PIVE plan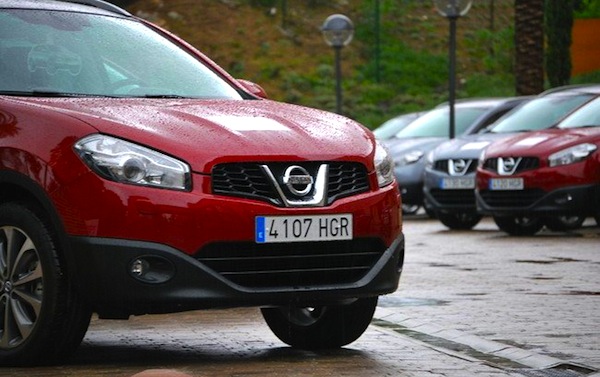 The Nissan Qashqai was #1 in Spain in November
* See the full article by clicking on the title! *
La Triubuna de Automocion and MSI have released yesterday their prediction for the Spanish new car market in December, and it's looking rather ugly: -27% year-on-year to 48,689 registrations, or the 5th consecutive month below 50,000 units for the first time on record in the country.
This means the total for the Full Year 2012 will dive below 700,000 registrations for the first time in at least 25 years (data needed!) to just 698,315 units. And all this in spite of the PIVE plan put in place in September - a 2,000€ rebate on the purchase of a low emission vehicle if you get rid of your 12+ year-old car. But why is the Spanish market decidedly depressed at the moment? Click on 'Read more' below for some explanations.
See the full article below.
Over the last 3 months that the PIVE plan was put in action, only 141,841 new cars were registered in Spain, a 23% year-on-year drop. Experts say the PIVE plan did energise a market that would have fallen even further down without it, but it's pretty obvious that the plan hasn't had the anticipated positive effect so far.
More worrying, PIVE-linked car orders are slowing down, from 30,000 in November to an estimated 16,000 in December. Not hard to see that it will be very difficult to reverse the trend in 2013, with the plan expected to end in March 2013 – or will it? Will 55,700 PIVE requests so far, it seems the 75,000 the plan was designed for will be reached in January and the PIVE government funds will then be exhausted…
One of the main explanations suggested by car dealers around the country is the lack of stock of the models most in demand as a result of the plan (Yes, 4,700€ Dacia Sandero I am looking at you), meaning a waiting period of over one month from the moment the car is ordered. Another reason forwarded is the burocracy/red tape/paperwork necessary to gain approval with the Instituto para la Diversificación y el Ahorro de Energía (IDAE).
Source: www.latribunadeautomocion.es