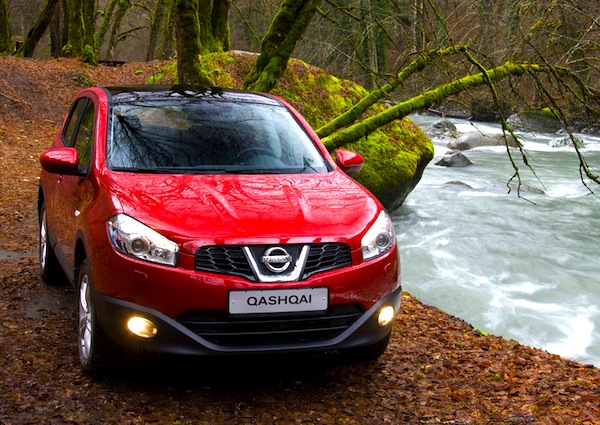 Nissan Qashqai
* See the Top 25 best-selling models by clicking on the title! *
The new car market in Finland is now stuck in recession: down 21% year-on-year in September to just 7,897 registrations, which brings the year-to-date total to 87,726 units, down 11% on 2011. And this month we welcome a very interesting development in Finland: #1 for the third month in a row and the 4th time ever after last January, July and August, the Nissan Qashqai beats its monthly market share record in the country by far: from 5.1% in January to 6.5% in September thanks to 517 sales. This means the Qashqai now leads the Finnish 2012 year-to-date models ranking with 3,954 units and 4.5%. If in 2011 it was #1 in Lithuania, this year Finland is the only country in the world where the Qashqai is #1 year-to-date…
The VW Golf stays solid at #2 with 4.3% but ranks 4th year-to-date at 3.7%. It is followed in August by the Skoda Octavia and Ford Focus, both up one spot on last month while the VW Passat is up 5 to #5 and the Hyundai i30 is up an impressive 12 ranks to #6 with 203 sales and 2.6% share vs. #23 and 1.2% year-to-date. Other great performers include the Kia Cee'd up 6 to #9 and the Volvo V60 up 8 to #21.
Previous month: Finland August 2012: Nissan Qashqai #1 for the third time ever
One year ago: Finland September 2011: Skoda Octavia #1, Hyundai i20 in Top 10
Full September 2012 Top 25 Ranking Table below.
Finland September 2012:
| | | | | | | | | |
| --- | --- | --- | --- | --- | --- | --- | --- | --- |
| Pos | Model | Sep | % | Aug | 2012 | % | Pos | 2011 |
| 1 | Nissan Qashqai | 517 | 6.5% | 1 | 3,954 | 4.5% | 1 | 4 |
| 2 | VW Golf | 343 | 4.3% | 2 | 3,223 | 3.7% | 4 | 2 |
| 3 | Skoda Octavia | 310 | 3.9% | 4 | 3,688 | 4.2% | 3 | 1 |
| 4 | Ford Focus | 246 | 3.1% | 5 | 2,671 | 3.0% | 6 | 6 |
| 5 | VW Passat | 238 | 3.0% | 10 | 1,928 | 2.2% | 7 | 5 |
| 6 | Hyundai i30 | 203 | 2.6% | 18 | 1,018 | 1.2% | 23 | 16 |
| 7 | Toyota Avensis | 182 | 2.3% | 3 | 3,691 | 4.2% | 2 | 3 |
| 8 | Opel Astra | 164 | 2.1% | 13 | 1,676 | 1.9% | 9 | 7 |
| 9 | Kia Cee'd | 164 | 2.1% | 15 | 1,512 | 1.7% | 11 | 8 |
| 10 | Toyota Yaris | 158 | 2.0% | 6 | 2,808 | 3.2% | 5 | 11 |
| 11 | Ford Fiesta | 146 | 1.8% | 14 | 1,572 | 1.8% | 10 | 12 |
| 12 | Audi A4 | 137 | 1.7% | 8 | 1,706 | 1.9% | 8 | 9 |
| 13 | Kia Rio | 133 | 1.7% | 7 | 1,344 | 1.5% | 12 | n/a |
| 14 | Hyundai i20 | 131 | 1.7% | 17 | 1,235 | 1.4% | 13 | 25 |
| 15 | Volvo V70 | 131 | 1.7% | 25 | 1,159 | 1.3% | 18 | 13 |
| 16 | Ford Mondeo | 117 | 1.5% | 21 | 1,130 | 1.3% | 19 | 10 |
| 17 | Toyota Auris | 114 | 1.4% | 19 | 1,169 | 1.3% | 15 | 14 |
| 18 | Skoda Superb | 113 | 1.4% | 11 | 1,180 | 1.3% | 14 | 18 |
| 19 | VW Polo | 112 | 1.4% | 12 | 1,162 | 1.3% | 17 | 17 |
| 20 | BMW 5 Series | 94 | 1.2% | 20 | 1,021 | 1.2% | 22 | 20 |
| 21 | Volvo V60 | 93 | 1.2% | 29 | 1,003 | 1.1% | 25 | 26 |
| 22 | Mercedes C Class | 92 | 1.2% | 22 | 1,166 | 1.3% | 16 | 19 |
| 23 | Kia Sportage | 91 | 1.2% | 23 | 921 | 1.0% | 29 | n/a |
| 24 | Honda Civic | 80 | 1.0% | 9 | 976 | 1.1% | 27 | n/a |
| 25 | Audi A6 | 76 | 1.0% | 30 | 1,040 | 1.2% | 21 | n/a |
Source: www.autoalantiedotuskeskus.fi