Venezuela February 2012: Chevrolet Cruze and Peugeot 207 shine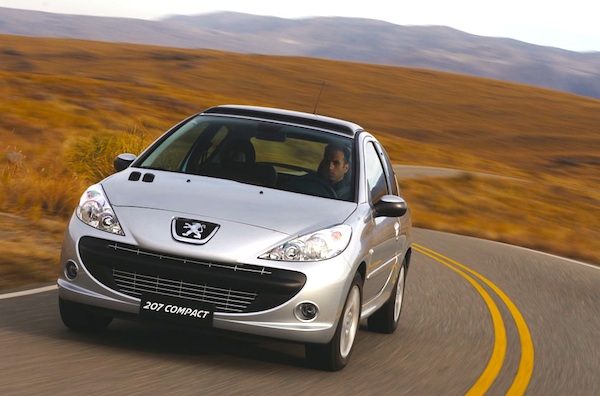 Peugeot 207 Compact
* See the Top 30 best-selling models by clicking on the title! *
Car sales in Venezuela continue on their great run at +20% year-on-year in February with 11,637 registrations, bringing the 2012 year-to-date to 18,001 units, up 16%. Another mammoth month for the Chevrolet Aveo grabbing 15.4% market share thanks to 1,795 sales. It is followed by the Ford Fiesta at 803 units and 6.9% and the Chevrolet Cruze, for the second time on the podium since its launch last September, with 653 sales and 5.6%.
Other great performers this month include the Chevrolet C3500 at #4 with 651 units and 5.6%, the Peugeot 207 (in fact a 207 Compact aka 206+) at #8 with 459 sales and 3.9% vs. 1% over the Full Year 2011, the Mazda BT-50 at #13 and the Fiat Siena at #19. Typically Venezuelan: the career of the Civetchi Pick-up (aka Dongfeng Rich) looks like it will be on and off… From 112 sales in January to… zero this month.
Previous month: Venezuela January 2012: A Chinese pick-up lands
One year ago: Venezuela February 2011: Chevrolet Aveo at 19%, Dodge Caliber #8
Full February 2012 Top 30 Ranking Table below.
Venezuela February 2012:
| | | | | | | | | |
| --- | --- | --- | --- | --- | --- | --- | --- | --- |
| Pos | Model | Feb | % | Jan | 2012 | % | Pos | 2011 |
| 1 | Chevrolet Aveo | 1,795 | 15.4% | 1 | 2,800 | 15.6% | 1 | 1 |
| 2 | Ford Fiesta | 803 | 6.9% | 22 | 913 | 5.1% | 3 | 2 |
| 3 | Chevrolet Cruze | 653 | 5.6% | 3 | 1,001 | 5.6% | 2 | 22 |
| 4 | Chevrolet C3500 | 651 | 5.6% | 14 | 797 | 4.4% | 4 | 8 |
| 5 | Ford F350 | 579 | 5.0% | 25 | 667 | 3.7% | 9 | 3 |
| 6 | Mitsubishi Lancer | 544 | 4.7% | 13 | 692 | 3.8% | 8 | 6 |
| 7 | Chevrolet Luv | 522 | 4.5% | 8 | 775 | 4.3% | 6 | 11 |
| 8 | Peugeot 207 | 459 | 3.9% | 7 | 725 | 4.0% | 7 | 28 |
| 9 | Toyota Corolla | 430 | 3.7% | 2 | 785 | 4.4% | 5 | 7 |
| 10 | Jeep Grand Cherokee | 424 | 3.6% | 24 | 523 | 2.9% | 13 | 5 |
| 11 | Toyota Fortuner | 367 | 3.2% | 5 | 649 | 3.6% | 10 | 13 |
| 12 | Chevrolet Optra | 354 | 3.0% | 10 | 562 | 3.1% | 12 | 4 |
| 13 | Mazda BT-50 | 338 | 2.9% | 4 | 648 | 3.6% | 11 | 31 |
| 14 | Chevrolet Silverado | 331 | 2.8% | 19 | 450 | 2.5% | 15 | 12 |
| 15 | Jeep Cherokee | 257 | 2.2% | 37 | 276 | 1.5% | 24 | 16 |
| 16 | Dodge Caliber | 250 | 2.1% | 15 | 395 | 2.2% | 18 | 24 |
| 17 | Hyundai Elantra | 248 | 2.1% | 11 | 444 | 2.5% | 16 | 10 |
| 18 | Hyundai Getz | 226 | 1.9% | 9 | 439 | 2.4% | 17 | 9 |
| 19 | Fiat Siena | 222 | 1.9% | 6 | 496 | 2.8% | 14 | 27 |
| 20 | Chevrolet NPR | 218 | 1.9% | 27 | 303 | 1.7% | 21 | 25 |
| 21 | Chevrolet Spark | 202 | 1.7% | 36 | 238 | 1.3% | 26 | 14 |
| 22 | Ford Explorer | 197 | 1.7% | 23 | 305 | 1.7% | 20 | 15 |
| 23 | Kia Rio | 192 | 1.6% | 29 | 265 | 1.5% | 25 | 17 |
| 24 | VW SpaceFox | 179 | 1.5% | 16 | 321 | 1.8% | 19 | n/a |
| 25 | Toyota Hilux | 168 | 1.4% | 20 | 282 | 1.6% | 23 | 23 |
| 26 | Ford F250 | 145 | 1.2% | 30 | 212 | 1.2% | 27 | 19 |
| 27 | Kia Sportage | 118 | 1.0% | 12 | 302 | 1.7% | 22 | 18 |
| 28 | Daihatsu Terios | 76 | 0.7% | 31 | 142 | 0.8% | 29 | 30 |
| 29 | Chevrolet NHR | 75 | 0.6% | 26 | 160 | 0.9% | 28 | n/a |
| 30 | Iveco Daily | 69 | 0.6% | 33 | 116 | 0.6% | 33 | 31 |
Source: CAVENEZ