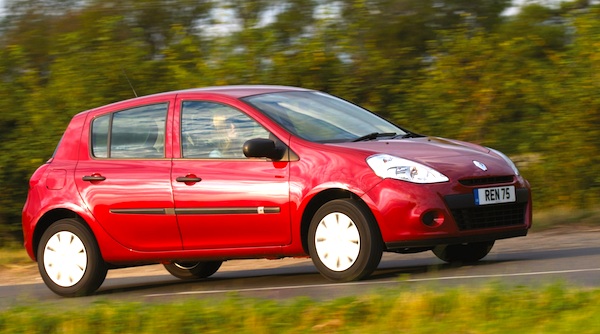 Renault Clio
* See the Top 10 best-selling models by clicking on 'Read more' at end of post! *
The French market is down 9% vs. 2010 this week at 33,000 sales. Still boosted by heavy promotions, Renault manages the extraordinary feat (even in France) of placing 4 models atop the ranking! If it has happened before (which I'm not 100% sure) it has to be before the Peugeot 206 launched in 1998 so we're witnessing a 'once in at least a decade' event…
The Clio leads the way by far with 2,979 sales for a whopping 9% market share, nearly doubling the score of the #2, the Megane at 1,535 units and 4.7%. The Scenic takes the 3rd spot with 3.7%, ahead of the Twingo at 3.6%. First non-Renault, the Peugeot 207 is 5th with a weak 3.5%. Notice the VW Polo at #7 and the Dacia Duster still valiant at #9.
Previous post: see the France August 2011 Top 130 best-selling models here.
Full weekly Top 10 Ranking Table below.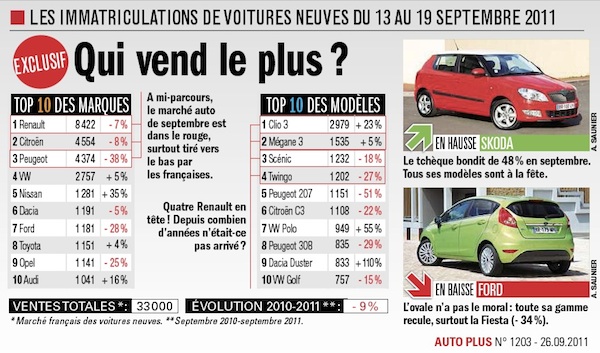 France 13 to 19 September 2011:
| | | | | | | | |
| --- | --- | --- | --- | --- | --- | --- | --- |
| Pos | Model | 13 to 19 Sep | % | Aug | July | 2011 | 2010 |
| 1 | Renault Clio | 2,979 | 9.0% | 1 | 1 | 1 | 2 |
| 2 | Renault Mégane | 1,535 | 4.7% | 5 | 3 | 4 | 9 |
| 3 | Renault Scénic | 1,232 | 3.7% | 7 | 5 | 6 | 5 |
| 4 | Renault Twingo | 1,202 | 3.6% | 4 | 7 | 7 | 3 |
| 5 | Peugeot 207 | 1,151 | 3.5% | 2 | 2 | 2 | 1 |
| 6 | Citroen C3 | 1,108 | 3.4% | 3 | 4 | 3 | 6 |
| 7 | VW Polo | 949 | 2.9% | 9 | 8 | 10 | 10 |
| 8 | Peugeot 308 | 835 | 2.5% | 8 | 6 | 5 | 8 |
| 9 | Dacia Duster | 833 | 2.5% | 6 | 14 | 11 | 32 |
| 10 | VW Golf | 757 | 2.3% | 10 | 11 | 15 | 14 |
Source: Auto Plus