USA 1978: Chevrolet Impala/Caprice #1, Ford Fairmont arrives
Chevrolet Caprice
* Click on the title for the Top 10 best-selling models - Thanks to Adam for the data! *
Second year of reign for the Chevrolet Impala/Caprice, still at a very high level with 621,140 sales, down just 5%. The Oldsmobile Cutlass drops by 23% and keeps the 2nd place, but just: at 406,993 units, it is only 1,200 sales above the Ford Fairmont, the best newcomer by far in the Top 10, directly to #3 with 405,780 sales. The Fairmont even earns the title of 'best-selling new car ever introduced' thanks to this first year sales figure.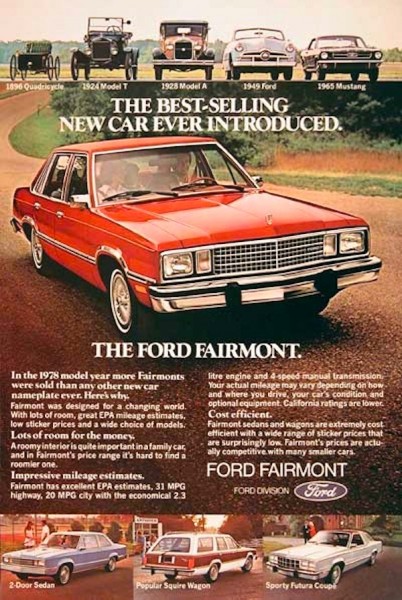 The Chevrolet Malibu is up 5 spots and 26% to #4 at 374,124 units, while the Chevrolet Monte Carlo is down 3% to #5 and the Ford LTD down 13% to #6. The other two newbies in the Top 10 are the Oldsmobile 88 at #9 with 273,384 sales and the Chevrolet Camaro at #10 and 260,201 units.
Previous post: USA 1977 Chevrolet Impala/Caprice takes the lead, Ford F-Series now best-selling truck
Next post: USA 1979 Chevrolet places Impala/Caprice and Chevette on podium
Full 1978 Top 10 Ranking Table below.