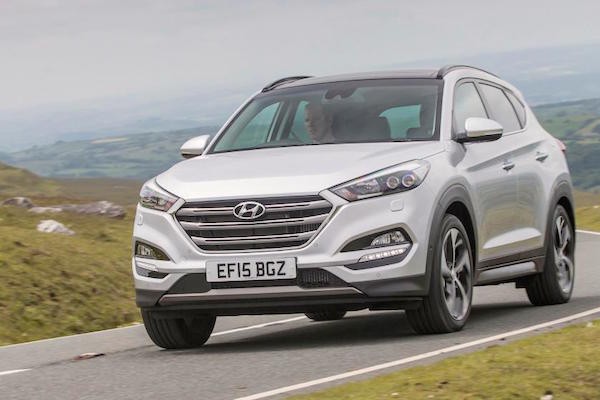 The Hyundai Tucson already ranks #8 in Northern Ireland in September.
* See the Top 10 best-selling models for each nation by clicking on the title *
After the overall UK Top 10, thanks to SMMT and as is the tradition on BSCB we can now share with you the Top 10 best-sellers for each UK nation for September. Detailing each nation shows that once again England is the engine of UK growth at +9% equaling the national growth rate this month, whereas all other nations show weaker gains: Northern Ireland is at +5% (and now back into positive territory year-to-date), Scotland at +4% and Wales at +3%.  September being one of the two strongest months of the year and by very far, the leaders in each nation are logically identical to the year-to-date standings, namely the Ford Fiesta in England, Northern Ireland and Wales and the Vauxhall Corsa in Scotland where the Fiesta ranks #2.
The Ford Focus ranks #2 in Enland and the Corsa #2 in Wales but the surprise comes from the VW Polo up to a shiny 2nd place in Northern Ireland where the Golf ranks #3. The Polo justifies its #5 national September ranking by a 4th place in both Scotland and Wales and a 6th place in England. Excellent performances also from the Renault Clio #3 in Scotland and #6 in Northern Ireland, Seat Ibiza #5 in Northern Ireland, Renault Captur #9 in Scotland and Northern Ireland and the Dacia Sandero #10 in Scotland. Note the Vauxhall Mokka misses out on an English Top 10 whereas it ranks #9 in the UK overall, lifted by solid results in Scotland (#8) and Wales (#7). Last but not least, along with starting up with a bang in Germany the Hyundai Tucson debuts at an impressive 8th place in Northern Ireland in September.
Full September 2015 Top 10 models for each nation below.