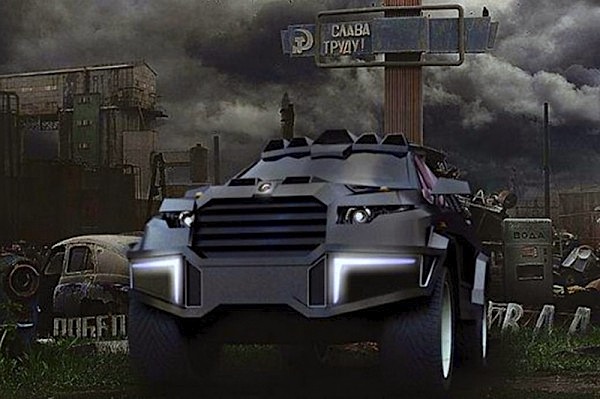 Dartz Prombron Black Shark
Think you are looking at one of those vehicles used by the South African police or in Northern Ireland a few years ago, or even an anti-terrorist weapon used on some delicate regions in the world? Not so. This is one of the most exclusive private vehicles on sale at the moment, and as I am conscious of mainly focusing on the highest selling nameplates around the globe here at BSCB, I have prepared this little interlude in the world of super-exclusive tanks of wheels. Introducing the Dartz Prombron Black Shark.
Dartz Introduction featuting founder Leonard Yakelowich
Dartz Motorz Company, a Latvian car manufacturer founded by crazy man Leonard Yankelowich that specialises in high performance armoured vehicles. I have to confess (shock! horror!) I was not familiar with this brand before today, and always get fascinated when discovering new automotive players with such an extravagant yet unique story to tell. Yankelowich says his cars are based on 3 (non-lethal) bullets: Russian Imperial opulence in the interior, Soviet military power in armouring and German engineering perfection as a platform. All there is to know about the brand can be found on the tidy little documentary above, entirely shot in the city I grew up in: Cannes, France. It features the Prombron Red Diamond and details its specs, including an… interesting fuel 'economy' of 25 to 30L per 100km or 6 to 10 mpg… How I missed that enormous Red Diamond driving around on the Croisette Boulevard I will never know.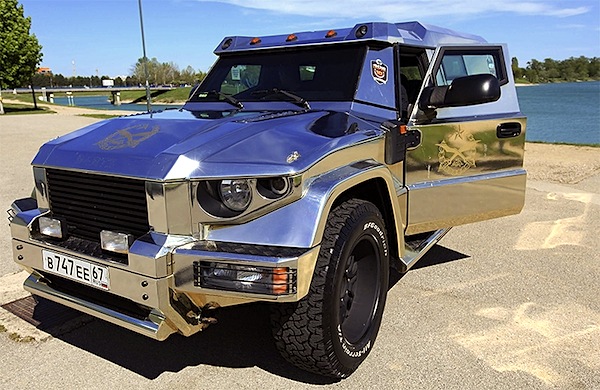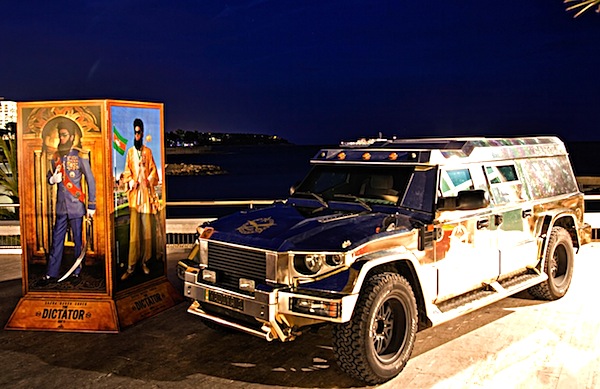 2012 Dartz Prombron Aladeen Edition
The video above also mentions the Dartz 'Gold Bullet Wheel Edition' Prombron, complete with gold bullet-adorned wheels, three free bottles of the world's most expensive vodka RussoBaltique and, wait for it… each vehicle shipped with a complimentary gun (!?). Want more bizarre? The original Kombat model was going to be available  in upholstered leather that was made from the foreskin of whale penises… before Dartz backed off after receiving flak.The Kombat line of Prombron vehicles has appeared in a number of movies over the years, such as Sacha Baron Cohen's The Dictator, for which Dartz smartly released an Aladeed edition (above), Die Hard 5 and The November Man.

CGI promo animation for the Dartz Prombron Black Shark
Dartz has been on the news in the past week because it just unveiled the new Prombron Black Shark, based on the Mercedes Benz GL 63/65 AMG platform. Traditionally the Prombron family of SUVs  can be equipped with various levels of armor protection ranging up to ballistic level B7 (using the Soviet Capsule technology), specifically designed to withstand attacks from rocket propelled grenades and land mines. Two available engines: a V8 5.5 L with at least 585 horsepower or a V12 6.0 L with up to 1.500 horsepower. Standard colour options are limited to black, gold, gray, white or camouflage but buyers can also request custom jobs. One of the build slots for the Black Shark has already been claimed, with the owner requesting a Tiffany Blue exterior with Swarovski crystal embedded in the hood and tailgate.
But wait there are more features. Lightless driving (like a paratrooper) is possible, and if you happen to be on the road and in spontaneous need of an international flight (who doesn't?), you can book a private jet from any major airport directly from the car with BlackJet. The body is made from bullet resistant Kevlar-titanium, to prevent the use of magnetic mines, and also available with military tech like a road analyzer, distance explosive detector and signal jammer. The door handles disappear into the body and have an "anti-paparazzi shock-device." as well as fingerprint and retina scanner for opening the car. Most buyers won't be driving the car themselves, so it comes equipped with a "driver vigilance telemetric control system, capable of constant monitoring of the driver's psycho-physiological condition and overall awareness". In other words making sure the driver does not fall asleep. Such complicated word for such a simple thing…
Dartz Prombron Iron Diamond
The first market that comes to mind for this type of vehicle is Russia, of course, but in fact Dartz has cleverly paid a lot more attention to China. To commemorate the year of the dragon in 2012, Dartz launched the Prombron Black Dragon 'pullman-saloon' with a number of dragon motifs, many made from diamonds, rubies, and gold. Other goodies include satellite television, full WiFi, a 42-inch LCD monitor, and electrochromic glass for privacy when you want it. Only 12 were scheduled for production at launch. Only 10 units of the Black Shark described above will be produced, half of them reserved for China.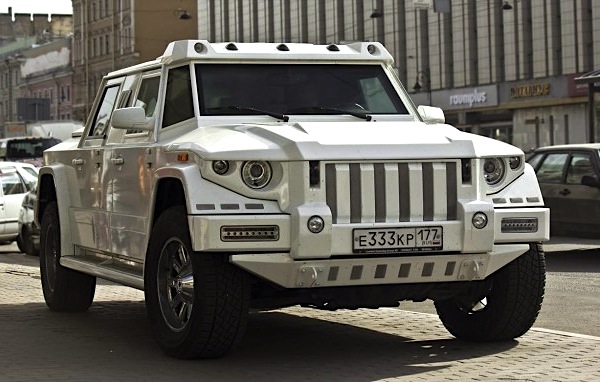 Dartz Prombron White Horse
The definitive version of the Dartz Prombron Black Shark could potentially be unveiled at the 2015 Top Marques Auto Show in Monaco next April, and in any case Dartz announced it will show a 007 Edition in Battleship-Grey colour when unveiling the model. Now that I along with each and every one of you want one, we are going to have to work hard for the money. The Red Diamond's sticker price was $1.3 million, the Black Dragon cost over $7 million, and the Black Shark should start around $1.5 million. Personalisation options hike the price up but rebates guaranteed if you are famous: Kanye West got two Prombron Iron Diamond for a mere $2 million, a bargain!

Dartz vs. Hummer