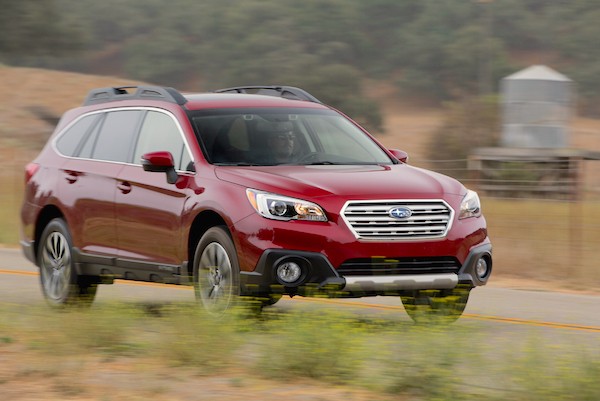 The Outback (record 15.126 sales) lifts Subaru to a third consecutive all-time record U.S. month.
* See the Top 15 groups, Top 40 brands and Top 280 models by clicking on the title *
All planets aligned for the U.S. new car market in September. A calendar twist that put Labor Day back from August in 2014 to September this year, gasoline prices remained low, car demand continued to be boosted by strong macroeconomic factors cont(low unemployment, growing economy and cheap credit), lastly and rather surprisingly in this overly optimistic environment, increased competition resulted in larger average industry incentives up 4% compared to September 2014 to $3.090 per vehicle according to TrueCar. All these factors combined mean a U.S. market up a splendid 16% year-on-year to 1.442.113 units, lifting the year-to-date total to 13.053.284 deliveries, up 5% or 621.000 units over the same period in 2014.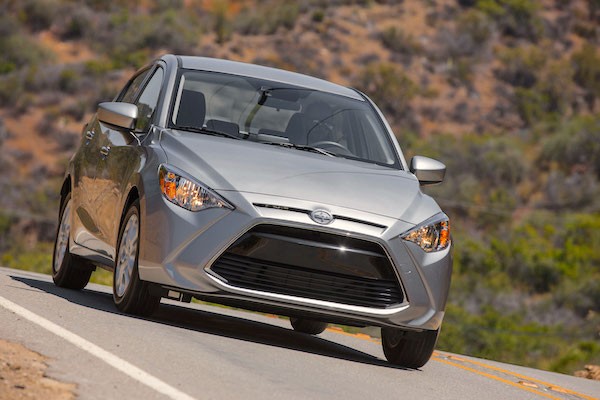 Both the Scion iA (pictured) and iM make their debut in U.S. sales charts, pushing the brand up 57%.
Although we have been in positive all year, the September surge means FY 2015 forecasts need to be adjusted up… The seasonally adjusted annual rate (SAAR) is at its highest in a decade for the second consecutive month, climbing to 18.17 million after 17.81 million in August, its strongest since a July 2005 boosted by employee discounts offered to the public, and to be compared to just 16.53 million in September 2014. It is now certain that the industry will surpass 17 million annual sales for only the third time in history, but some analysts now predict 2015 will be an all-time record year: Today TrueCar raised its 2015 forecast by 200,000 to 17.4 million, which would top the previous all-time record of 17.395 million set in 2000… In terms of segments, light-trucks such as SUVs and pickups absorbed most of the growth with sales up 24% year-on-year vs. 6% for passenger cars. Automotive News USA quoted Jim Lentz, CEO of Toyota North America, saying "On a year to date basis, [the market] is almost 56% light truck and realistically it would probably be closer to 60 percent if the availability was there."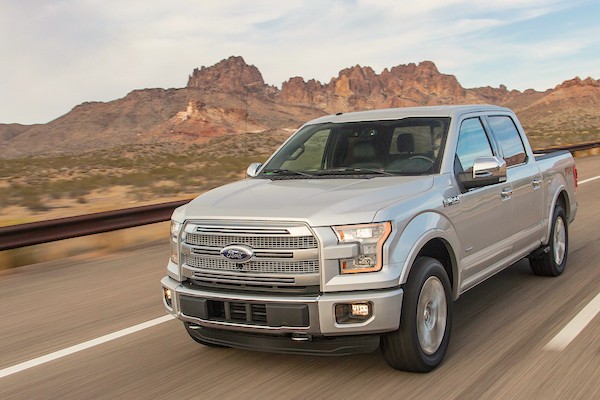 For the first time since July 2014, the Ford F-Series gains more ground than the Chevy Silverado.
Group-wise, the entire Top 8 largest manufacturers all lodge double-digit year-on-year gains including all of the Detroit 3, GM is up 12%, Ford Motor Co is up 23% and FCA is ip 14%, while Toyota Motor Co is up 16%, Honda Motor is up 13%, Nissan Group and Hyundai-Kia are both up 18% and Subaru takes off 28% to break its all-time monthly U.S. sales record for the third consecutive month and the fifth time this year at 53.070 units. Having secured a good chunk of its monthly sales at the start of the month during the Labour Day weekend, the two Volkswagen Group brands gain volume year-on-year with the group up 7% as a whole pulled up by Audi posting its 7th consecutive monthly gain at +16% and Volkswagen up a shy 1%.
I give you the rankings for now, complete analysis will follow shortly.
Previous month: USA August 2015: Volume down but SAAR highest in a decade
One year ago (models): USA September 2014 Chevy Silverado and Nissan Sentra on fire
One year ago (brands): USA September 2014: GM fleet, Jeep lift market up, Big 3 back to Top 3
Full September 2015 Top 15 groups, Top 40 brands and Top 280 models below.