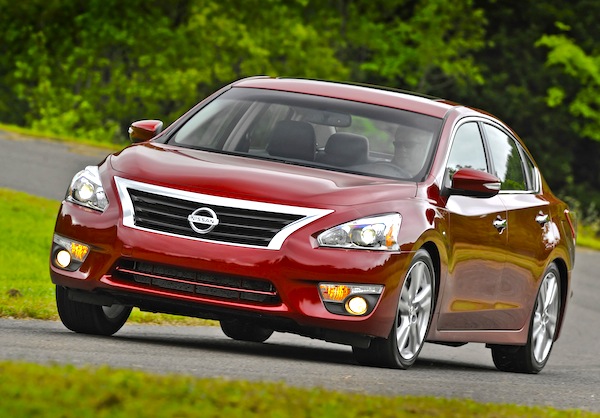 The Nissan Altima is the best-selling passenger car in the US this month.
* NOW UPDATED with the Top 257 best-selling models and Top 37 brands! *
New light vehicle sales in the USA are stable (-0.02%) in February at 1,193,872 registrations, bringing the year-to-date total to 2,206,454 units, down 1% on 2013. Experts had hoped for a healthy increase this month so the stagnation is a bad sign for the rest of the Spring season, traditionally setting the tone for the annual US market. The 3 big boys lose ground: Ford (-7%), Chevrolet (-3%) and Toyota (-6%) but Nissan delivers its strongest ever February volume at 105,632 units, up a fantastic 17% year-on-year. Notice also Jeep up a huge 47% on February 2013, Subaru up 24%, Ram up 28%, Buick up 19%, Lincoln up 36% and Maserati up a monstrous 426% year-on-year to 837 sales.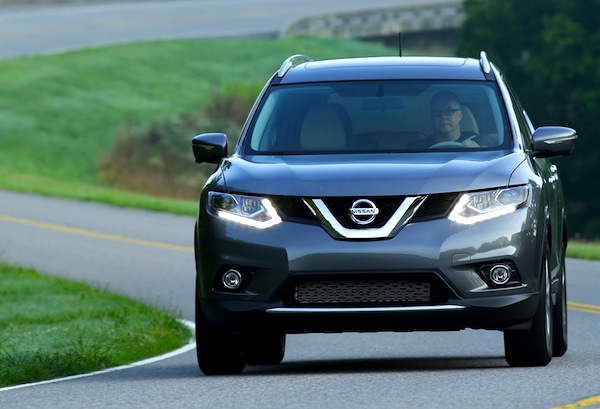 The Nissan Rogue is up to a record 15th spot this month.
Model-wise, below the traditional Ford F-Series (+3%) and Chevrolet Silverado (-12%) we find a big surprise: the Nissan Altima is the most popular passenger car in the country in February for the first time since March 2013 and the only one to sell more than 30,000 units at 30,849, up 11% year-on-year. The Ram Pick-up follows, up a great 26%, while the Toyota Camry (-7%), Corolla (+1%), Ford Fusion (-14%) and Honda Accord (-15%) are knocked out. Boosted by its new fuel-efficient engines, the Chevrolet Cruze is up 22% to #10 while the Chevrolet Malibu is up 7 spots on January to #14 (its best US ranking in over a year), the Nissan Rogue up 73% year-on-year to a best-ever #15 (beating the #16 it reached last month) and the Toyota RAV4 up 24% to #16.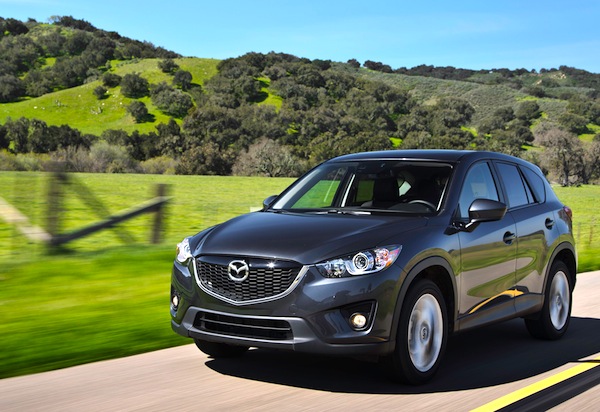 First ever US Top 50 ranking for the Mazda CX-5, directly at #37.
Among recent launches, the Jeep Cherokee still reigns supreme at #27 with 11,795 sales, followed a long way behind by the Infiniti Q50 at #94 and the Mercedes CLA at #130. Notice also the Subaru Forester up 95% year-on-year to #32, the Mazda CX-5 up 72% on February 2013 to break into the monthly US Top 50 for the very first time, directly at #37, the Nissan Frontier up 112% to #64 and the Subaru XV Crosstrek up 68% to #68. Finally this is it, at BSCB we have decided the Dodge Dart is a write-off: 18 months after its launch it is down 37% year-on-year and 12 ranks on January to a paltry 74th position.
Previous month: USA January 2014: Toyota RAV4 and Nissan Rogue up
One year ago: USA February 2013: Is it the end of the tunnel for US sedans?
Full February 2014 Top 257 models and Top 37 brands Ranking Tables below.