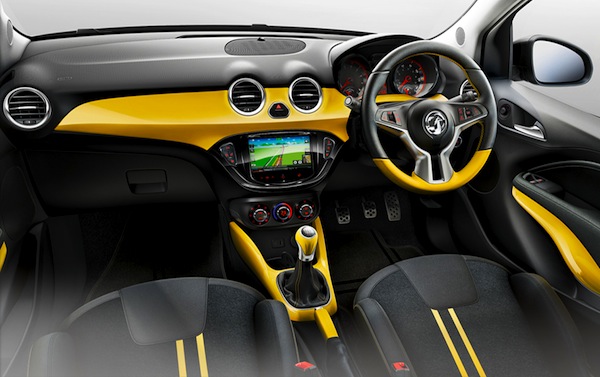 Vauxhall Adam Slam interior
When you think of luxury interiors, your thoughts might turn to Rolls Royce, Jaguar, or perhaps to James Bond's well-equipped Aston Martin. But there are plenty of more affordable, practical cars that offer a comfortable and enjoyable experience for driver and passengers alike.
Creature comforts
Everyone is different, and so everyone has different criteria for what constitutes a great interior. Taller drivers appreciate lots of leg room, as well as head room. If you find yourself acting as a chauffeur for groups of friends, you'll want enough space in the back to accommodate three adults comfortably, and ideally a proper belt in the middle of the back seat, not just a waist strap. For a small car with a surprisingly spacious interior, try the MINI Cooper or the Mazda5.
For older drivers and those with physical problems, the height of luxury might be a car that is easy to enter and exit without effort or pain. The Suzuki Splash and Honda Jazz fit the bill, as do Ford's B-Max and larger C-Max people carrier.
However, everyone can agree on the comfort of soft seating, upholstered in classic leather or more modern fabrics. Heated seats make things even cosier, especially when these can be independently controlled by each occupant.
Go go gadget
For technophiles, there can be nothing better than a car fully loaded with gadgets. Why bother with plugging in your sat-nav every journey, when many modern cars, from the BMW 3 Series to the Ford Fiesta, have one built in?
Screens on the backs of the front seats which can play DVDs or computer games are ideal for keeping children, not to mention adults, quiet in the back, especially if they can be controlled separately so passengers have a choice of entertainment. Aftermarket kits are available, but they're available as an option on Audi's SQ5 and many other cars.
Green machines
Electric cars and other new, environmentally friendly designs often pride themselves on having a futuristic look, bristling with innovative features. This extends to the inside of the car as well as the exterior. Vauxhall's Ampera boasts a high definition display screen, reversing camera, and keyless entry. The Renault Zoe also has a smart display with a touchscreen, although most of the interior is identical to the Clio's.
Small but perfectly formed
The best cars for cheap learner driver insurance tend to be smaller, with a lower powered engine. There are still a decent number of cars in this class offering a luxurious travel experience, however. Try the MINI Cooper with its huge central speedometer, or the new Fiat 500 with its gorgeous, colour-matched retro interior.
It's the little things
Sometimes, it's the smallest details that give the most pleasure. The Vauxhall ADAM, winner of the award for best interior design in a production car at the Automotive Interiors Expo 2013, features a host of configurable options, from the colour of the trim and steering-wheel to the shape of the pedals. You can even pick multi-coloured interior lighting. Necessary? No. Fun? You bet.