The Honda HR-V is an instant blockbuster in Thailand, becoming the brand's best-seller in June.
* See the Top 50 best-selling models and Top 40 All-brands by clicking on the title *
Nightmares and headaches: this is the daily routine of dealerships in Thailand as the market shows no sign of improvement over the First Half of 2015, down another 16% to 369.109 registrations, on top of a 41% fall at the same time last year. All-in-all, the Thai market has retracted by 50% in the past two years. Toyota is hit harder than the market at -25% to return to exactly 1 in every 3 sales in the country above Isuzu (-17%) while Honda bucks the trend and gains 16% to overtake Nissan (-16%) and Mitsubishi (-25%) and climb on the third step of the podium at 54.800 sales and just under 15% sales. Mazda (-2%) passes Ford (-29%) to rank 6th while Suzuki (-6%) outsells Chevrolet (-45%) to #8. A rare newcomer inside Thailand's Top 20 most popular brands is Chinese manufacturer MG landing directly at #16 with 700 sales so far in 2015.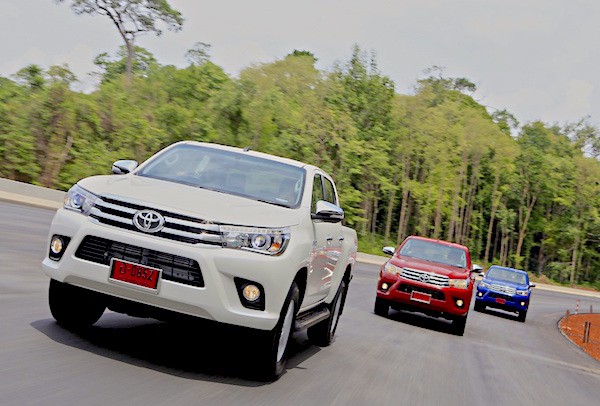 The transition to the new generation cost the Hilux the #2 YTD spot for two months.
In the models ranking, the two traditional leaders, the pickups Toyota Hilux (-18%) and Isuzu D-Max (-14%) hold onto their position with 16.1% and 15.4% share respectively, however the transition to the new generation Hilux Revo cost it the YTD top spot in April and May. The Toyota Vios takes advantage of the freefalling of the Toyota Yaris (-41%) and Honda City (-28%) to claim the #3 spot overall, but the success story of the year is without contest the Honda HR-V. The baby SUV, launched in late 2014, lands directly ay #7 with 12.300 sales and even shot up to #4 in June, becoming the brand's best-seller in the country and threatening the Toyota Vios for the title of Thailand's best-selling passenger car. Further down, the Honda Jazz at #10 (+134%), Nissan Navara at #11 (+73%) and Mazda2 at #12 (+110%) are all boosted by their new generations.
Previous post (1): Photo Report: The cars of Bangkok, Thailand
Previous post (2): Thailand June 2015: New Toyota Hilux shoots up to 21% share
One year ago: Thailand June 2014: New generation Honda Jazz breaks into Top 10
Full H1 2015 Top 50 models and Top 40 All-brands vs. Full H1 2014 figures below.