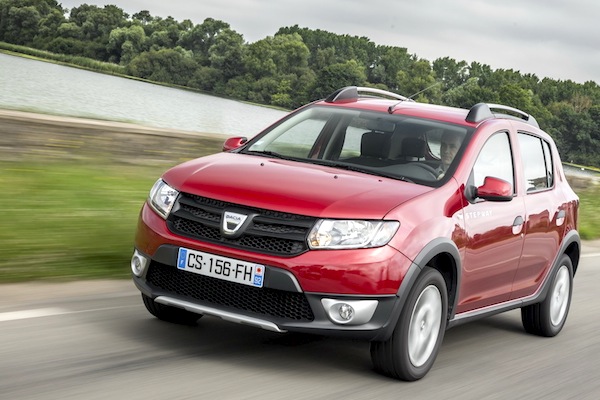 Dacia Sandero
* See the Top 44 All-brands and Top 210 best-selling models by clicking on the title! *
Spanish car sales are back into frank growth territory: up a very encouraging 26% year-on-year in September to 57,177 registrations – the best September score since 2009. This brings the year-to-date total to 641,617 units, up 17% on 2013 and the best result since 2010. Brand-wise, Volkswagen remains master on board but delivers the weakest progression in the Top 20 at +7%. Peugeot is up 23% to #2, Renault up 35% to #3, Opel up 51% to #4 and Ford up 15% to #5. Other great gainers include Nissan (+45%), Dacia (+75%), Kia (+42%), Mercedes (+67%), Mazda (+90%), Mitsubishi (+148%), Lexus (+99%), SsangYong (+87%), Infiniti (+177%) and Maserati (+433%).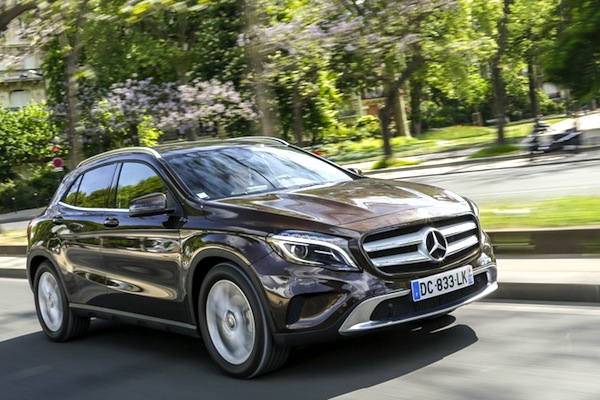 The Mercedes GLA is up to a best-ever #33 spot in Spain this month.
In the models ranking, exceptional performance of the Dacia Sandero maintaining itself in pole position for the 2nd consecutive month thanks to 1,796 sales and 3.1%, however still ranking 6th year-to-date. It is the 5th time in the past 21 months (and ever) that the Sandero tops the Spanish sales charts after January, August, December 2013 and August 2014. This time for the top spot is a lot more intense, with the Renault Mégane up a flamboyant 12 spots on August to land directly in 2nd place at 1,724 units and 3%. The VW Polo is up one rank to #3, the Seat Ibiza down two to #4 but still #1 year-to-date at 21,840 sales and 3.4% above the Seat Leon (20,798 units and 3.2%), down to #8 in September. Notice also the Toyota Auris at #10 vs. #15 year-to-date, the Kia Sportage at #16 vs. #20, the Hyundai ix35 at #18 vs. #24, Peugeot 2008 at #22 vs. #34, Nissan Note at #29 vs. #48 and the Kia Rio at #32 vs. #54.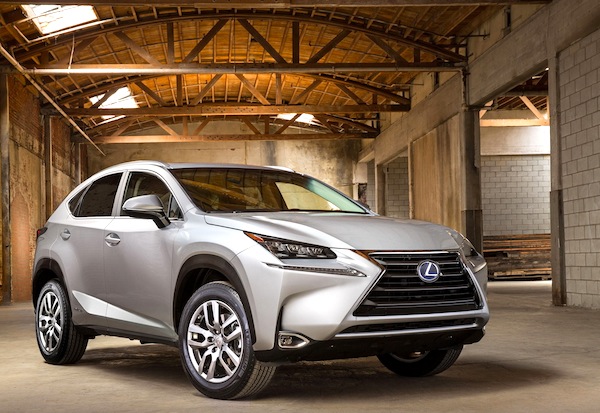 First appearance of the Lexus NX 300h in the Spanish sales charts.
The second best performer of the month is the Mercedes GLA, up a further 10 ranks on a record-breaking #43 spot in August to #33 thanks to 527 sales and a market share just under 1%. This makes Spain one of the countries in the world where the GLA ranks the highest (below Switzerland notably) and it makes the GLA Mercedes' 2nd most popular vehicle with Spanish consumer, just below the C Class at #31. The Citroen C4 Cactus for its part is up 6 spots to #41, the Nissan Pulsar shoots up to #80, the BMW X4 is up 32 ranks to #105, the Peugeot 108 is up to #137 and the Lexus NX 300h makes its very first appearance in Spain at #158 with the first 40 units sold in the country.
Previous month: Spain August 2014: Dacia Sandero triumphs
One year ago:  Spain September 2013: VW Golf and Peugeot 308 on top
Full September 2014 Top 44 All-brands and Top 210 models Ranking Tables below.