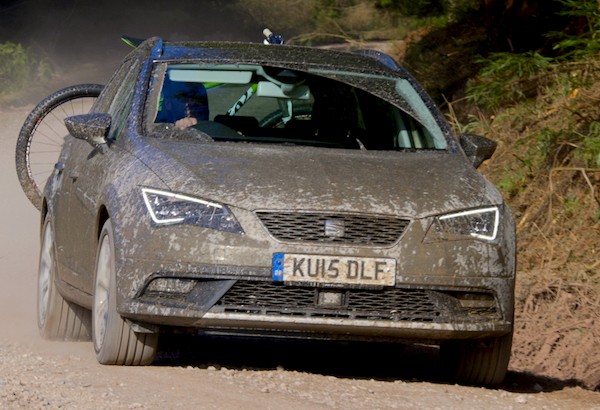 The Seat Leon is back to the pole position at home.
* See the Top 40 All-brands and Top 280 All-models by clicking on the title *
The Spanish new car market continues on its recovery trend in September with sales up 23% year-on-year to 70.386 units, the best September result in Spain since 2009 and already double the score of September 2012 (35.216) at the worst of the financial crisis. The year-to-date total is also up 23% on 2014 to 789.024 deliveries in 9 months. In the first sales results published since the VW diesel scandal broke on September 18, Volkswagen manages outperform the market and remain in the brands pole position with sales up 28% to 5.979 and 8.5% share, distancing Peugeot (+21%), Renault (+5%), Opel (+20%) and Ford (+19%). Domestic carmaker Seat is up 29% but at #6 and 6.2% share it is well below its year-to-date level at #2 and 7.8%. Nissan (+26%), Audi (+41%), Skoda (+43%), Mazda (+51%) and Mitsubishi (+57%) impress, while Smart (+327%) and Jeep (+237%) take off.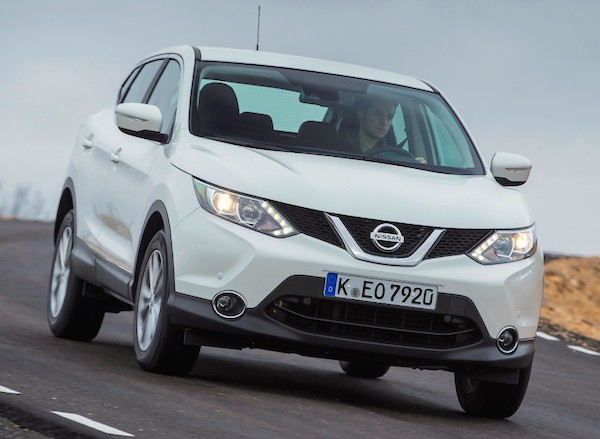 Nissan Qashqai
Model-wise, after dropping to a paltry 12th spot in August, the Seat Leon resumes its market domination and snaps the Spanish pole position for the 4th time this year with sales up a fantastic 57% year-on-year to 1.929 units and 2.7% share – however well below the 3.2% it commands year-to-date. The VW Golf is up 37% to #2 while the Nissan Qashqai (+48%) completes a very dynamic podium. The Opel Astra (#5), Peugeot 308 (#7) and Peugeot 2008 (#12) all gain 49% for very different reasons: runout prices for the former, new generation and station wagon for the latter. Notice also the Citroen C3 up 53% to #20, the Dacia Duster up 69% to #21, VW Tiguan up 58% to #25, VW Passat up 75% to #26 and the Opel Mokka also up 75% to #29.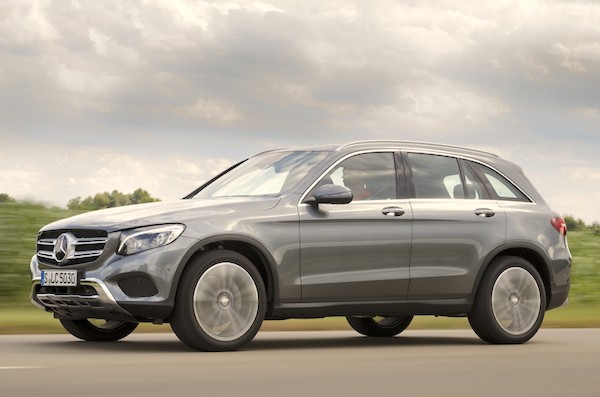 The Mercedes GLC makes its first appearance in the Spanish sales charts this month.
Among recent newcomers, the Hyundai Tucson remains at a very solid level in 28th place with 1.1% share, the BMW 2 Series Tourer is up 11 spots on August to break into the Spanish Top 50 for the first time at #49, the Renault Kadjar is up 9 ranks to #55, the Fiat 500X is up 23 to #65, the Ford Ecosport up 38 to #75, the Mazda CX-3 up 9 to #86 and the Ssangyong Tivoli is up 23 to #126. We welcome two new nameplates in the Spanish sales charts this month: the Mercedes GLC lands at #113 with 146 sales and the Honda HR-V arrives at #135 with 95 units.
Previous month: Spain August 2015: Opel Astra surprise best-seller
One year ago:  Spain September 2014: Dacia Sandero confirms pole position
Full September 2015 Top 40 All-brands and Top 280 All-models below.