The Mitsubishi Outlander is now among Russia's Top 10 most popular vehicles.
* See the Top 25 best-selling models by clicking on the title! *
Has the Russian new car market finally reached a plateau? In March, after losing ground for 11 of the last 12 months, new car sales are down just 0.4% year-on-year to 243,335 registrations. This brings the First Quarter total to 602,523 units, down 2% on 2013. In the models ranking, the Lada Granta remains the most popular by far but continues to evolve a notch lower than last year at -10% and 12,958 sales. The Hyundai Solaris is up 2% but for the first time threatened by the Kia Rio which smashes its volume and market share records this month at 9,728 sales and 4% share (previous bests: 8,632 and 3.5% last September).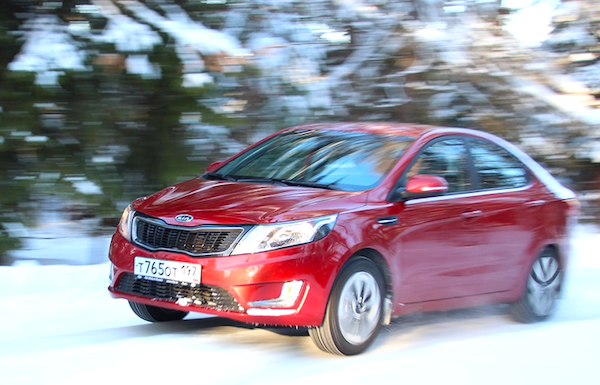 The Kia Rio breaks its volume and share records in Russia this month.
The Lada Kalina continues to creep back up now that the new generation is established, up 21% this month at #4 and passing the Renault Duster. But the hero of the month is without a doubt the Mitsubishi Outlander: it breaks into the Russian Top 10 for the first time in the nameplate's history, shooting up to 9th place thanks to 4,584 sales and 1.9%, up 78% year-on-year and now #20 year-to-date (+42%). Not far below is the new generation Skoda Octavia, up 8 spots on February to a best-ever 11th place at a record 3,951 units. Finally, notice the Nissan Almera down 6 ranks to #14 and the Toyota Corolla up 44% on March 2013.
Previous month: Russia February 2014: Renault Duster and Nissan Almera impress
One year ago: Russia March 2013: Market down for the first time in 3 years
Full March 2014 Top 25 models Ranking Table below.