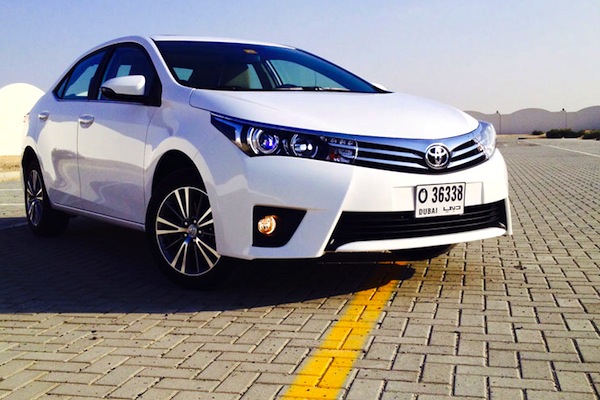 The new generation Toyota Corolla is now produced and sold in Pakistan (UAE model pictured).
* See the Top 15 best-selling local models by clicking on the title! *
As usual for Pakistan I can share with you sales of models produced locally which give a pretty accurate picture of the new vehicle market in the country given import taxes are too high to allow any significant imports. A local market back in positive territory in August at +10% year-on-year to 12,258 registrations, bringing the year-to-date total to 94,842 units, still down 5% on 2013. The event this month atop the sales charts is the Toyota Corolla back in the year-to-date pole position after a very wobbly July score when it was down to #5. Thanks to the new model now available in the country, the Corolla sells 3,515 units in August for a 28.7% share, a 34% improvement on August 2013, its advantage over the Suzuki Mehran (almost 1,200 units) enables it to reclaim the 2014 ytd lead thanks to 20,400 sales and 21.5% share vs. 19,613 and 20.7% for the Mehran. Note a slight fragmentation of the market with the Corolls down from 25.3% share a year ago and the Mehran down from 22.3%. Other great performers this month in Pakistan include the Toyota Hilux up 90% year-on-year in 8th place and the Toyota Fortuner up 63% at #11.
Previous month: Pakistan July 2014: Honda City up to 2nd place
One year ago: Pakistan August 2013: Honda City on podium
Full August 2014 Top 15 models Ranking Table below.