The Peugeot 308 is the best-selling model in the Netherlands.
* See the Top 38 All-brands and Top 255 All-models by clicking on the title *
The Dutch new car market enjoys a second consecutive month of very dynamic sales at +14% year-on-year in July to 33.913 registrations, lifting the year-to-date total to 235.330 units, up 3% on 2014. Volkswagen still reigns supreme on the brands ranking, more than doubling the market growth at +33% to 4.665 sales and 13.8% share, followed by Peugeot at 8.7% (-3%), Renault at 7.3% (+11%) and Ford at 6.2% (+30%) while Volvo is down 23% but up 4 spots on June to #5. Citroen (+38%), BMW (+27%), Hyundai (+150%), Suzuki (+91%), Mazda (+155%), Porsche (+68%) and Tesla (+271%) also shine while Smart is up 11-fold thanks to the new Forfour.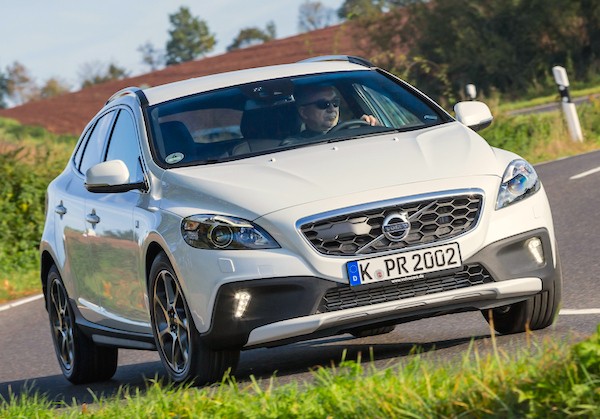 Volvo V40
A heavy caveat to new car sales in the Netherlands must be displayed each month: these are heavily skewed by the government attributing preferential pricing to eco-friendly trims, which impacts not just the car's price but also the overall amount of tax the car buyer is paying. This has had such a drastic impact on the models sold in the Netherlands that some nameplates (e.g. the Mitsubishi Outlander) sell over half their European totals here. There is now talk of ending these practices in 2016.  In this context, the Peugeot 308 manages to be the best-selling nameplate in the country for the 8th time in the past 12 months thanks to 1.455 sales and 4.3% share vs. 1.378 and 4.1% for the VW Golf and 1.364 and 4% for the Renault Clio.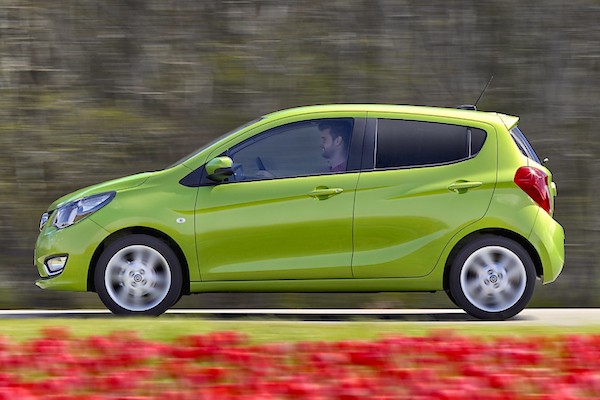 Opel Karl
Year-to-date, the VW Golf leads at 8.902 deliveries above the Renault Clio (8.816) and VW Polo (7.530) while the Peugeot 308 (6.869) is stuck in 4th position because of a slow start to the year. The Volvo V40 confirms its return to grace in 4th place in July, while the Toyota Auris and Hyundai i10 are both up 7 spots on June to #7 and #10 respectively, the Skoda Octavia is up 9 to #14, the Mercedes C-Class up to #16 vs. #27 year-to-date, the BMW 2 Series Active Tourer up to #21 vs. #38 and the Skoda Fabia up to #22 vs. #42. Finally, for its third appearance in the Dutch ranking the Opel Karl is up 29 spots to #36 with 292 deliveries.
Previous month: Netherlands June 2015: Peugeot 308 leads, Golf above Clio YTD
One year ago: Netherlands July 2014: Volvo V40 and Peugeot 308 on top
Full July 2015 Top 38 All-brands and Top 255 All-models below.