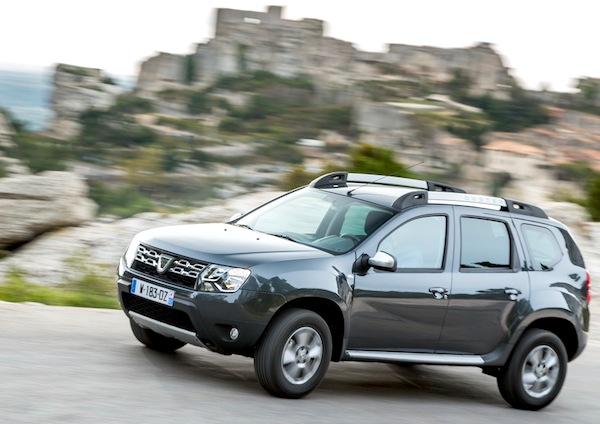 Dacia Duster
* See the Top 50 best-selling models and Top 30 brands by clicking on the title! *
New car sales in Ireland are up a fantastic 32% year-on-year in August to 4,873 registrations, bringing the year-to-date total to 89,279 units, up an equally impressive 38% on 2013. Granted, it's a slow month with only 1/4 of the sales level reached in July, but still the performance is exceptional: 18 months after the brand Dacia launched in Ireland, the Duster manages to take the lead of the models ranking in August with 212 sales and 4.4% share, making Ireland one of only a handful of countries to have crowned the Duster since the low-cost SUV launched in 2010. The Skoda Octavia is up 4 spots on July to #2 and the VW Golf is down 2 to #3 but remains in the lead year-to-date. Notice also the VW Jetta up 29 ranks to #5, the BMW 5 Series up 22 to #6, Hyundai i40 up 11 to #7 and the BMW 3 Series up 36 to #8. Finally, Tesla appears in the Irish ranking for the first time with 3 units sold this month.
Previous month: Ireland July 2014: VW Golf and Ford Focus on top
One year ago: Ireland August 2013: BMW 5 Series leads, Dacia Duster up to #4
Full July 2014 Top 50 models and Top 30 brands Ranking Tables below.