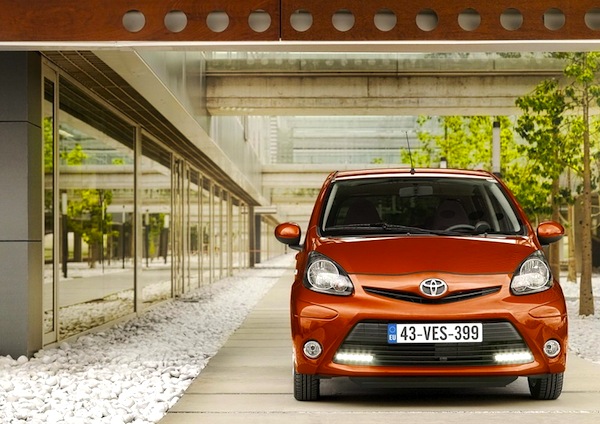 Toyota Aygo
* See the Top 120 best-selling models and Top 33 brands by clicking on the title! *
On the back on 3 consecutive all-time record years, the Danish new car market does not slow down in January: up a further 10% year-on-year to 16,269 registrations! 4th over the FY2013, Peugeot spectacularly takes the lead of the brands ranking this month thanks to 1,908 sales and 11.7% share, ahead of Volkswagen at 11.5% and Toyota at 10.1%. While the VW Up comfortably lodges its 18th consecutive month atop the Danish models ranking with 1,024 sales and 6.3% share, the heroes of the month are the Kolin triplets (as in manufactured in Kolin, Czech Republic). All 3 fit inside the Top 5 this month, delivering scores well above their FY2013 level, adding up to 2,128 sales and 13.1% share: the Toyota Aygo is up to #2 and 5%, the Citroen C1 up to #4 and 4.1% and the Peugeot 107 up to #5 and 4%.
Other great performers this month in Denmark include the Peugeot 208 up to third position with 784 sales and 4.8% share vs. 3.1% in 2013, the Hyundai i20 up 22 spots on December to #7, Hyundai i10 up 85 to #11, the Peugeot 2008 up 19 to break into the monthly Danish Top 20 for the first time at #18 with 271 sales and 1.7% (and above the Renault Captur at #19), the Nissan Note up to #20 vs. #55 in 2013 and the Mazda3 up to #27 vs. #75.
Previous post: Denmark Full Year 2013: VW Up confirms supremacy in record-breaking year
Previous month: December December 2013: Citroen C4 Picasso & Renault Captur up
One year ago: Denmark January 2013: VW Up! reaches world-best 10.4% share
Full January 2014 Top 120 models and Top 33 All-brands Ranking Tables below.