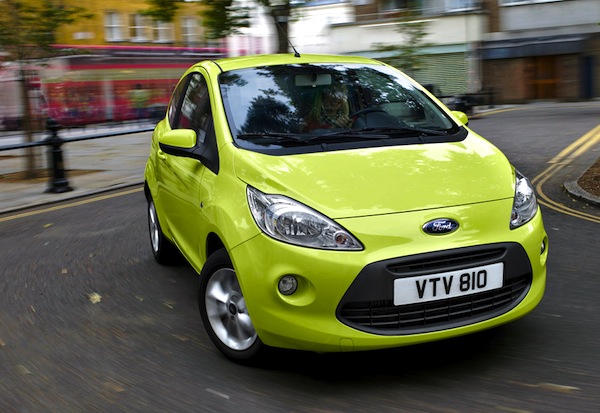 Ford Ka
* See the Top 100 best-selling models and Top 10 LCVs by clicking on the title! *
The Danish new car market continues to display insolent health in the current gloomy European context: up 5% year-on-year both in September at 14,585 registrations (best September figure ever) and year-to-date at a record 135,170 units. The VW Up is the most popular vehicle in the country for an extremely impressive 14th consecutive month with 798 sales and 5.5% share. The Up has ranked #1 in Denmark 15 of the last 16 months! Like in August the Toyota Aygo is #2 at 660 units and 4.5% and is now catching up on the Skoda Citigo for the 2nd place year-to-date. Another excellent month for the Renault Clio IV, up 2 spots on last month to #3 and for the Ford Ka up 6 to #4. Notice also the VW Golf up 9 to #6, the Skoda Octavia up 10 to #9, Toyota Auris up 12 to #14 and Citroen DS3 up 64 to #36.
Previous month: Denmark August 2013: VW Up and Toyota Aygo lead the way
One year ago: Denmark September 2012: VW Up! confirms domination
Full September 2013 Top 100 Ranking Table below.