Venezuela November 2012: Mazda BT-50 #1, Chevy Orlando lands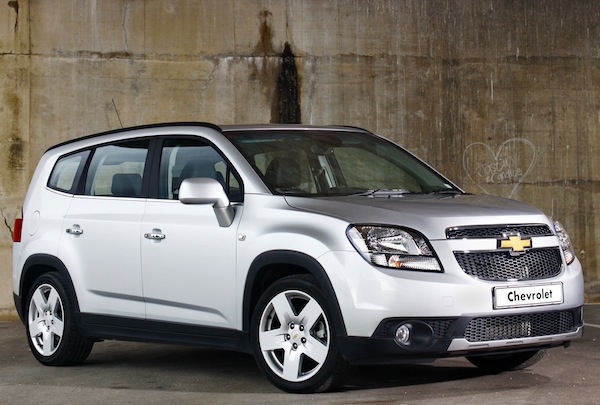 Chevrolet Orlando
* See the Top 30 best-selling models by clicking on the title! *
Very solid month for new car sales in Venezuela, up 33% year-on-year in November to 12,087 registrations, bringing the year-to-date total to 122,360 units, up 12% on 2011. The Venezuelan models ranking is always full of surprises and fluctuates widely depending on the local production levels, import duties and government orders. This month we have a first: at zero units in October, the Mazda BT-50 (old generation) shoots up to #1 in November with 970 sales and 8%, before potentially disappearing again in December… The Chevrolet Silverado is up 15 spots to #2, followed by the Chevrolet Cruze up 2 to #3.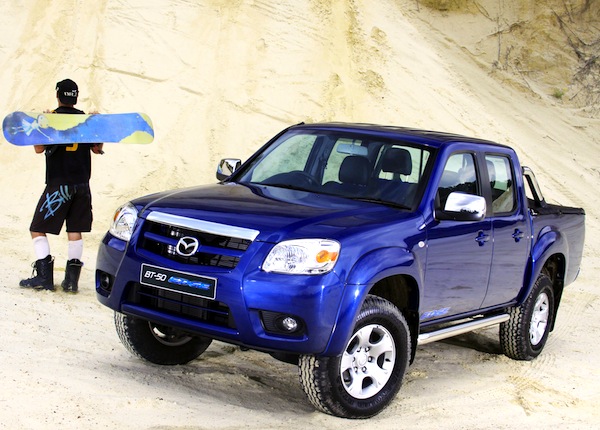 Mazda BT-50. The new generation is not yet available in Venezuela.
State deliveries push the Toyota Hilux up 13 ranks to #5 while the 2012 year-to-date leader, the Chevrolet Aveo, is down 5 to #6. We welcome 3 newcomers in the Venezuelan Top 30 in November: the Chevrolet Orlando lands directly in 10th position for its very first month of sales in the country at 505 units and 4.2% share, the Civetchi S30 ranks #26 with 109 sales and the Haima 7 is #30 at 77 units.
Previous month: Venezuela October 2012: State orders keep Toyota Land Cruiser high
One year ago: Venezuela November 2011: Ford Fiesta confirms #1 spot at 12%!
Full November 2012 Top 30 Ranking Table below.
Venezuela November 2012:
| | | | | | | | | |
| --- | --- | --- | --- | --- | --- | --- | --- | --- |
| Pos | Model | Nov | % | Oct | 2012 | % | Pos | 2011 |
| 1 | Mazda BT-50 | 970 | 8.0% |  - | 2,263 | 1.8% | 20 | n/a |
| 2 | Chevrolet Silverado | 784 | 6.5% | 17 | 3,173 | 2.6% | 13 | 12 |
| 3 | Chevrolet Cruze | 722 | 6.0% | 5 | 7,049 | 5.8% | 3 | 22 |
| 4 | Mitsubishi Lancer | 675 | 5.6% | 2 | 6,053 | 4.9% | 5 | 6 |
| 5 | Toyota Hilux | 594 | 4.9% | 18 | 2,345 | 1.9% | 18 | 23 |
| 6 | Chevrolet Aveo | 573 | 4.7% | 1 | 16,286 | 13.3% | 1 | 1 |
| 7 | Ford F350 | 561 | 4.6% | 6 | 6,356 | 5.2% | 4 | 3 |
| 8 | Jeep Cherokee | 540 | 4.5% | 13 | 3,739 | 3.1% | 10 | 16 |
| 9 | Chevrolet NPR | 511 | 4.2% | 9 | 3,033 | 2.5% | 14 | 25 |
| 10 | Chevrolet Orlando | 505 | 4.2% |  - | 505 | 0.4% | 41 |  - |
| 11 | Ford Fiesta | 494 | 4.1% | 12 | 7,360 | 6.0% | 2 | 2 |
| 12 | Toyota Corolla | 486 | 4.0% | 3 | 5,883 | 4.8% | 6 | 7 |
| 13 | Jeep Grand Cherokee | 461 | 3.8% | 8 | 4,264 | 3.5% | 8 | 5 |
| 14 | Ford Explorer | 426 | 3.5% | 7 | 4,528 | 3.7% | 7 | 15 |
| 15 | Toyota Fortuner | 381 | 3.2% | 10 | 4,125 | 3.4% | 9 | 13 |
| 16 | Chevrolet Optra | 368 | 3.0% | 14 | 2,642 | 2.2% | 16 | 4 |
| 17 | Kia Rio | 350 | 2.9% | 11 | 2,252 | 1.8% | 21 | 17 |
| 18 | Chevrolet Spark | 337 | 2.8% | | 1,925 | 1.6% | 23 | 14 |
| 19 | Ford F250 | 262 | 2.2% | 22 | 2,265 | 1.9% | 19 | 19 |
| 20 | VW SpaceFox | 229 | 1.9% |  - | 1,163 | 1.0% | 25 | n/a |
| 21 | Mack Granite | 223 | 1.8% | 19 | 940 | 0.8% | 29 | n/a |
| 22 | Kia Sportage | 132 | 1.1% | 20 | 2,170 | 1.8% | 22 | 18 |
| 23 | Mitsubishi Canter | 116 | 1.0% | 21 | 1,002 | 0.8% | 28 | 29 |
| 24 | Iveco Daily | 113 | 0.9% | 26 | 884 | 0.7% | 33 | 31 |
| 25 | Civetchi Mini | 111 | 0.9% | n/a | 695 | 0.6% | 38 | n/a |
| 26 | Civetchi S30 | 109 | 0.9% |  - | 110 | 0.1% | n/a |  - |
| 27 | Kia Pregio | 101 | 0.8% | 23 | 903 | 0.7% | 30 | n/a |
| 28 | Renault Koleos | 90 | 0.7% |  - | 141 | 0.1% | n/a | n/a |
| 29 | Renault Symbol | 83 | 0.7% |  - | 191 | 0.2% | n/a | n/a |
| 30 | Haima 7 | 77 | 0.6% |  - | 78 | 0.1% | n/a |  - |
Source: www.cavenez.com