* Click on title for Ghanaian street videos! *
Ghana is one of the most dynamic car market in Africa, with 12,000 new car sales in 2011, double that of neighbour Cote d'Ivoire. It is also relatively mature, with a full variety of models available and a very fragmented structure.
Ghanaian street scene. Picture by sigma beta, all rights reserved.
Among the most popular new cars are the Mitsubishi Pajero, Toyota Hilux, Nissan Hardbody, Mitsubishi L200, Tata Indigo, Toyota Corolla and Fortuner. Surprisingly the Pontiac Vibe also seem to be successful, as well as the Ford Ranger, Tata Indica, Honda CRV, Toyota Yaris Sedan and Mahindra Pick-up.
Accra street scene. On the left: Pontiac Vibe.
The Dacia Logan also appears in the streets of Accra. The Iranian Saipa 111 (aka Kia Pride) is ubiquitous as a taxi, and the same goes for 1991 Opel Astras and Mercedes TN vans which all seem to travel to Ghana to finish their busy lives.
You can check out some Ghanaian street videos below.
Below are some very instructive videos of the streets of Accra the capital of Ghana: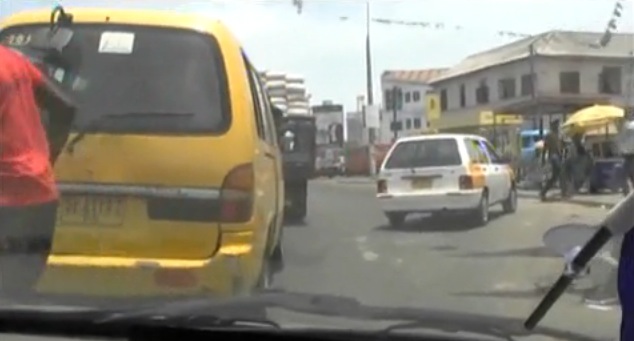 Street Scenes in Accra, Ghana June 2010.
This speculation is based on the observation of 2010 YouTube videos of the streets of Accra, so please get in touch if you have more info!
2011 total sales figure source: Le Point