Ford Fiesta
* See the Top 20 best-selling models by clicking on the title! *
Today I give you Cyprus data, very rare but now about to become a monthly fixture on BSCB thanks to data provided by SEMO Cyprus / Analysis by INNOSOFT. Well you thought Greece, Spain or Portugal was in bad shape this year, wait till you see the Cypriot new car market: down a very harsh 32% year-on-year in 2013 to just 7,102 registrations, the worse performing European car market this year, no less. Add to this an increased fragmentation of the models sales charts and expectedly it's a bit of a nightmare in the models ranking. The leader, the Ford Fiesta, remains the same, but loses 53% to 407 sales and 5.7% share, dropping 'only' 36% earns the Nissan Qashqai two spots up to 2nd place at 378 units and 5.3% and the Toyota Yaris rounds up the podium at -44% and 4.9% share.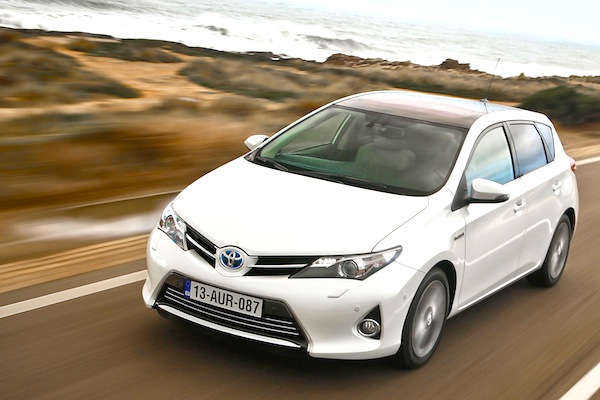 The Toyota Auris is up 29% in 2013 in Cyprus.
In fact only two models in the Top 10 gain ground year-on-year: the VW Golf is up 6% and 4 spots to #4 with 250 sales and 3.5% and the Toyota Auris is up a magnificent 29% and 6 ranks to equal 5th at 241 units and 2.4%. The Nissan Juke manages to gain one spot to place #5, the Kia Rio is up from outside the Top 15 in 2012 directly to #10, while the Audi A3 (#11), Renault Clio (#12), Honda CR-V (#14) and BMW 3 Series (#18) also get noticed.
Previous year: Cyprus Full Year 2012: Ford Fiesta and Toyota Yaris on top
Full Year 2013 Top 20 models Ranking Table below.