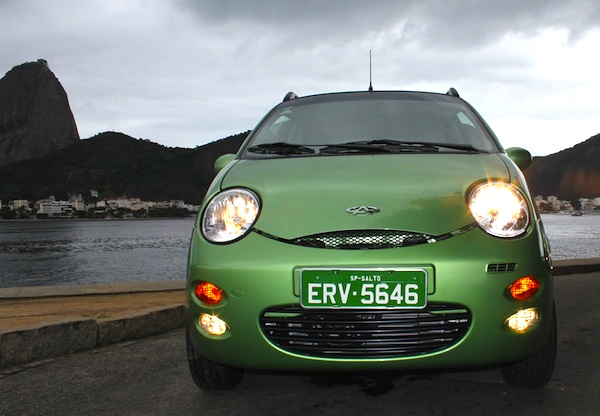 Brazilian Chery QQ
* Click on title for the Full article! This is Part 2 of 5 in a series on Chinese carmakers abroad *
See also Part 1 (Africa), Part 3 (Eastern Europe), Part 4 (Asia) and Part 5 (Mature markets).
If Chinese carmakers have started exporting to Africa in the early 00′s, they set foot in Latin America even earlier, with JAC starting to export trucks to Bolivia back in 1990. Similarly to the strategy they adopted in Africa, the Chinese have initially focused on the less developed car markets in the region. They are now in the process of stepping up their involvement by launching in the bigger, more mature markets like Argentina and Brazil.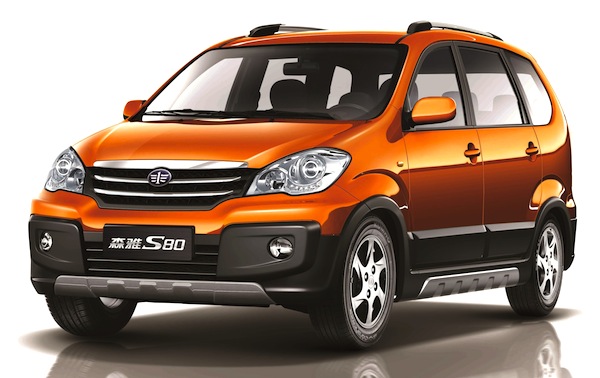 FAW S80. FAW is the 10th most popular brand in Uruguay vs. #16 at home in China.
In fact, the foundations the Chinese have built in secondary Latin American car markets are potentially their strongest in the world so far. The first logical anchor points in the region are Uruguay and Paraguay, both located between Argentina and Brazil and all part of the Mercosur, which makes it easier to export towards those two powerhouses as local assembly with 30% to 50% share of local components currently receive zero-tariff status inside the Mercosur. As a result both Chery and Lifan (40,000 units/year capacity) have assembly factories in Uruguay while Dongfeng has one in Paraguay.
In Uruguay, 26 of the 60 brands on sale are Chinese, capturing 23.4% of the market so far in 2013 – their highest country penetration outside of China and actually on par with the penetration of Chinese passenger cars within China! There are 7 Chinese carmakers in the Uruguayan Top 20 and 2 among the Top 10: Chery is 6th with 6.8% share after peaking at #2 and 12.2% share in June 2011. FAW is 10th at 3.9%, followed by Geely at #12 and 2.7% and Great Wall at #14 and 2.2%. For comparison Toyota ranks #13 with 2.6% of the market…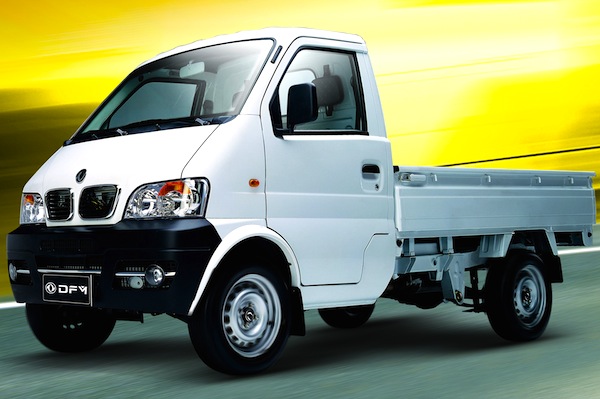 The DongFeng Mini Pick-up is now produced in Paraguay.
In Paraguay, the Chinese hold 9% of the passenger car market but 59% of the truck market! There were 10 Chinese among the Top 30 best-selling brands in 2012, led by Dongfeng which now produces pick-ups locally, up 57% to #11, Great Wall at #18, ChangAn at #21, Haima at #22, Foton at #23 and ChangHe at #24.
Geely CK Police car in Cuba
Peru is another very important hub for Chinese manufacturers in Latin America: it is one of the fastest growing car markets in the world, with the last 3 years all being new records topped up by 178,000 registrations in 2012, and is "facing" China on the Pacific Ocean, making it an enticing port-of-entry into the continent. Roughly 15% of the Peruvian car market go to Chinese models, and latest data shows JAC at #9 in the overall brands ranking and Chery at #10 in the passenger cars one, with Great Wall at #12 and Geely at #19.
Local analysts even estimate that as much as 96 Chinese car brands (who knew there even were that many?!) are sold in Peru both formally in dealerships and informally by rogue vendors…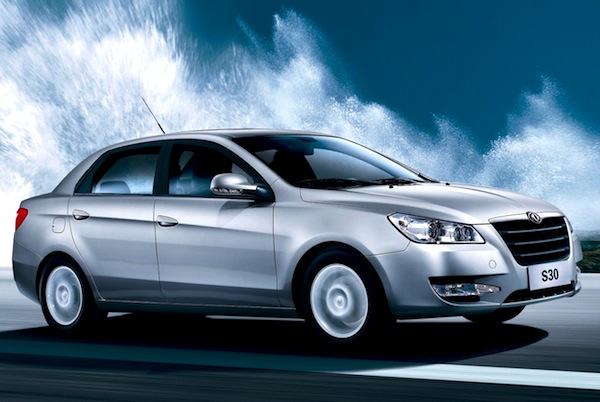 The DongFeng S30 was the best-selling model in Venezuela in December 2012…
Venezuela is a slightly different situation because the exchanges with the rest of the region are more patchy, so the Chinese's success so far has stemmed either from local production – Chery has started assembling cars there in 2011 but no figures are available – or direct agreements with the Chinese government, like the unprecedented 4,000-unit batch of DongFeng S30 imported in late 2012 which enabled the model to simply take the lead of the sales charts last December. The S30 has since celebrated its 5th consecutive month within the Top 5 best-sellers in Venezuela last month.
See the Full article below featuring Chile, Colombia, Bolivia, Cuba, Argentina and Brazil…