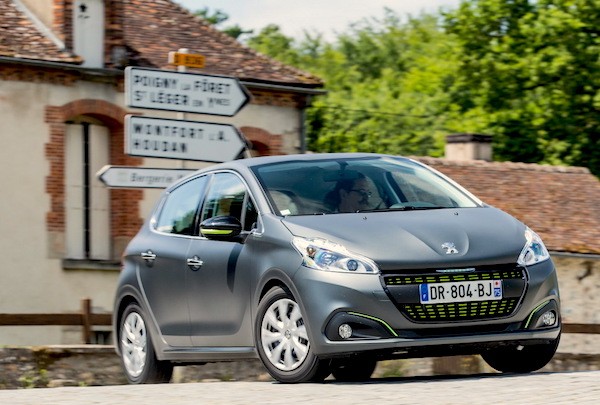 Freshly facelifted, the Peugeot 208 is the best-selling model in France this month.
* See the Top 20 best-selling brands and Top 80 models by clicking on the title *
After gaining 15% in June, the French new car market returns to a much more modest growth in July at just +2% on what was the weakest July in 20 years in 2014 to 147.132 registrations, lifting the year-to-date total to 1.164.625 units, up 5.6% on 2014. For only the third time in the past 18 months after May and July 2014, Peugeot is the most popular brand at home thanks to sales outpacing the market at +8% to 26.767 units and 18.2%. Meanwhile Renault drops 11% to 21.588 deliveries and just 14.7% share, exactly nine percentage points below its June level of 23.7% and a historical low for Renault, pulling its year-to-date below 20% at 230.192 units vs. 17.4% and 202.696 for Peugeot. No real reason to worry for Renault however as this weak performance appears to be mostly the result of a particularly aggressive sales front-loading in June in advance of the summer holidays, including demo sales of the Kadjar.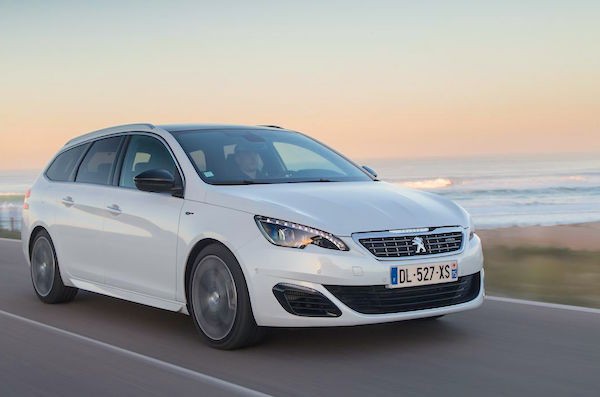 The Peugeot 308 stops just 143 units short of a first monthly win at home.
Below, Citroen is stable at 17.789 deliveries and 12.1% in third place, Volkswagen is up 3% to 8.2% and Dacia is stable at 5.6%. Toyota (+11%), Fiat (+26%), Mercedes (+17%), Kia (+10%) and Hyundai (+44%) are the best performers in the Top 20, with Jeep (+409%) still lodging euphoric sales data thanks to the Renegade however plateauing at #58. In line with its dominant market share, Peugeot places three nameplates in the Top 4: the 208 follows the market (+3%) to take the lead with 6.585 sales and 4.5%, distancing the Renault Clio IV (-11%) 29 units at 6.556.
Second consecutive month inside the Top 20 for the Renault Kadjar.
The Peugeot 308 (+22%) is up to #3 with 6.442 deliveries and 4.4% share – neither generation of 308 had ever been that close to the French pole position before – just 143 sales. As a result, it overtakes the Captur again for the third spot year-to-date, while the 2008 is up one rank on May to #4 and 13% year-on-year to 4.782 sales and 3.3% vs. 3.650 and 2.5% (-16%) for the Captur. Efficient month for the Citroen C4 Picasso up three spots to #6 overall with 2.9% share and up two year-to-date to #8 with 28.893 deliveries vs. 29.902 for its archenemy the Renault Scénic, down 5 ranks to #11 in July.
Mercedes CLA sales double year-on-year in France thanks to the new Shooting Brake.
The Dacia Sandero is up 18% to #7, the Toyota Yaris up 28% to #15, the Peugeot 508 up 31% to #18 and the Renault Kadjar stays among the 20 most popular nameplates at home at #19 with 1.913 deliveries, now that 'real' sales are starting to kick in – read non-demo sales. The Opel Mokka is up 39% #23, the Renault Twingo plunges 17 spots on June to #24, the Mercedes A-Class is back up 13 ranks to #34, the Renault Espace is robust at #35 and 1.096 deliveries and the Fiat 500X drops 8 spots to #38, still the brand's 2nd best-seller below the 500 (#20).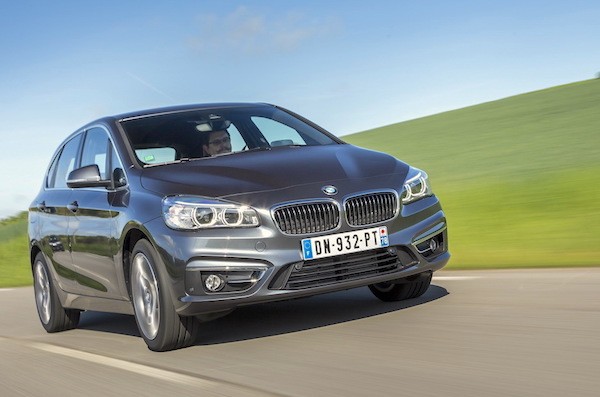 The BMW 2 Series Active Tourer is about to break into the French Top 50.
Notice also the VW Passat up 48% to #39, the Seat Leon up 47% to #41, Toyota RAV4 up 40% to #42, Nissan X-Trail up 83% to #47, Renault Zoé up 134% to #51, BMW 2 Series Active Tourer up to #53 vs. #82 year-to-date, the Mercedes GLA up 42% to #60, Mercedes CLA up 97% to #70 and the Ford Ecosport up 20 spots on June to #74.
Previous post: France 1st Half 2015: Now with Light Commercials data
H1 2015 update: France 1st Half 2015: Shaky recovery lifts market above 1 million units
Previous month: France June 2015: Renault Kadjar, Captur and Espace fuel up
One year ago: France July 2014: Citroen C4 Cactus in Top 20 in worst July since 1984
Full July 2015 Top 20 brands and Top 80 models below.