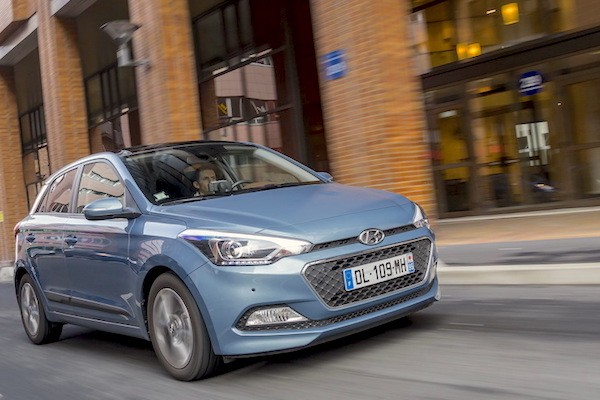 The i20 enables Hyundai to double its sales year-on-year in France.
* See the Top 20 best-selling brands and Top 100 models by clicking on the title *
The French new car market halts a streak of three consecutive months of year-on-year declines in January by improving 6% on a catastrophic month in January 2014 to 132,824 registrations. The gain mainly benefits foreign manufacturers who increase their sales by 14% to see their market share take off from 40.7% a year ago to 44.1% this month. Renault (-3%) only keeps the brands pole position off Peugeot (+11%) by 270 sales and Citroen disappoints at -5%. Volkswagen (+11%) extends its advantage over Dacia (-4%) for the 4th position overall while Nissan (+27%), Ford (+18%), Opel (+35%), Mercedes (+61%), Hyundai (+103%) and Mini (+65%) all lodge very dynamic results as opposed to DS in free fall at -20%.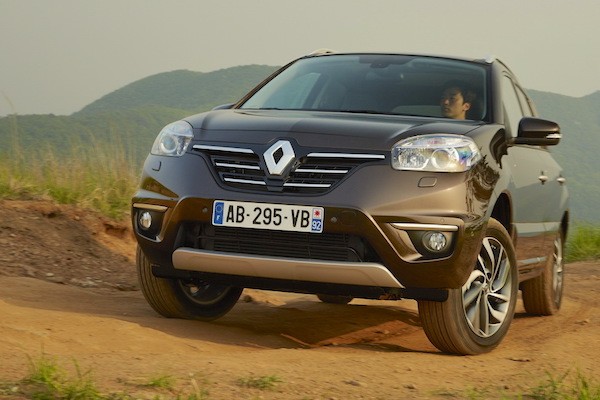 Swan song for the Renault Koleos?
After being dominated by Peugeot for a large part of the month (see France 1-19 January 2015: Podium 100% Peugeot), the French models ranking returns to normal just in time for the end of January, with the Renault Clio IV in the lead (+11%) above the Peugeot 208 (-14%), Peugeot 308 (+96%), Renault Captur (+17%) and Peugeot 2008 (+41%), all confirming their long-term evolution witnessed across 2014. The Dacia Sandero is back inside the Top 10 at #7, the Citroen C4 Picasso (#8) beats its archenemy the Renault Scénic (#11), the Renault Twingo III lodges a 2nd consecutive month inside the Top 10 and the Renault Mégane crashes down 19% to rank below the VW Golf…
The Renegade lifts Jeep French sales up 1364% year-on-year!
Lots of movement further down: helped by reduced tariffs in the wake of the unveiling of the Renault Kadjar – which will not replace it but will put a significant dent in its sales, the Renault Koleos flies up to #30, quite simply and frankly its best-ever ranking at home (previous best: #50 in January and February 2014). Boosted by a new generation much more adapted to French customers' taste, the Hyundai i20 jumps 239% year-on-year to #37, the nameplate's first-ever Top 50 ranking (previous best: #53 in February 2013). Notice also the Toyota RAV4 up 10 spots on December to #39, the Nissan Micra up 46 to #40 and Nissan X-Trail up 17 to #59. Now each armed with a Stepway variant, the Dacia Lodgy (+38%) and Dokker (+105%) climb back the ladder.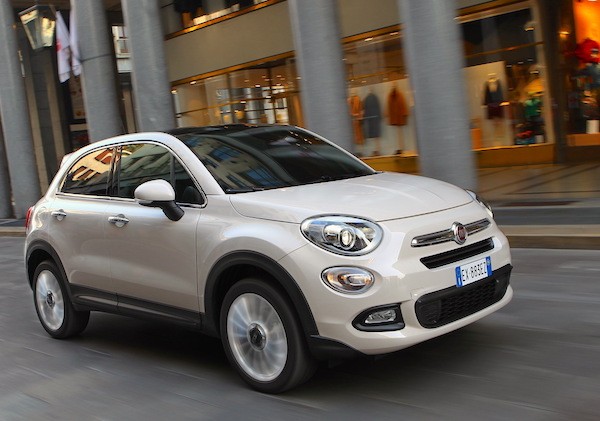 First Top 100 ranking for the Fiat 500X in France.
Among recent launches, let's salute the Jeep Renegade up a further 12 spots on December to #61 and single-handedly lifting Jeep sales up… 1361% on January 2014, the Nissan Pulsar up 23 ranks to #81 and the Fiat 500X taking off: up from #381 in December to #94 with 281 units sold in January, its first-ever Top 100 ranking in France. In the Light Commercial Vehicle ranking, the Renault Kangoo is faithful to its traditional pole position, followed this month by the Renault Master III and Clio IV, with the Citroen Berlingo and Renault Trafic rounding out the Top 5.
Previous post: France 1-19 January 2015: Podium 100% Peugeot
Full Year 2014 post: France Full Year 2014: Renault Captur on podium
Previous month: France December 2014: BMW and Mercedes finish on a high
One year ago: France January 2014: Peugeot 208 #1 for the first time since May 2013
Full January 2015 Top 20 brands and Top 100 models below.
Full January 2014 Top 12 LCV brands and Top 100 LCV models below.