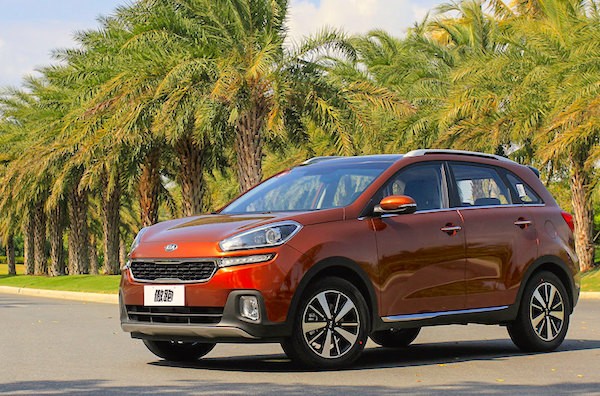 * Many thanks to carnewschina.com for helping compile this report *
As per the BSCB tradition, after first exploring the monthly Chinese ranking, we then go into the detail of the all-new models making their first appearance in the biggest car market in the world, keep in mind this is only models that have kick-started local production as imports data is still a very well-kept secret in China. After welcoming 4 new entrants in January and 6 in February, we have 6 new nameplates in the charts in March. As it has been the case each and every month this year, the list of new entrants perfectly illustrate the current trends at play in China: a regain of form of Chinese manufacturers – 5 of the 6 new entrants including 3 from Dongfeng – and the strength of the SUV (2 newbies) and MPV (1) segments.
1. Kia KX3 (#102 with 5,596 sales)
After the Hyundai ix25 launched last year, sister company Kia unveiled its equivalent aimed at a younger, hipper audience: the KX3, also exclusive to China. Priced from 112.800 to 186.800 yuan ($18.018 – 29.830), the KX3 plays right into the compact SUV sales explosion we have witnessed over the past couple of years and lands directly just outside the Top 100 with a very vigorous 5,596 units sold for its first month in market.  By comparison, the Hyundai ix25 started at #129 and 3,972 sales last September, rapidly rising to a (temporary?) peak of 9,173 deliveries at #60 last January, a ranking it also holds in March. Direct competitors the Ford Ecosport (#46, 8.100 sales), Peugeot 2008 (#71, 8.010 units) and Chevrolet Trax (#78, 6.080 deliveries) have reached similar heights in the past few months so hopes are high for this KX3, manufactured by the Dongfeng-Yueda-Kia joint venture.
Bar for success: #50 or 10,000 monthly sales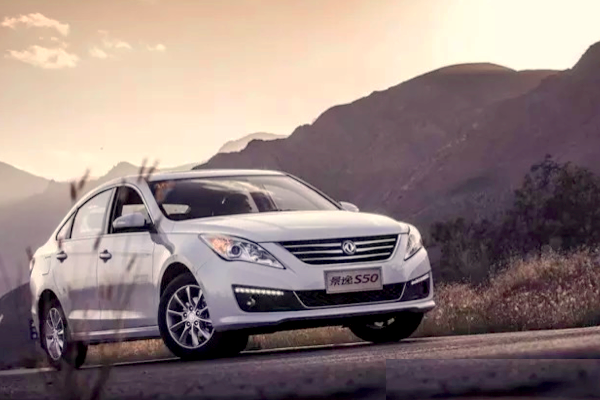 2. Dongfeng Fengxing Jingyi S50 (#180 with 2,127 units)
Launched back in September 2014 but somehow only appearing in the sales charts this month, the Fengxing Jingyi S50 is positioned right in the middle of the most competitive and saturated segment in the Chinese market: affordable compact sedans. Priced between 69.900 and 102.900 yuan (US$11.300-16.600) and with a design reminiscent of the Hyundai Verna, the oddly named S50 (Fengxing is the brand name, Jingyi S50 is the car's name) does not have much to differentiate itself and its interior is reported to be of mediocre quality. Dongfeng may have a hard time squeezing significant sales figures from this nameplate, manufactured by Dongfeng Liuzhou, a subsidiary of Dongfeng Motor and based on the Dongfeng Fengshen A60 sedan, which again is based on the old Nissan Sylphy that was made in China by the Dongfeng-Nissan joint venture.
Bar for success: #100 or 5,000 monthly sales
3. Dongfeng Fengdu MX6 (#203 with 1,640 deliveries)
Now that the platform of the previous generation Nissan X-Trail is available for Dongfeng to use, the Chinese manufacturer is launching a rebadge variant of it named the Fengdu MX6, priced between 122.800 and at 169.800 yuan (US$19.800-27.300), a full US$15.000 below the old X-Trail's prices, which was a very popular vehicle with a strong following in China, giving the Fengdu MX6 a good chance on the market, especially among those who think the new X-Trail to SUV-like or too expensive. The MX6 is manufactured by Zhengzhou-Nissan, a separate company under the Dongfeng-Nissan joint venture focused on making small commercial vehicles, pickup trucks, and cheap SUV's. Zhengzhou-Nissan vehicles are sold under the Dongfeng and Nissan brand names.
Bar for success: #75 or 7,000 monthly sales
4. Dongfeng Fengshan L60 (#224 with 1,190 sales)
Last Dongfeng to land in the Chinese sales charts this month, the Fengshan L60 marks a new step in the collaboration between Chinese Dongfeng Motor and French PSA/Peugeot-Citroen now that the Chinese manufacturer holds 15% of the French carmaker. It has been jointly developed by the Dongfeng-PSA joint venture and Dongfeng Motor, the same sort of construction that is used for developing cars for sub-brands. Fengshen however is 100% owned by Dongfeng Motor, and not by the joint venture. The Fengshen L60 is based on the extended variant of the PSA PF2 platform, that also underpinned the previous generation Peugeot 408 sedan, which was made in China by Dongfeng-PSA. Priced very competitively between 89.700 and 129.700 yuan (US$14.400-20.900) and featuring a particularly sleek design, the L60 has a good chance to succeed.
Bar for success: #100 or 5,000 monthly sales
5. Chery Arrizo M7 (#259 with 607 sales)
The Chery Arrizo M7 is the first MPV under the Arrizo brand now counting 3 models: the Arrizo 3, 7 and M7. It is however not an entirely new car and basically a facelifted version of the 2011 Chery Rely V5, originally called Chery V5 in 2013 because the Rely sub-brand had been killed by then. It now resurrects as the Arrizo M7. No pricing information yet as the M7 is scheduled for its debut at the Shanghai Auto Show next week. Chery claims that the Arrizo M7 is a seven-seat MPV with a 2+3+2 configuration, however the last row of seats is cramped to say the least.
Bar for success: #100 or 5,000 monthly sales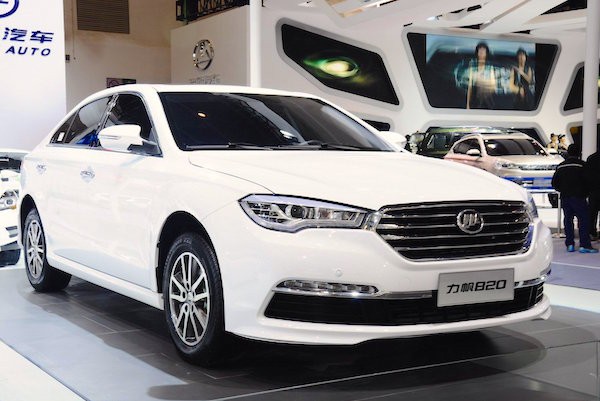 6. Lifan 820 (#338 with 26 units)
Although not officially launched yet, the Lifan 820 appears in the Chinese sales charts this month with a mere 26 units, most probably demo models. This is the Lifan brand's new flagship, which debuted on the 2014 Beijing Auto Show a year ago and was originally slotted for a Q4 2014 commercial launch. Lifan, in dire straits at home in the sedan segment, must be relatively nervous about unveiling this large sedan to the public as it has the potential to either pull the brand out of insignificant sales in that category or kill it for good. Price will start around 90.000 yuan and end around 140.000 yuan. Worryingly, at launch the Lifan 820 will only be available with a 1.8 liter four-cylinder petrol engine with 131hp, mated to a five-speed manual. Later on a 2.0 and a Mitsubishi-sourced 2.4 liter four-cylinder petrol engines will become available as well. The 1.8 and 2.0 engines are developed by Lifan in close cooperation with Ricardo, a large British automotive engineering firm.
Bar for success: #150 or 3,000 monthly sales