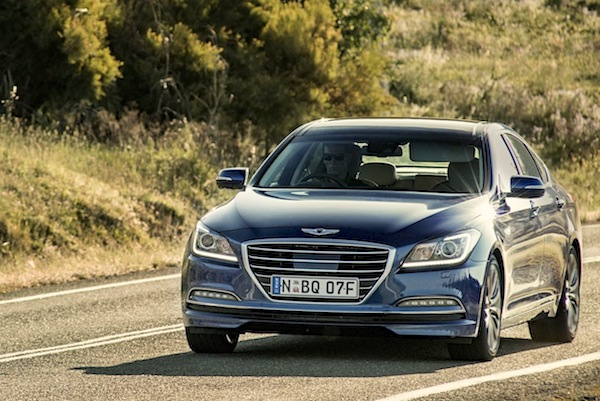 Hyundai just launched the Genesis in Australia
* UPDATED. See the Top 12 models and Top 50 brands by clicking on the title *
The Australian new car market is down another 5% year-on-year in November to 92,232 registrations, however the year-to-date total is now already past 1 million units (1.016.421) and on track to reach 1.1 million by year end for the third year in a row – and ever, so still very high sales levels here. The brands ranking is bringing us an earth-shattering event this month: Hyundai manages to remain in 2nd place overall for the 2nd straight month and only the 2nd time since its introduction in the country 25 years ago thanks to 8,600 sales and 9.3% share. That's enough for the Korean manufacturer to dislodge Mazda from the podium and rank #3 year-to-date for the first time ever at 92,354 units and 9.1%. Note also that the November brands podium is 100% Asian (Toyota-Hyundai-Mazda) for only the third time in the history of automobile in Australia after February 2013 and September 2014…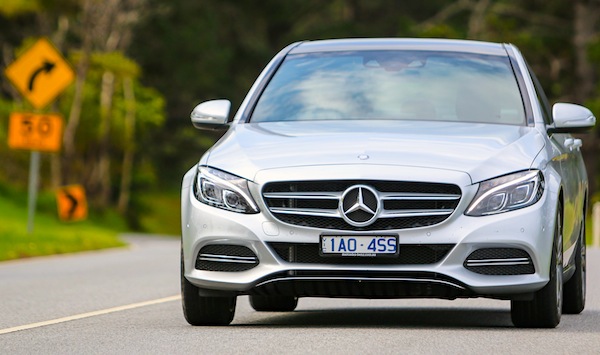 Mercedes is up 33% this month thanks to the new C-Class and GLA SUV
In another blow for 'local' (not for long anymore) manufacturers, Holden drops 25% year-on-year to #4, its lowest ranking since the introduction of the brand in 1948, and Ford falls 26% to a lowest-ever #6 (also hit in February and March 2013). The Australian press has felt the need to support both Holden and Ford until they end local manufacturing in 2017 by saying the announcement they would stop producing in Australia should not affect their sales. Truth is, and I said it from the start, it does and November data is another proof of it. In other brand news, Mercedes is up another astounding 33% to rank #10 and is now only 34 units below Honda for an annual Top 10 which, if reached, would be Mercedes' first since 2003. Mitsubishi is up 37% to #5 and passes Nissan YTD to rank #6, Jeep up 28% to #12, BMW up 16% to #14 and Audi up 26% to #15.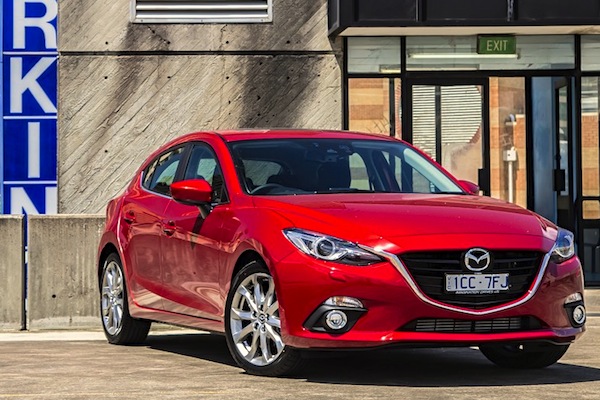 The Mazda3 is the best-selling nameplate in Australia in November.
Model-wise, the two market leaders exchange positions once again: the Mazda3 reclaims the lead thanks to 3,499 sales and 3.8% share vs. 3,264 and 3.5% for the Toyota Corolla, bringing its 2014 tally to 4 monthly wins compared to 7 for the Corolla. The Corolla still leads year-to-date with only one month left in the year at 40,189 units vs. 39,510. Not an insurmountable gap for the Mazda3 but incentives will need to be thrown in as the Corolla is traditionally strong in the Australian summer due to short-term rental sales. If unchanged in a month's time, this would be the second straight annual #1 ranking for the Corolla. The Mazda3 is chasing the crown it held in 2011 and 2012.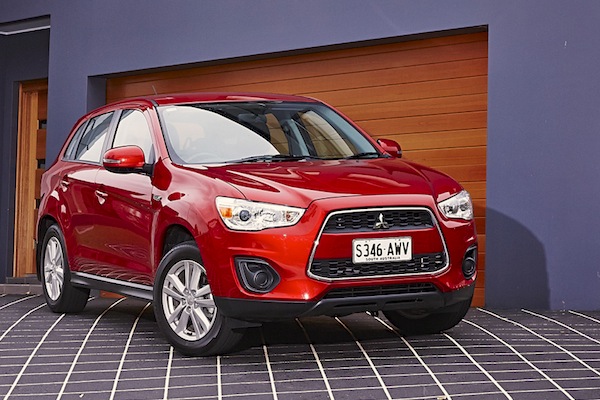 The Mitsubishi ASX breaks into the Australian Top 10 for the first time.
The Australian market is fragmenting further this month with the entire Top 5 down by at least 5% YOY. Thanks to a 686 sales strong advantage over the Holden Commodore in November, the Hyundai i30 passes the Australian household name to become #4 YTD, while the Mitsubishi Triton is up 28% YOY to overtake the Ford Ranger and rank #2 ute below only the Toyota Hilux (#3). We have a newcomer inside the monthly Top 10 in November: thanks to boosted equipment and sharper pricing for the 2015 model, the Mitsubishi ASX shoots up to a record 9th place thanks to 1,763 sales and 1.9%, also becoming the country's most popular SUV above the Hyundai ix35 (#10) and Mazda CX-5 (#12), still leader year-to-date however at #8.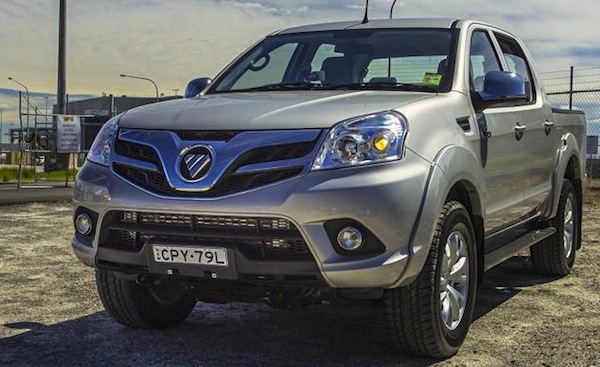 Foton Tunland – Foton outsells Great Wall in Australia for the first time this month.
Finally, let's signal an interesting development among (discreet) Chinese manufacturers present in Australia. Great Wall, leading the Chinese charge in the country since its introduction here in 2009, is overtaken this month by both LDV with sold 112 Maxus vans and Foton which sold 102 Tunland utes (including 92 4×4) vs. 78 Great Wall cars, 56 V-Series utes and 22 X-Series SUVs. Great Wall is down a horrendous 76% on November 2013 (331) and down 92% on its peak of 926 sales in November 2011. Australian distributor Ateco is buying Great Wall cars from China in US dollars and the exchange rate fluctuations coupled with a weaker yen meaning cheaper Japanese offerings have meant Great Wall's positioning on price has been impossible to maintain and Great Wall is dying in Australia. It's not the end of the story though, as Great Wall China has recently announced the launch of its Haval SUV brand in Australia in early 2015…
Previous month: Australia October 2014: Ford Ranger inside Top 5 for the first time
One year ago: Australia November 2013: Hyundai i30 and VW Golf shine
Full November 2014 Top 50 brands and Top 12 models Ranking Tables below.