The Hyundai i30 beats both market leaders – Corolla and Mazda3 – for the 2nd time this year.
* See the Top 20 best-selling models and Top 50 All-brands by clicking on the title *
Now with a new Prime Minister, Australia sees its new car market fly off towards an all-time record year in 2015. September is up a robust 7% year-on-year to 101.392 registrations, lifting the year-to-date total up 4% or 30.000 sales to a record 862.832 units, eclipsing the previous 9 month-best of 849.449 deliveries established in 2013. The three biggest states population-wise are the engines of national growth: New South Wales/Sydney is up a flamboyant 12% to 33.983 sales, Victoria/Melbourne up 8% to 27.675 and Queensland/Brisbane up 8% also, to 20.387. Western Australia/Perth is down 9%, South Australia/Adelaide down 4% and Northern Territory/Darwin down 13%. Note the Australian Capital Territory/Canberra (+14%) and Tasmania (+20.5%) post strong growth but their volumes remain very low in a national context. The SUV segment continues to be responsible for essentially the entire market gain: up 23% to 36.698 registrations, while passenger cars are up just 2% to 46.084 and light commercials down 9% to 15.476.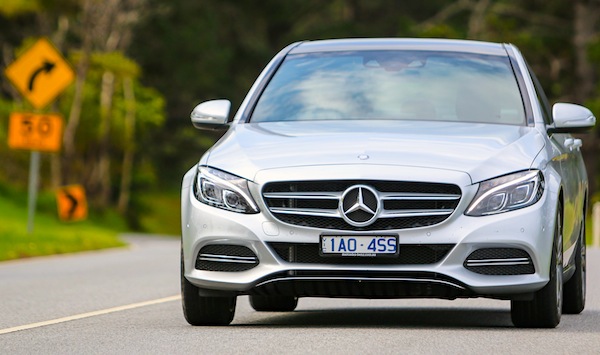 Australian Mercedes sales are up 31% year-on-year in September.
Brand-wise, Toyota drops 7% but remains by far the most popular brand in Australia with 16.4% share, while Mazda stays 2nd with sales shooting up a beautiful 14% year-on-year to 10.7% share, the Japanese carmakers's 2nd best this year below the 11% hit in January. Overtaken year-to-date by Hyundai last month, local brand Holden is back on the podium in September with a meagre 15-units advance on the Korean carmaker, meaning Hyundai is still #3 so far in 2015 at 77.426 sales vs. 76.828 for Holden. Mitsubishi is up a cool 14% in 5th place, Volkswagen up 15% (no dieselgate impact yet), Subaru up 13% and Honda up 32%. Outside the Top 10, German luxury brands are still on cloud nine: Mercedes (+31%), BMW (+14%) and Audi  (+26%) all grow at at least double the rate of the market. Notice also the fantastic performances of Skoda (+39%), Kia (+45%), Volvo (+48%), Isuzu (+52%) and Porsche (+131%). Reversely Jeep pays two years of unbridled growth by falling heavily at -27% this month.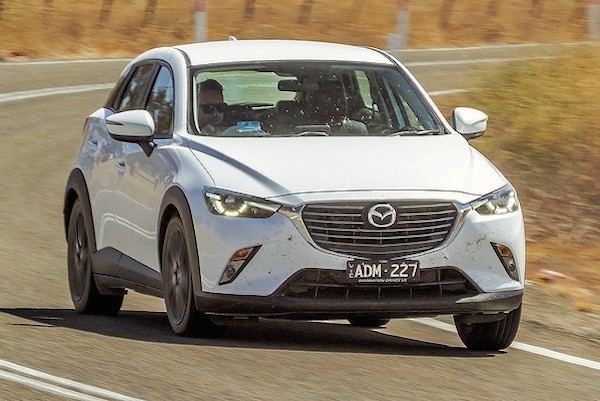 The CX-3 consistently keeps Mazda above 10% share this year in Australia.
In the models ranking, the big news this month is the pole position of the Hyundai i30, its second time ever after last June and only the third month in history a Hyundai tops the Australian sales charts after the Excel ranked first back in June 1998. The i30 sells 4.490 units, a mammoth 77% improvement on September 2014 partly due to an aggressive pricing campaign. With the 2015 facelift, the i30 now absolutely looks like an Elantra hatchback, and if we add Elantra sales its tally becomes 5.170, far above its two competitors the Mazda3 at 3.588 (-11%) and the Toyota Corolla at 3.530 (-9%), both benefiting from hatch and sedan variants, and in the case of the Corolla looking rather distinct.
The Toyota Camry is the best-selling local model in September, above the Holden Commodore.
Another great performer in September is the Toyota Camry, bolstered by its recent facelift and up 16% year-on-year to jump to 4th place overall vs. #10 so far in 2015. This is the Camry's best Australian ranking in almost two years (since December 2013 when it ranked #3), and most significantly it means the Camry is the best-selling locally-produced car in Australia – a species nearing extinction, granted – overpowering the Holden Commodore (#6 and 2.348 sales). In the pickup aisle, the Ford Ranger is solid in 5th place now that the new model is gearing up above the Mitsubishi Triton at #8 while the Toyota Hilux (-42%) is waiting for the new generation to kick in in October. As usual, the Mazda CX-5 is the most popular SUV in the country, with the Toyota Prado shooting up 23 spots on August to #11 and #2 SUV, distancing the Toyota RAV4 (#12), Mazda CX-3 very impressive again (#14) and the Mitsubishi ASX up 37% (#15).
Previous month: Australia August 2015: Hyundai overtakes Holden year-to-date
One year ago: Australia September 2014: Jeep among Top 10 for first time ever
Full September 2015 Top 20 models and Top 50 All-brands below.