Canada February 2014: Dodge Grand Caravan on podium for first time in 18 months
Dodge Grand Caravan
* NOW UPDATED with the Top 242 models and Top 35 brands! Click on title to see *
New light vehicle sales are up a shy 2.5% in Canada in February to 105,927 registrations, bringing the year-to-date total to 201,732 units, up 1.5% on 2013. Brand-wise, Ford and Toyota are stable atop the ranking, Hyundai is up to #3 passing Honda and Chevrolet compared to the FY2013 order. Nissan is up 22%, Jeep up 41%, Subaru up 26% and Mitsubishi up 22% while Buick is up a spectacular 89% on February 2013, single-handedly revived by the Encore breaking into the Top 50 best-selling models for the first time this month at #41 and accounting for 55% of the brand's sales...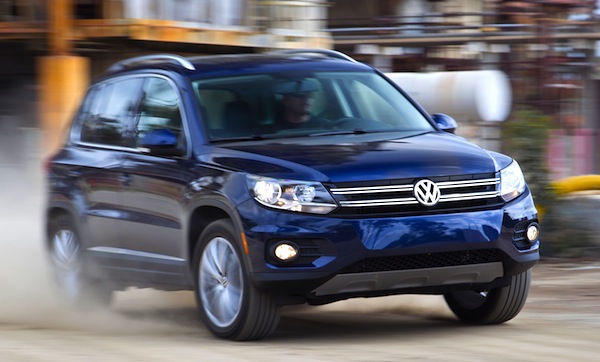 The VW Tiguan is up to an all-time high #33 in Canada this month.
Below the Ford F-Series (+8%) and Ram Pick-up (+7%), the Dodge Grand Caravan creeps up onto the podium for the first time since July 2012 at #3 with 3,930 sales, up 24% year-on-year. The Hyundai Elantra reclaims the title of best-selling Passenger Car in Canada this month thanks to 3,327 units vs. 3,071 for the Honda Civic, but this is not enough to topple the Civic year-to-date. The Nissan Rogue is up 70% on February 2013 to #16, the all-new Jeep Cherokee is now established among the 20 best-selling vehicles in Canada at #18 while the VW Tiguan is up a further 4 spots on last month to a record #33, up a gigantic 161% year-on-year.
Previous month: Canada January 2014: Is the Dodge Dart finally taking off?
One year ago: Canada February 2013: Toyota RAV4 jumps into Top 10
Full February 2014 Top 242 models and Top 35 brands Ranking Tables below.