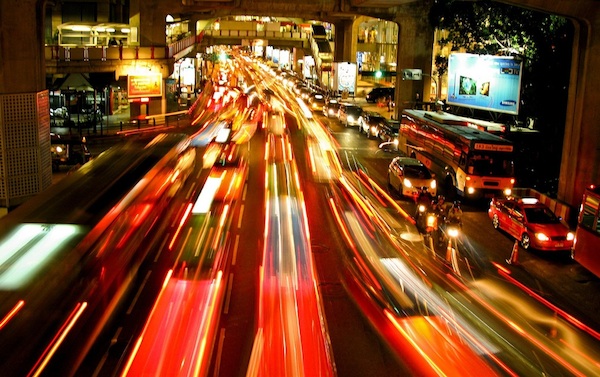 Bangkok, Thailand. Picture by songglod. Never before had that many new vehicles been sold in Thailand: 1.4 million predicted for 2012.
* See the full article by clicking on the title! *
LMC Automotive predicts that worldwide 2012 sales of cars and trucks will top 80 million units for the first time, as robust US, Chinese and Japanese markets offset a European downturn. This means the worldwide new vehicle market has grown by a very dynamic 7% on 2011 when 75 million units were sold, which was a record at the time. In fact, 2012 marks the third consecutive record year for worldwide vehicle sales.
Toyota Avanza in Ubud, Bali Indonesia. Toyota should reclaim the title of #1 carmaker in the world in 2012, helped by very strong sales of its hybrid range in Japan and a record performance in Indonesia.
For its part, Canadian Bank Scotia has advanced a forecast of 64 million new car sales in 2013, up 4% to deliver a 4th consecutive record year. Note this figure does not include trucks and commercial vehicles outside of the US and actually constitutes a rather odd prediction. Scotia believes the Chinese market will grow by 10%, the US by 4% and Europe will stagnate.
Back to 2012 and the race to the title of most popular car manufacturer in the world, which Toyota should reclaim in 2012…
Previous year: World 2011: Global sales to hit 75 million new vehicles
See the full article below.
Bloomberg says "the maker of the Corolla and the Camry sedan estimates sales expanded 22 percent to a record 9.7 million this year, the biggest gain since at least 2000, and is set to regain the title of world's best- selling automaker from General Motors and Volkswagen AG this year, as the industry heads for a record year."
In 2013, Toyota predicts its global sales to grow by 2% to 9.91 million vehicles, with overseas sales up 8% to 7.87 million, while deliveries in Japan will decline to 2.04 million."We expect sales in the U.S. and Asia to continue to rise next year," Joichi Tachikawa, a Tokyo-based spokesman for the Japanese carmaker, said yesterday to Bloomberg. "Asia's sales will be driven by Indonesia, while for the US, models such as Avalon and Lexus LS will likely help boost sales."
Toyota said last month it will build a new engine factory in Indonesia to more than double capacity, part of a plan by the automaker and its related companies to invest 13 trillion rupiah ($1.3 billion) in the Southeast Asian country over the next five years.
Source: www.bloomberg, www.autoplus.fr