The Great Wall V-Series is the first Chinese model to break into the Australian Top 50
* See the entire article by clicking on the title! *
Today I had the privilege of interviewing Daniel Cotterill, spokesperson for Ateco Automotive who distribute Chinese brands Great Wall and Chery in Australia alongside with Citroen, Ferrari and Maserati. And what better opportunity to give you an update on how the Chinese are faring in the sunburnt country and what's in store for the next few years, 9 months after my Full Year 2011 article "The Chinese have landed in Australia".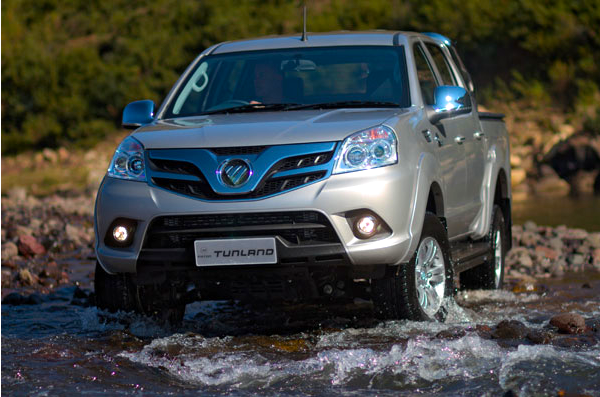 The Foton Tunland is now available to test drive in Brisbane and Perth.
Originally launched in June 2009, Great Wall finished 2011 at #16 in the Australian brands ranking with sales up 30% to 8,665 units, delivering one of the most successful car brand launches in the country. 9 months into 2012, Great Wall has already sold almost as many vehicles as during the entire year 2011 (8,480), up a very shiny 38% year-on-year… Great Wall's Australian website features a sales counter updated daily, currently boasting "26,244 Great Walls on the roads".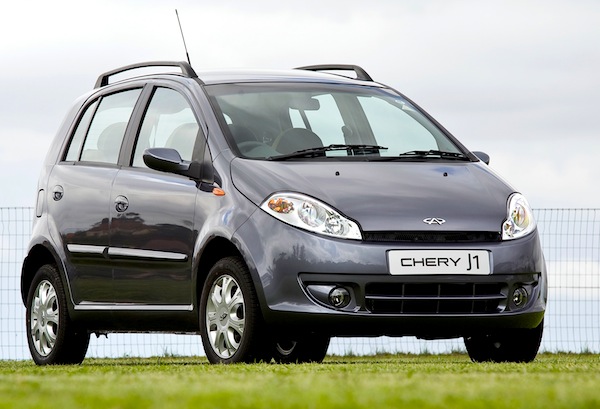 The Chery J1 is Australia's cheapest new car at $10,990
Daniel Cotterill says: "We're very pleased with how it's gone so far. We launched in Australia with very conservative expectations as we knew it would be difficult to be the first Chinese brand in a mainstream Western market. The key thing for us is steady expansion and sustainable growth." Great Wall now has 90 dealerships all across Australia, up from 44 at launch. As is often the case Great Wall do not share sales targets but Daniel admits that over the next few years, "We'd like to see the brand progress the same as it has" since launch.
So let's play the 'steady growth' game and apply a 25% year-on-year increase for the next 4 years (not impossible – it's Volkswagen's growth rate this year). We then arrive at almost 30,000 annual sales by 2016, which could give Great Wall a spot within the Top 10 most popular brands in the country, fighting with the likes of Subaru, Honda and Kia…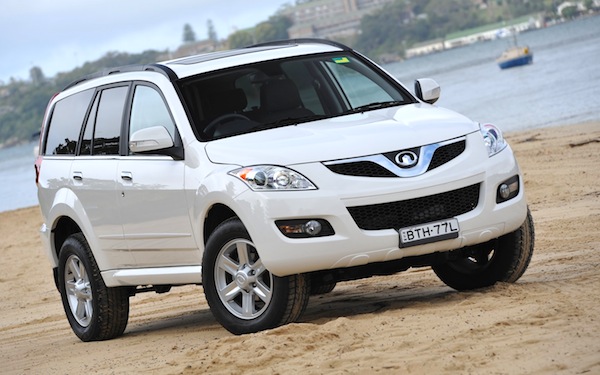 Great Wall X-Series
One of the key factors in Great Wall's success in Australia has been to embrace the brand's provenance rather than hiding it. Daniel explains: "We revelled in the fact that we are the Great cars of China. This is the third wave of Asian imports that are coming to this country and it's always the same: there's resistance on quality grounds to begin with. The way in is to compete on price, which we unashamedly do." Perception about products made in China is changing in Australia: "People look at their TV on the wall and it's made in China, their iPhone is made in China but a car is probably the 2nd most expensive thing most people ever buy after their house so there's an understandable degree of caution before they get into that sort of purchase." Hence the sales counter on the website…after all, over 25,000 Australians can't all be wrong, right?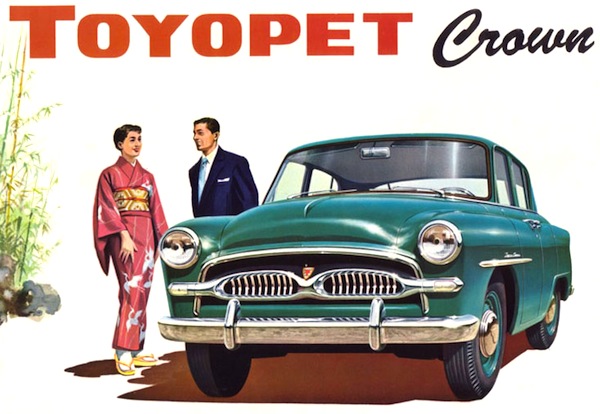 1958 Toyopet Crown. Australia was Toyota's first export market.
It's indeed a historical time for car sales in Australia. In the late 50s, Japanese car manufacturers and Toyota in particular started using Australia as a testing ground for a later expansion in Europe and the USA. See my article Australia 1958-1968: Toyota and Japan's first export market here. In the mid-eighties Korean manufacturers did the same. Now it's the Chinese's turn. "It's quite clear that Australia is a test-case for both Great Wall and Chinese manufacturers in general, and it's been a learning experience for all concerned." Great Wall has already applied its Australian learnings onto a UK launch in July 2012.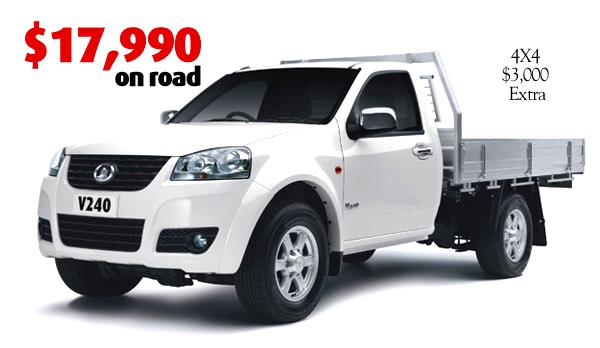 Another winning factor for Great Wall in Australia has been to "keep it simple". Great Wall's range currently has only two models: the V-Series pick-up (aka Steed) starting at $17,990 vs. $18,990 for a Toyota Hilux and the X-Series SUV (aka Hover H5) starting at $23,990 vs. $26,990 for a Hyundai ix35. The SA220 pick-up (aka Sailor) was quickly discontinued after disappointing sales, so Great Wall has been making the most of 2 very well targeted models in a market where SUV and pick-up sales are the fastest growing.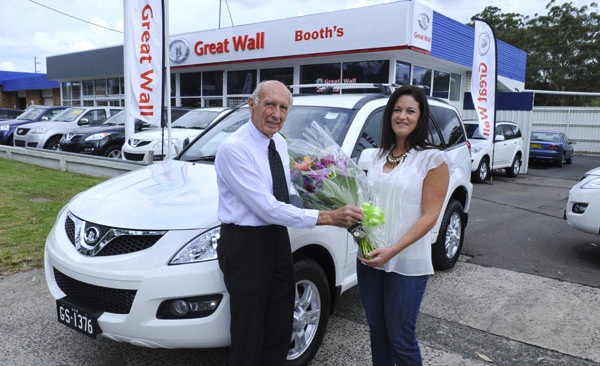 Gaye Foley receives the keys to her Great Wall X200, the 20,000th Great Wall sold in Australia. (CarsGuide)
Perhaps the most interesting aspect of Great Wall's success in Australia is the healthy amount of repeat business the brand is already experiencing, boding well for the future. The 20,000th Great Wall sold in the country, a X200 purchased in Gosford, NSW in April this year, was Gaye and Scott Foley's 2nd Great Wall. Australian tradesmen like to lease workhorses, generally over 2 years, and "anecdotally we have recorded a lot of them asking for another one when the lease ended".
But as impressive as the sales figures look on paper, it has not all been a smooth ride… Daniel: "We have been fortunate with Great Wall but honestly it hasn't been easy."
See the rest of the article by clicking on 'Read more' below.
Current Australia article: Australia September 2012: Mazda3 and Hyundai i30 at record heights
Previous 'Chinese in Australia' article: Australia Full Year 2011: The Chinese have landed!
See the full article below.
Straight from the start, along with the shock of the 'invasion of Australia' by Chinese car manufactures played up in the press, Ateco had to overcome a poor quality perception linked to a 2 star crash-test rating of its Great Wall SA220 pick-up, and the hard task of "giving feedback to the manufacturer, who to their credit takes it on board. We can see batch by batch cars are getting better." Result: two years after the SA220, the X240 SUV achieved a 4 star rating in crash tests. More recently, Great Wall (as well as Chery) was hit by an asbestos-related car recall. "It's a very hard situation to be in. We've been upfront with everyone we've talked to about that issue and had an independent risk assessment done." The good news is there is no health risk for both the consumer and mechanics.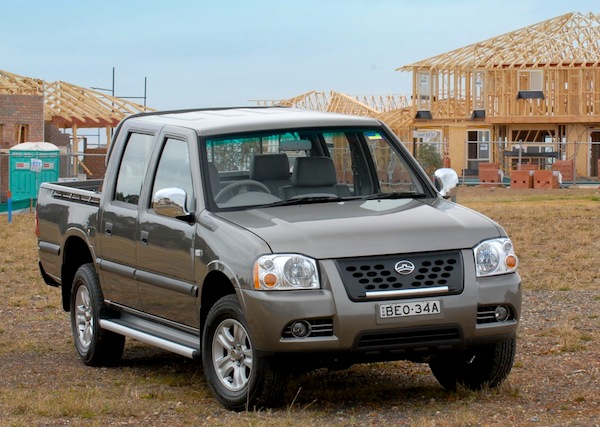 Great Wall SA220
Sales-wise, Great Wall is stronger in Queensland in the country's North East, mainly because of a stronger dealer representation in that State. The introduction in 2011 of a diesel range, a V-Series cab-chassis clearly targeted at tradesmen, and an automatic X-Series SUV have been the main triggers for the brand's continued growth in the country. With the arrival of the diesel V200 model, the Great Wall V-Series immediately broke into the Australian monthly Top 50 in December 2011 and will be the first Chinese model to rank within the favourite Top 50 cars in Australia at year-end in 2012.
Daniel continues: "One of the reasons underpinning the success of Great Wall in this country starts with Great Wall themselves: they are very reliable as a company." As an independent distributor, Ateco completely relies on Chinese imports and "when Great Wall says our 600 cars will be on the boat on a particular date, almost invariably this is the case. And that's not service that you necessarily get from every manufacturer you deal with. Their motto is to 'Improve little by little, every day' and in our experience this is what they do."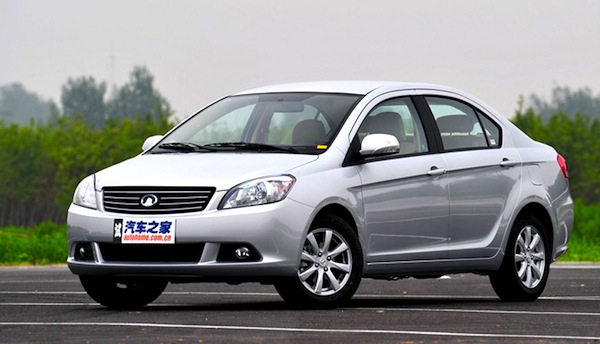 Will the Great Wall Voleex C30 see Australian shores? Distributor Ateco is keeping mum for now.
As Great Wall recently opened their first European assembling plant in Bulgaria and Chinese manufacturers have a habit of buying obsolete plants to produce locally (see Chery in Egypt), I had to ask whether Australian assembly or manufacture was even on the horizon for Great Wall: "No. Great Wall has a very effective manufacturing base in China and while it seems to make sense for them to expand in other parts of the world, I wouldn't foresee them setting up any sort of manufacturing plant in Australia." Kinda makes total sense when you think of it.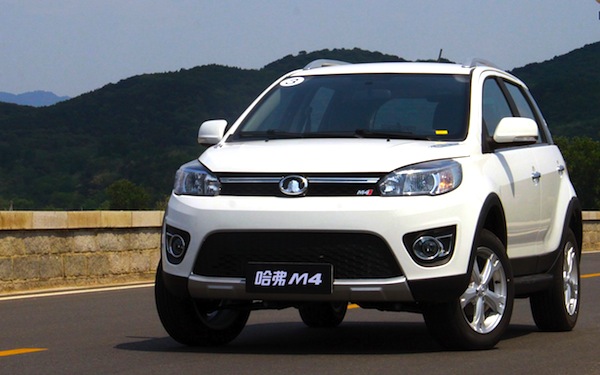 Great Wall Haval M4
What are Great Wall's next launches in Australia? In 2010 there was word of importing the C30 Voleex passenger car but it has not eventuated since. But Daniel maintains: "Yes we would definitely like to expand (our range). Passenger cars is something we'd really like to do and have been looking at for some time". My suggestion: stick to SUVs and import the Subaru XV/Nissan Qashqai-sized Haval M4 (pictured above)… If Great Wall's key to unlocking the Australian market has resided in pick-ups and SUVs so far, the Australian passenger car market has not opened its gates wide open to the Chinese yet…
Chery J11
In February 2011 Chery, also distributed by Ateco, launched locally with the J1 small car (aka A1/Kimo), now the cheapest new car in Australia at $10,990 (vs.$11,790 for the Suzuki Alto), the J3 hatchback (aka A3) starting at $14,990 and the J11 SUV (aka Tiggo) starting at $17,990. In its first year, Chery sold 1,822 vehicles to rank #27 manufacturer, above brands like Fiat, Citroen or Alfa Romeo. But over the first 9 months of 2012 sales are down 21% to 969 units, putting the brand at #37…
Chery J3
Chery's range, more skewed toward passenger cars, has not stuck with Australian consumers yet in spite of prices even more competitive than Great Wall. Says Daniel at Ateco: "We would have liked it to have done better here, but we are determined to be persistent and improve (Chery's performance) steadily over time". While the Great Wall V-Series pick-up has already had one facelift, there are no imminent upgrades or new models planned for Chery. It's also interesting to note that Chery models are "almost never" sold within the same dealership by Ateco.
So far Ateco is a unique case in Australia as no other Chinese brand has officially started registering sales there. But this could change in the coming months…
Lifan 520
In late 2010, Lifan cancelled plans to launch its small 520 sedan, despite having already received Australian Design Rule certification.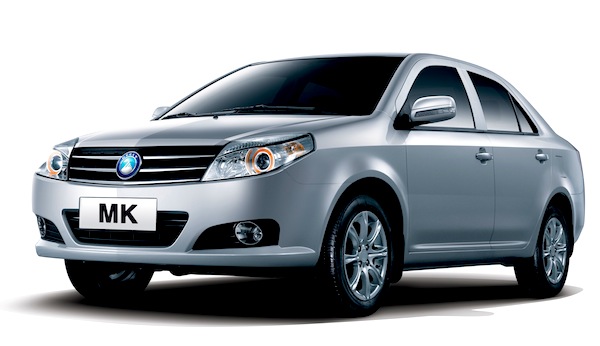 Geely MK
In January 2011, Geely announced the launch of the MK sedan through renowned importer John Hughes (who launched Hyundai in Australia in the eighties) in Western Australia only. This was due to different design legislations in that state: the MK's lack of optional automatic transmission and electronic stability control meant it could not be sold in any other Australian State. The Panda and EC7 were scheduled for later in that year. However even though John Hughes claims he had been selling 20 units a month until September 2011 when all models had to be recalled to fix a seat and door issue, no sales figures have appeared in VFACTS records for Geely.
ZX Auto Grand Tiger
Two new Chinese brands may still make their appearance in Australia in 2012…
John Hughes is now preparing the launch of ZX Auto's iconic (at least in Libya) Grand Tiger, originally planned for early 2012 then postponed to this month (October 2012) in Western Australia only as well, based on an article published in thewest.com.au. The aim is to sell about 60 units a month. He also said Geely MK sales would resume in October when 200 sedans and 100 hatches would be available.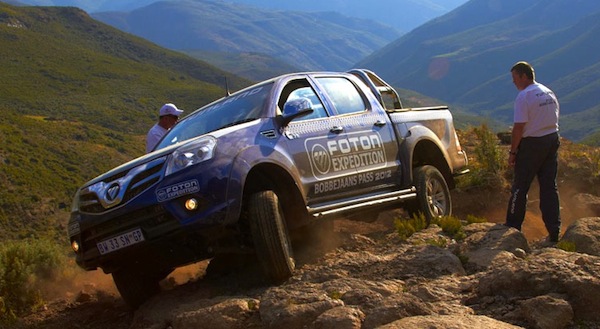 Foton Tunland in South Africa
Foton looks now set to kick-start the Tunland pick-up in Australia. Originally planned for early 2012, Foton even sent a few Australian journalists to China to test the Australian version of its Tunland pick-up. Delays in the obtention of the Australian Design Rule certification meant the launch had to be postponed to November 2012. The brand is expected to start with 15 dealerships across the country, potentially adding another 25 in 2013. Distributor FAA Automotive Australia announced yesterday that two showrooms (in Brisbane and Perth) now have demo vehicles available for test drives…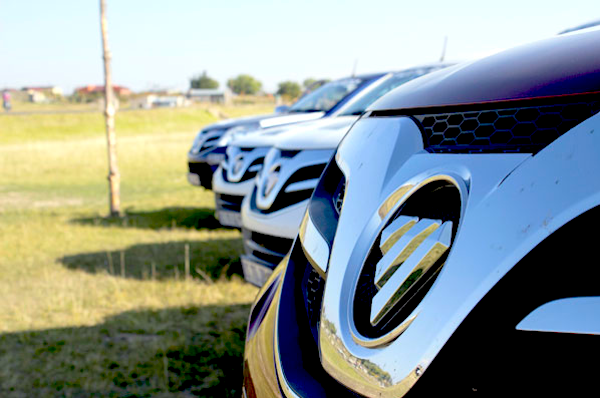 Foton Tunland
Foton's strategy is very different to Great Wall's. FAA is going out of its way to distract the attention from Foton's Chinese origins by stressing the Tunland is powered by an American Cummins engine, a German Getrag gearbox, an American Borg-Warner transfer box, German Bosch and Continental electrics and American Dana rear axles…
With the only variants first available being the 4×2 and 4×4 double cab diesel manual transmission, the Tunland's starting price is very high at $29,995, compared to $22,990 for the equivalent Great Wall V200 double cab 4×2 diesel but $17,990 for the base V240 cab-chassis 4×2…
It'll be fascinating to see Australian consumers' reaction to a 'not-so-cheap' Chinese import.
As the above list confirms, it's hard work importing Chinese models into Australia and Daniel Cotterill emphasises: "It's not easy to convert what's available in China into an ideal Right Hand Drive car for Australia. I can understand the difficulties that some other importers have had getting things to market. It can cost a lot of money to make a car compliant in Australia" and therefore make its selling price uncompetitive. An issue that nearly killed Volkswagen's presence in the country in the eighties. "By the time you look at all the elements (impacting the Australian selling price), typically a lot of the options close up".
However Ateco's experience with Great Wall has been so fruitful they are definitely looking at importing more brands from China. "We talk to all sorts of people all the time. We would over time like to expend perhaps in other areas of the vehicle industry." I'm thinking heavy duty commercial vehicles (Foton is a good one) or cheap and cheerful vans like the Wuling range once they get to a safety level adequate to Australia…
The Chinese have landed in Australia, and they're here to stay.