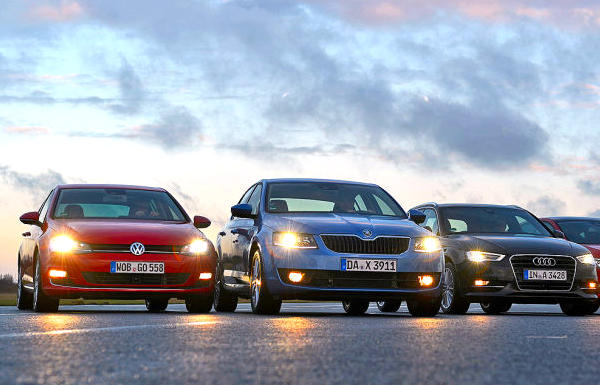 Enemy sisters: VW Golf and Skoda Octavia
* See the Top 100 best-selling models and Top 37 All-brands by clicking on the title! *
The Swiss new car market is up 7% year-on-year in September to 22,632 registrations, bringing the year-to-date total to 226,266 units, down 8% on 2012. If one year ago the Skoda Octavia took everyone by surprise and led the models ranking ahead of the VW Golf, at the time the 7th generation Golf had not hit dealerships yet. This year, granted the Octavia is still #2 behind the Golf but it's very close: 941 sales and 4.2% share vs. 998 and 4.4%, and the Golf has no excuse: both models are new and now well established. This is the Octavia's second best market share in the country below the 4.6% it hit last February… So the Golf has won 2013 already with an unassailable advantage over the Octavia year-to-date (8,941 vs. 6,766) but 2014 could be a different story.
Suzuki SX4 S-Cross
But wait there's more big news in Switzerland this month… Firstly the Audi A3 is up 6 spots to #5, then with the new model now in dealerships the Suzuki SX4 is up a fantastic 17 ranks on August to hit a best-ever 6th place thanks to 394 sales and 1.7%, bettering the #7 it reached last January and #8 last February. Finally, after breaking into the Swiss monthly Top 20 for the very first time last month, the Mazda CX-5 does no less than breaking into the Top 10 in September at #10 with 280 units and 1.2% share! Notice also the BMW 5 Series up 13 ranks to #16, Opel Mokka up 19 to #20, Skoda Yeti up 38 to #23, the Renault Captur cracking the Top 50 at #48 (+18), Mitsubishi ASX up to #54 vs. #94 year-to-date and the Peugeot 2008 up 14 to #76.
Previous month: Switzerland August 2013: Subaru XV and Hyundai i20 impress
One year ago: Switzerland September 2012: Skoda Octavia takes control!
Full September 2013 Top 100 models and Top 37 All-brands Ranking Tables below.