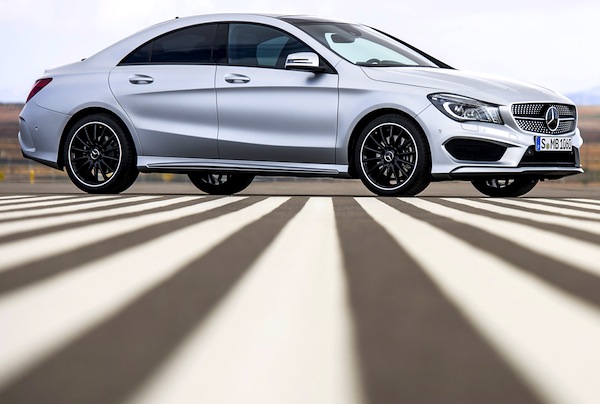 Mercedes CLA
* See the Top 40 All-brands ranking by clicking on the title! Many thanks to Michael *
New car sales in Singapore are down 16% year-on-year in April to 1,919 registrations, bringing the year-to-date total to 7,306 units, down a worrying 26% on 2012. This fall may recede soon though, as the price of Certificates of Entitlement (the  equivalent of buying your licence plate) has gone down significantly in April for most categories of cars, cars above 1,600cc dropping the most: by almost S$7,000 to S$67,010. This is still more than the actual price of the car, which explains the very particular brands ranking we have been observing in Singapore for the last couple of years.
Passed by BMW last month, Mercedes is back on top in April thanks to 335 sales and 17.5% while its Bavarian rival is being threatened by Volkswagen at #2 with 267 units and 13.9% vs. 262 and 13.7%. Toyota ranks 4th at 12.1% share ahead of Audi at 10.1% and Volvo at 5.8%, meaning the Top 6 brands in April are identical to the 2013 year-to-date ranking. Notice also Nissan up 4 spots to #7, Honda up 2 to #10, Mini up 5 to #14, Ferrari up 7 to #20 and Rolls-Royce up 3 to #22.
Previous month: Singapore March 2013: BMW back to #1, Volvo up to #5
One year ago: Singapore April 2012: Toyota reclaims leadership
Full April 2013 Top 40 All-brands Ranking Table below.