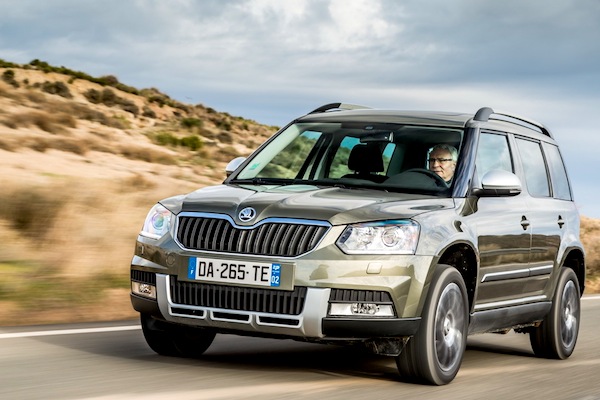 Skoda Yeti
* See the Top 80 models and Top 35 brands by clicking on the title! Thanks Peteris *
The Latvian new car market continues to go gangbusters at +29% year-on-year in July to 1,446 registrations, bringing the year-to-date total to 8,723 units, up 21% on 2013. Overtaken by the Peugeot 3008 last month, the Skoda Yeti reclaims the pole position both this month and year-to-date thanks to a very strong 93 sales and 6.4% share, adding up to 340 units and 2.9% year-to-date vs. 293 and 3.4% for the 3008 down to a paltry #11 in July. The Dacia Duster also impresses at 80 units and 5.5% in 2nd place vs. 2.6% and #7 year-to-date, lifting the French-Romanian brand up to #5 and 6.4% vs. #8 and 3.6% year-to-date. The Toyota Auris is up 10 spots on last month to round up the podium ahead of the Nissan Qashqai, VW Jetta and Golf. Up to an unbelievable third place in June, the BMW X6 is back down to a still very reasonable #25 this month with 1.4% share. Finally, notice the Porsche Macan at #82 and the Mercedes V-Class at #83.
Previous month: Latvia June 2014: Peugeot 3008 leads, BMW X6 up to #3!
One year ago: Latvia July 2013: VW Golf reclaims pole position year-to-date
Full July 2014 Top 80 models and Top 35 brands Ranking Tables below.