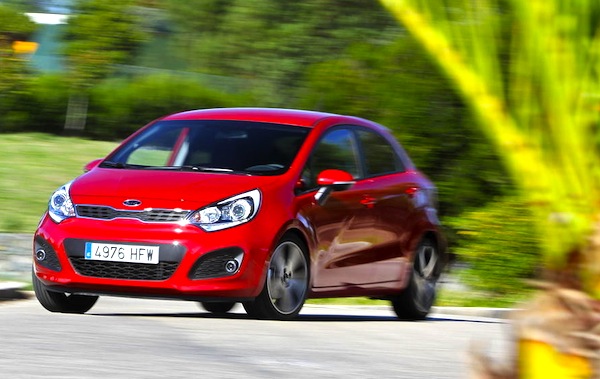 Kia Rio
* See the Top 30 best-selling models by clicking on the title! *
New car sales in Finland are up a shy 2% year-on-year in September to 8,338 registrations, bringing the year-to-date total to 82336, up 3% on 2013. Toyota reclaims the lead of the brands ranking this month thanks to 1,008 sales and 12.1%, overtaking Volkswagen at 890 units and 10.7%. VW keeps the lead year-to-date however at 10,206 sales and 12.4% vs. 9,542 units and 11.6% for Toyota. Skoda, Ford and Volvo round up the Top 5. The Skoda Octavia is once again the most popular vehicle in the country in spite of sales down 21% year-on-year to 405 units and 4.9% share. The Toyota Auris remains in 2nd place for the 2nd month in a row with 366 sales and 4.4%, up 22% on September 2013 but still #4 year-to-date. The Nissan Qashqai (#3) and VW Golf (#4) swap spots compared to last year while the Kia Rio lodges another very strong month at #6 and 2.7% vs. #10 year-to-date. Notice also the Volvo V40 at #10, the Volvo V60 up 37% to #13, the Mercedes A-Class up to #15 vs. #32 so far in 2014, the VW Polo up 92% year-on-year to #17 and the Skoda Superb up 21% to #19 vs. #31 year-to-date.
Previous month: Finland August 2014: Skoda Octavia master on board
One year ago: Finland September 2013: Skoda Octavia leads, Volvo V40 up to #5
Full September 2014 Top 30 models Ranking Table below.